Call Her Applebroog
Director: Beth B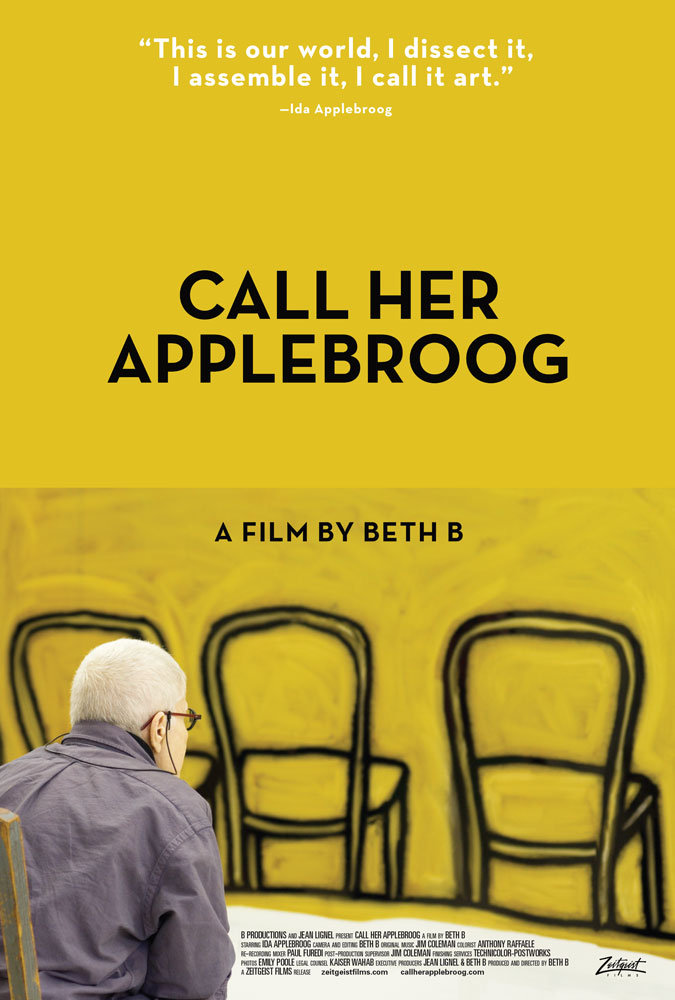 This deeply personal portrait of acclaimed New York–based artist Ida Applebroog was shot with mischievous reverence by her filmmaker daughter, Beth B (
Exposed
). Born in the Bronx to Orthodox Jewish émigrés from Poland, Applebroog, now in her 80s, looks back at how she expressed herself through decades of drawings and paintings, as well as her private journals. With her daughter's encouragement, she investigates the stranger that is her former self, a woman who found psychological and sexual liberation through art. As Beth B finds a deeper understanding of her mother as a human being, Applebroog shares a newfound appreciation for her own provocative work. –MoMA Doc Fortnight
Call Her Applebroog had its World Premiere at MoMA's Doc Fortnight on February 26, 2016. It opened at the Metrograph in New York on June 10, 2016.

Read about Ida Applebroog and Beth B in The New York Times and read an interview with Beth B about the film in Vogue.

To book this film please contact Nancy Gerstman or Emily Russo or call 212-274-1989.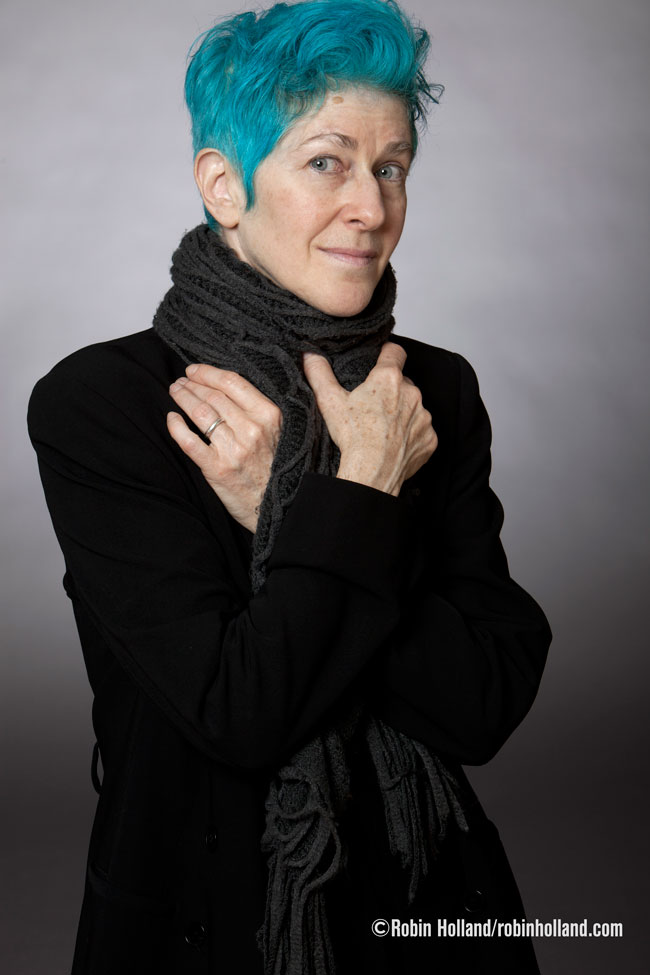 Beth B
Beth B is an interdisciplinary artist working in narrative, documentary and experimental films, videos, media, photography and sculpture installations for museums, galleries, public art spaces, theaters and television. Beth B's career has been characterized by work that challenges society's conventions, and that focuses on recasting and redefining concepts relating to the mind and body.
Beth B exploded onto the New York underground scene in the late '70s, after receiving her BFA from the School of Visual Arts in 1977, creating installation art works and directing Super-8 films. Controversial and political in approach and content, these breakthrough films, such as Black Box, Vortex, and The Offenders, were shown at Max's Kansas City, CBGB's, the New York Film Festival and the Film Forum. These and more recent films have also been shown at, and acquired by, the Whitney Museum and MoMA. Her early films, along with those of Jim Jarmusch and Amos Poe, are the focus of the documentary, Blank City. Her films and artwork have been the subjects of several books and other documentaries, including The Cinema of Transgression; Art, Performance, Media; and No Wave: Underground 80. She is one of the featured artists included in the new book, Live the Art: Jeffrey Deitch (2014). Her seminal video, The Dominatrix Sleeps Tonight, is currently showing at the Museum of Modern Art in the exhibition, Designing Modern Women 1890-1990.
Acclaimed by the New York Times, Village Voice and Time Out, critics have praised B's work as "compelling and thoroughly captivating...extraordinary...B's direction is a major tour de force…her videos are haunting and her feature films brilliant".
Beth B continues to break boundaries with her controversial films and art installations. Her feature documentary, Exposed (2013), profiles eight cutting-edge performance artists who use their naked bodies as canvas for their art, melding politics, satire and physical comedy to challenge our notions of gender identity, disability, and sexuality. Beth B produced, directed & edited Exposed. She also shot much of the film. Exposed celebrates a culturally significant breed of new artists who have transformed traditional burlesque into a new millennium blend of comic entertainment and extreme performance art. Beth B takes us behind the scenes so we get to know these performers as people and understand what prompted them to strip off their clothes and expose the contradictions inherent in our society's taboos. Through their touching and tender stories, we get to examine our own inhibitions and join their tribe.
Upcoming projects include: IDA APPLEBROOG, a documentary film, FREE FALL a dramatic television series, as well as a sonic/media collaboration with musician Jim Coleman entitled, NEAR DEATH.
From 2001 to the present, Beth B has been producing feature and television documentaries including Court TV productions: Positive ID: The Case Files of Anthony Falsetti, Family Secrets, The Black Widower, Pattern of Deception, Death of a Rising Star, Badge of Dishonor, A Daughter's Love and An Unlikely Terrorist. B was the Senior Series Producer of a six-part reality series, Crime Scenes Uncovered, about the "real CSI" being shot in Miami for TLC. She produced two of the episodes. Beth B's other television work includes documentary and segment producing for ZDF in Germany, Arte in France, HBO, Sundance Channel, and PBS. Beth B produced a number of segments including, Breasts, for PBS's Egg the Arts Show magazine and segments for an HBO TV series based on the highly successful website, Nerve. And she has produced a number of segments for Sundance Channel's AfterEffects series.
Over the years, Beth B has received numerous commissions. In 2001, she created the multi-media installation, Hysteria, for the "Spectacular Bodies" show at the Hayward Gallery in London, which included video, sculpture, and performance. In 1991, B received a commission from the Whitney Museum of American Art and the American Center in Paris, to produce a one-minute videotape Amnesia, as part of the international "Trans-Voices" project. B produced and directed the media/theater production, Take My Breath Away, which was commissioned by the 1997 Brooklyn Academy of Music's Next Wave Festival and performed at PS122. In 1993, B created two installations at the Wexner Center for the Arts entitled Under Lock and Key and Amnesia. Amnesia combines photography and video challenging stereotypical notions of prejudice. Under Lock and Key, which combines an imposing steel sculpture with audio recordings and video projections, is a testament to intolerance and self-determination. Other commissions include: Out of Sight/Out of Mind, a video sculpture installation at Temple Gallery, Philadelphia (1995); and A Holy Experiment, an on-site installation commissioned for the Eastern State Penitentiary in Philadelphia (1995).
Beth B's work has shown at galleries including: Deitch Projects and PPOW with video installations, photography and sculpture. Some exhibitions include: Portraits & Playthings and Monuments at Deitch Projects, NYC and Trophies at PPOW and Laurent Delaye Gallery, London. Museum exhibitions include: presentations at the Museum of Modern Art "Cineprobe/Video Viewpoints" and "Modern Mondays"; Trophies and A Holy Experiment at the Weatherspoon Art Gallery, N.C.; A Holy Experiment at the Bayly Museum; Charlottesville, VA.; Under Lock and Key at the European Media Arts Festival in Osnabruck, the Gemeentemuseum in Den Haag, and the Podewil in Berlin. Some of Beth B's film retrospectives include: Lausanne Film Festival, The National Film Theater, London; Montreal Film Festival; Nucleo Dos Cineastas Independentes, Lisbon; and the Danish Film Institute.
In 1990, B produced two public art projects. The bilingual newspaper, Day of Hope took the form of a newspaper fashioned after the New York Post; however it reported only hopeful news, distributed in 50 streetside "Free Paper" dispensers in NYC. Creative Time CityWide funded Surgeon General's Warning, a bilingual series of silkscreen posters that the artist designed and posted on the streets of NY confronting touchy contemporary issues like abortion, censorship, AIDS, racism, and homelessness.
B's feature documentary film, Breathe In/Breathe Out, (a co-production with Open City/Blow up, Dune and ZDF Television) had its world premiere at the Rotterdam Film Festival in 2000 and was broadcast on German, Swiss and Austrian Television. The film is about war and trauma.
Also, B produced and directed Voices Unheard a riveting in-depth documentary about the incarceration and treatment of juvenile sex offenders, which premiered in 1998 at The Museum of Modern Art and The Walter Reade Theater, NYC. Visiting Desire, a feature documentary, first premiered at the 1996 Toronto Film Festival and the Berlin Film Festival, and was then released theatrically. B creates an unconventional documentary where people come together to act out a fantasy with a stranger.
B's feature film, Two Small Bodies, stars Fred Ward and Suzy Amis. Directed and adapted to the screen by Beth B, the film is based on the play by Neal Bell. The film has shown at the 1994 Locarno Film Festival, the Toronto Festival of Festivals, and the Sundance Film Festival. Salvation! stars Viggo Mortensen and Exene Cervenka in B's 35mm feature film produced in 1987. The film successfully prefigured pop culture's fascination with televangelism with its sharp-edged social satire. It premiered in 1987 at the Berlin Film Festival and played theatrically worldwide. In 1988, Beth B was selected for the Screenwriter's Lab at the Sundance Institute for her screenplay Life in Luxury and has served on the Competition Juries at the Sundance and Toronto Film Festivals.
B has produced and directed a series of films and tapes that merge documentary and fiction. The award-winning video Belladonna, a collaboration with artist Ida Applebroog, is a brutal testimony on violence, sex, and family relations. It premiered in 1989 at Ronald Feldman Fine Arts and was invited to participate in the Whitney Bienale. Thanatopsis, written by and featuring Lydia Lunch, is a disturbing yet poetic meditation on war and personal resistance and premiered in 1991 at The Kitchen, NYC. Stigmata (1991), a documentary on drug abuse and recovery, articulates internal anguish with a vividness that is both haunting and chilling. In 1994, B directed High Heel Nights for ARTE TV in France, a documentary about the transformation of the body.
Awards include: The National Endowment for the Arts, The Lannan Foundation, The Jerome Foundation, New York State Council on the Arts, The Public Art Fund, The Bohen Foundation and others.

Photo by Robin Holland
A film by BETH B
starring IDA APPLEBROOG
camera and editing BETH B
original music JIM COLEMAN
colorist ANTHONY RAFFAELE
re-recording mixer PAUL FUREDI
post-production supervisor JIM COLEMAN
finishing services TECHNICOLOR-POSTWORKS
photos EMILY POOLE
legal counsel KAISER WAHAB
executive producers JEAN LIGNEL & BETH B
produced and directed by BETH B
"CRITICS' PICK! 'Call Her Applebroog,' a brief feature about the inventive, provocative artist Ida Applebroog, is less a documentary than a love letter... Beth B is not out to deliver a comprehensive biography. Instead, she achieves a vivid snapshot of a still-vital artist late in a still-purposeful life." – Glenn Kenny, The New York Times
"REVEALING...The director has the sort of access to her subject, both logistically and emotionally, that gives the film a unique tension." – Frank Scheck, Hollywood Reporter
"The possibilities and limitations of art as a route to self-knowledge are on display in Beth B's...gently incisive portrait of her mother, Ida Applebroog." – Elise Nakhnikian, Slant Magazine
"The documentary reveals a woman as layered, wry and dark as the artwork that's won her Guggenheim and MacArthur Foundation Fellowships, amid plenty of other recognition.... Applebroog's art is intimate and political, confessional and sometimes exhibitionist." – Julia Felsenthal, Vogue
"Thoroughly engaging and intimate." – , NYC Movie Guru