Chris & Don. A Love Story
Director: Tina Mascara, Guido Santi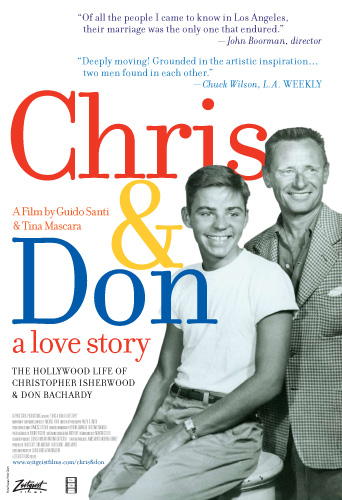 CHRIS & DON: A LOVE STORY is the true-life story of the passionate three-decade relationship between British writer Christopher Isherwood (whose Berlin Stories was the basis for all incarnations of the much-beloved Cabaret) and American portrait painter Don Bachardy, thirty years his junior. From Isherwood's Kit-Kat-Club years in Weimar-era Germany (the inspiration for his most famous work) to the couple's first meeting on the sun-kissed beaches of 1950s Malibu, their against-all-odds saga is brought to dazzling life by a treasure trove of multimedia. Bachardy's contemporary reminiscences (in the Santa Monica home he shared with Isherwood until his death in 1986) artfully interact with archival footage, rare home movies (with glimpses of glitterati pals W.H. Auden, Igor Stravinsky and Tennessee Williams), reenactments, and, most sweetly, whimsical animations based on the cat-and-horse cartoons the pair used in their personal correspondence. With Isherwood's status as an out-and-proud gay maverick, and Bachardy's eventual artistic triumph away from the considerable shadow of his life partner, CHRIS & DON: A LOVE STORY is above all a joyful celebration of a most extraordinary couple.
Tina Mascara
Born in West Virginia, Tina Mascara is a graduate from the Film program at the Los Angeles City College. She wrote, produced and directed two independent feature films: JACKLIGHT (2000) and ASPHALT STARS (2002). Both films have been shown and awarded at several domestic and international film festivals, including the Calcutta International Film Festival, The Palm Springs and the Madrid Film Festivals. Tina also has extensive experience as a freelance writer and editor.


Guido Santi
Born in Italy, Guido Santi started his career writing and directing short films, and collaborating with "Ipotesi Cinema," the group of young filmmakers coordinated by award-winning director Ermanno Olmi (THE TREE OF THE WOODEN CLOGS). After receiving his Master's degree in Film Production at USC, Guido has worked producing and directing TV special and documentaries. He lives in Los Angeles where he co-founded Asphalt Stars Productions with Tina Mascara. He is a lecturer in Film Aesthetics and History of Cinema at the College of the Canyons, Santa Clarita-California.


Directed and edited by GUIDO SANTI & TINA MASCARA

Narration of Isherwood's diaries MICHAEL YORK

Director of Photography RALPH Q. SMITH

Production Designer FRANCISCO STOHR

Character Animation KATRINA SWANGER and KRISTINA SWANGER

Photo Sequences by RODNEY ASCHER

Supervising Sound Editor ANDY HAY

Original Music MIRIAM CUTLER

Associate Producers SIGNE JOHNSON MARTINA BATTISTICH

Produced by JULIA SCOTT TINA MASCARA GUIDO SANTI JAMES WHITE

Executive Producers JAMES WHITE ANDREW HERWITZ