Climates
Director: Nuri Bilge Ceylan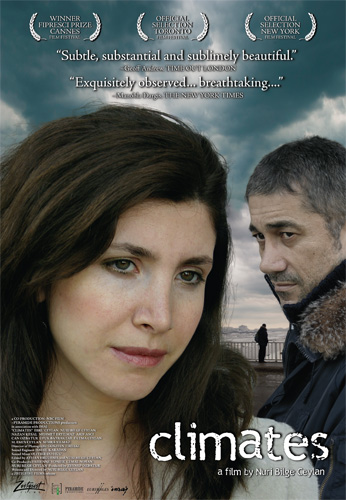 Winner of the prestigious Fipresci Award at the 2006 Cannes Film Festival, CLIMATES is internationally acclaimed writer-director Nuri Bilge Ceylan's sublime follow-up to his Cannes multi-award winner DISTANT. Beautifully drawn and meticulously observed, the film vividly recalls the cinema of Italian master Michelangelo Antonioni with its poetic use of landscape and the incisive, exquisitely visual rendering of loneliness, loss and the often-elusive nature of happiness. During a sweltering summer vacation on the Aegean coast, the relationship between middle-aged professor Isa (played by Ceylan himself) and his younger, television producer girlfriend Bahar (the luminous Ebru Ceylan, Ceylan's real-life wife) brutally implodes. Back in Istanbul that fall, Isa rekindles a torrid affair with a previous lover. But when he learns that Bahar has left the city for a job in the snowy East, he follows her there to win her back. Boasting subtly powerful performances, heart-stoppingly stunning cinematography (Ceylan's first work in high definition) and densely textured sound design, CLIMATES is the Turkish filmmaker's most gorgeous rumination yet on the fragility and complexity of human relationships.
Nuri Bilge Ceylan
Since winning the Grand Prize at Cannes in 2003 for DISTANT (Uzak), Nuri Bilge Ceylan, the 'Lone Wolf' of Turkish cinema, has been critically acclaimed for his spare and unaffected style of filmmaking, inviting comparisons to Tarkovsky, Bresson and Kiarostami. Humorous and masterful, his is a cinema that spans the modern experience: examining rural life, relationships, masculinity, and urban alienation. Often operating as writer, director, editor and cinematographer, and usually casting members of his own family, Ceylan's style is unique because it is so personal.

Ceylan was born in Istanbul in 1959 and was brought up in the rural region of Antelonia. After initially studying engineering, he changed track and studied filmmaking at Mimar Sinan University in Istanbul. An accomplished photographer, he was first noticed for his 1995 short film, COCOON (Koza) which was selected to play in competition at Cannes. His first feature, THE SMALL TOWN (Kasaba), was shot in black-and-white in the town where he grew up, with a team of only two (Ceylan included). His two following films, CLOUDS OF MAY (Mayis Sikintisi) and DISTANT (Uzak) were selected respectively for the Berlin Film Festival in 2000 and Cannes in 2003. DISTANT won the Grand Prix and Best Actor prize at Cannes.
CAST

Ebru Ceylan (Bahar)
Nuri Bilge Ceylan (Isa)
Nazan Kesal (Serap)
Mehmet Eryilmaz (Mehmet)
Arif Asçi (Arif)
Can Özbatur (Güven)
Ufuk Bayraktar (Taxi driver)
Fatma Ceylan (Isa's mother)
M. Emin Ceylan (Isa's father)
Semra Yilmaz (Semra)
Ceren Olcay (TV series actress)
Abdullah Demirkubuz (TV series actor)
Feridun Koç (TV series director)
Zafer Saka (TV series crew member)


CREW

Director and Screenwriter: Nuri Bilge Ceylan
Producer : Zeynep Özbatur
Co-producers: Fabienne Vonier, Cemal Noyan, Nuri Bilge Ceylan
Director of Photography : Gökhan Tiryaki
Editors : Ayhan Ergürsel, Nuri Bilge Ceylan
Sound Engineer: Ismail Karada?
Sound Mixer : Olivier Do Huu
Sound Editor (France): Thomas Robert
Sound Editor (Turkey): Erkut Görmez (Imaj)
Foley Artist : François Lepeuple
Visual Effects and Inferno Artist: Burak Balkan (Imaj-Turkey)
Color Grading for tape to film transfer: Jacky Lefresne (Mikros-France)
Color grading for digital cinema: Frank Ravel (Hoverlord-Belgium)
Color grading for DVD and TV: Cengiz Çilek (Imaj-Turkey)
HD Conforming: Cengiz Çilek (Imaj-Turkey)