Le Combat dans l'Ile
Director: Alain Cavalier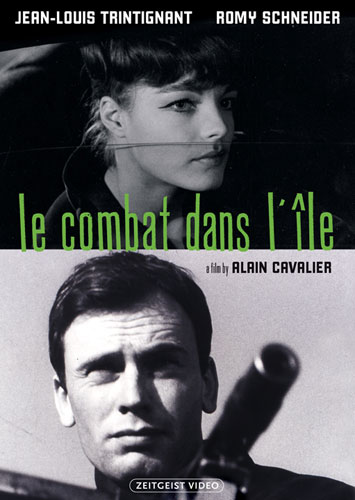 A hidden gem of 1960s New French Cinema, Alain Cavalier's
Le Combat dans l'île
is as coolly modern as it is tensely gripping. Filled with thrilling plot twists, jazzy gun battles and stormy betrayals, this scintillating neo-noir unfolds against a backdrop of '60s political turmoil and is strikingly shot in stark black and white by legendary cinematographer Pierre Lhomme (
Army of Shadows
,
The Mother and the Whore
).
The charismatic, surly son of a wealthy industrialist, Clément (Jean-Louis Trintignant, of
Z
and
The Conformist
) leads a double life as a member of a right-wing extremist organization. When he's ratted out after a failed assassination attempt on a prominent politician, Clément and his long-suffering wife Anne (the luminous German screen siren Romy Schneider) flee Paris to the idyllic country home of his childhood friend, pacifist print-maker Paul (Henri Serre, of
Jules and Jim
). As affection blossoms between Paul and Anne, the emotional as well as political tensions soar—and eventually explode.
LE COMBAT DANS L'ILE IS AVAILABLE ON DVD FROM ZEITGEIST. FOR THEATRICAL BOOKINGS PLEASE CONTACT
THE FILM DESK
.
Alain Cavalier
Best known in the US for his 1986 film Thérèse, Alain Cavalier (b. 1931) has been making films for fifty years. Though never as widely known as his New Wave contemporaries, he has directed many of the biggest stars of French cinema—Piccoli, Delon, Deneuve, Trintignant, Rochefort and Schneider—and won a host of awards, including the Prix Louis Delluc for Un étrange voyage (1981), and the César for best picture and best director for Thérèse. In recent years, Cavalier has focused on smaller scale, diary films, including Le filmeur(2005) and Irène (2009), which premiered at last year's Cannes Film Festival. Le Combat Dans L'île was his debut feature.
Anne Romy Schneider Clément Jean-Louis Trintignant Paul Henri Serre Cécile Diane Lepvrier Lucien Robert Bousquet The father Jacques Berlioz Terrasse Maurice Garrel Directed by Alain Cavalier Producer Nouvelles Editions de Films Supervised by Louis Malle Written by Alain Cavalier Dialogue and Adaptation Alain Cavalier, Jean-Paul Rappeneau Production Manager Fred Surin Assistant Director Philippe Colin Script Girl Elisabeth Rappeneau Production Designer Alain Queffélean Director of Photography Pierre Lhomme Sound Engineer André Hervé Set Decorator Bernard Evein Costume Designer Henriette Bailly Editor Pierre Gillette