Every Last Child
Director: Tom Roberts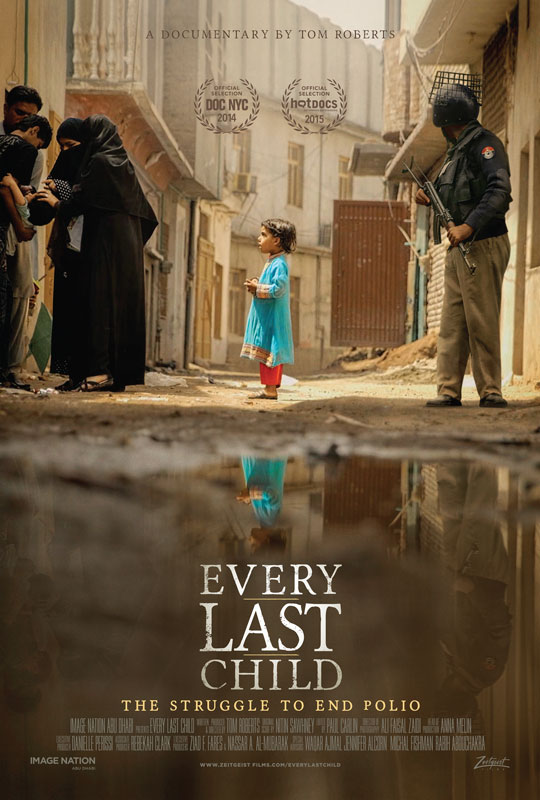 NOW ON iTUNES AND AVAILABLE FOR INSTITUTIONAL DVD PURCHASE

EVERY LAST CHILD is the dramatic story of five people impacted by the current polio crisis in Pakistan. Taking place on the front line of the fight against the disease, it is a story of sacrifice, fearless determination and sorrow in the face of mistrust, cynicism and violence.
Just a few years ago, polio persisted in only three countries and the number of victims was steadily decreasing. Pakistan was the key battleground with over 80% of all endemic cases. However, when the Pakistan Taliban issued a ban against the polio vaccination program, and incited fatal attacks against vaccinators, Pakistan's campaign was thrown into disarray. Today families and healthcare workers find themselves in the cross hairs of politics and bloodshed as they attempt to protect their children from polio. At this critical time, when we are closer than ever before to global eradication, increased international support and commitment can see the end of polio, once and for all.
Through the vivid stories of its five subjects—a medical specialist, a vaccinator, a vaccination skeptic, an adult polio victim and a sick child—we are drawn in to the desperate search for a solution to this devastating disease. Will these everyday heroes succeed and end polio in our lifetime, or will another young generation be at risk?

NOW AVAILABLE FOR PURCHASE ON INSTITUTIONAL DVD
Purchase includes a comprehensive Discussion and Resource Guide developed specifically for this Educational DVD. An ideal complement to spark an in-depth discussion in classrooms and all kinds of institutional screenings with :
• data, facts, and resources on polio and the Global Polio Eradication Initiative
• information on the filmmakers and the film's main subjects
• questions for discussion grouped by topic

Click on the Educational tab to order.
Tom Roberts
Tom Roberts is a multi-award winning documentary film director, founder of October Films, and producer/executive producer with dozens of films to his credit. Having extended his directing work into drama in 2013 he completed a drama-documentary on Nelson Mandela for ITV. He also directed his first feature film, "In Tranzit", with John Malkovich, Thomas Kretschmann, Daniel Bruhl and Vera Farmiga.
Roberts began his directing career at the BBC in 1980 before leaving to make "The Other Europe", Channel Four's epic series on communism in Eastern Europe. Soon after, Roberts founded his own production company, October Films, rapidly building a reputation for producing distinctive feature-length documentary films. The company has won over one hundred international awards.
Throughout this time, Roberts continued to direct, making films on subjects as diverse as Stalin's purges, the Arab/Israeli conflict, the crisis of manhood in South Africa, and a controversial series about runaway children in the UK.
He produced and directed a trilogy about the wars of 9/11: "Afghanistan's Dirty War" investigated the deadly bombing of Azizzabad, "The Insurgency" was the first serious investigation of the Iraqi opposition, and "A Company of Soldiers" followed a combat team in Baghdad. The latter two films were nominated for a BAFTA and a Grierson – adding to Tom's personal total of over 45 awards and nominations.
Written produced and directed by Tom Roberts
Edited by Paul Carlin
Director of Photography Ali Faisal Zaidi
Original Music by Nitin Sawhney
Producer, Pakistan Sabin Agha
Sound & Additional Photography Sana Ullah
Head of Production Anna Melin
Executive Producer Danielle Perissi
Associate Producer Rebekah Clark
Principal participants:
Dr. Elias Durry
Gulnaz Shesazi
Habib Rehman
Zabih Ullah and his son
Zubair Rabi
"AFFECTING...TIMELY... Impressive though the results of the WHO's campaign to eradicate polio may be, it is [Ali Faisal] Zaidi's lensing of the streets, waterways and people of Pakistan that lingers in the mind." – Ronnie Scheib, Variety