He Was Once
Director: Mary Hestand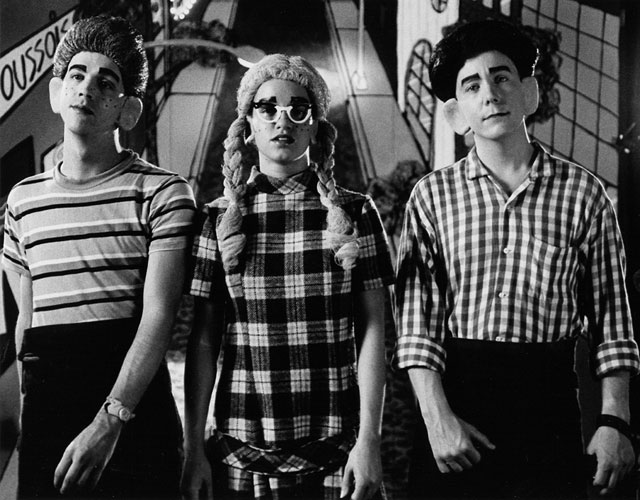 It's Dad's turn to get spanked in this sardonic caricature of the American family. A live-action parody of the animated children's TV show
Davey and Goliath
featuring Todd Haynes.
HE WAS ONCE was part of the APPARATUS SHORTS collection. Founded by Haynes, Christine Vachon and Barry Ellsworth in 1988, the now-defunct Apparatus Productions had an unerring eye for talent, originality and personal vision. A funding entity and production company for emerging filmmakers operating outside the conventions of commercial cinema, Apparatus Productions made an enormous contribution to the art of the short film.
Available on the DVD of Todd Haynes' DOTTIE GETS SPANKED.
Mary Hestand
Mary Hestand received a Master of Fine Arts in Directing for the Theater from Columbia University in New York. While at Columbia, she started working with the Wooster Group, the experimental theater company whose founding members included Spalding Gray and Willem Dafoe. She performed with the group in Frank Dell's The Temptation of St. Anthony on tour and at The Performing Garage.

Her first film, the 8mm MAGICAL THINKING, earned a grant award from the New York Foundation for the Arts. Her second 8mm film, AUTOMYTHOLOGIES, was shown at the Collective for Living Cinema as part of the New Filmmakers Series. In 1988, Apparatus Productions, a film production company formed by Todd Haynes, Christine Vachon and Barry Ellsworth, produced HE WAS ONCE. HE WAS ONCE was shown at the Sundance Film Festival, the USA Film Festival, on WNET Channel 13 in New York as part of the Reel Life Series and won a Golden Gate Award at the San Francisco Film Festival.

After returning to Texas in 1992 to raise her daughters, Mary produced and directed DOG, a short film about peer abuse and teen suicide. Partially funded by the Irving Television Network (ITVN), DOG was shown at the USA Film Festival, on ITVN and on Frame of Mind on KERA Channel 13. Mary was Associate Producer on OF TWO MINDS, produced and directed by Mark Birnbaum, a recruiting film for the physician-scientist training program at the Univ. of Texas Southwestern Medical School. OF TWO MINDS was a finalist for the Telly Awards, a national competition honoring outstanding non-broadcast video and film production. Mary co-produced I AM SCORPIO with her long time friend and collaborator David Nelson; SCORPIO premiered at the Dallas Video Festival in March of 2000 as part of The Texas Show.

Mary currently collaborates on experimental music and videos with her husband, Alan Tubbs. heir most recent collaboration was in the Texas Show, a juried video compilation seen at the Dallas Video Festival and at the SXSW Film Festival in Austin in 2004. Mary also sings lead vocals and writes songs with Merry and the Mood Swings.


Davey Todd Adams
Dad Sal Barone
Sally Susan Norman
Mom Emma Strahs
Shirley Melissa Gardner
Randy Todd Haynes
The Bear Julia Haltigan

Written and Directed by Mary Hestand
Cinematographer Steve Kazmierski
Assistant Camera Ellen Kuras
Production Designer David Nelson
Original Music Alan Tubbs
Editor Barry Ellsworth
Art Director Daniel Oeullette
Make-up Design Jim Crawford for Timothy Priano Inc.
Prosthetics Mark Gibson
Set Construction Lawrence King
Production Manager Todd Haynes
Production Supervisor Christine Vachon
Assistant Director Barry Ellsworth