Into Great Silence
Director: Philip Gröning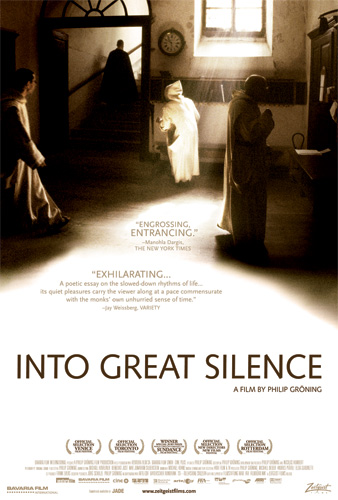 Nestled deep in the postcard-perfect French Alps, the Grande Chartreuse is considered one of the world's most ascetic monasteries. In 1984, German filmmaker Philip Gröning wrote to the Carthusian order for permission to make a documentary about them. They said they would get back to him. Sixteen years later, they were ready. Gröning, sans crew or artificial lighting, lived in the monks' quarters for six months—filming their daily prayers, tasks, rituals and rare outdoor excursions. This transcendent, closely observed film seeks to embody a monastery, rather than simply depict one—it has no score, no voiceover and no archival footage. What remains is stunningly elemental: time, space and light. One of the most mesmerizing and poetic chronicles of spirituality ever created, INTO GREAT SILENCE dissolves the border between screen and audience with a total immersion into the hush of monastic life. More meditation than documentary, it's a rare, transformative theatrical experience for all.
For related resources and a discussion guide visit
Influence Film Club's Into Great Silence page
.
Philip Gröning
Philip Gröning was born in Düsseldorf in 1959, raised in Düsseldorf and the US. He traveled extensively through South America and studied Medicine and Psychology before turning to filmmaking in 1982, when he signed up for studies at the Munich Film school (HFF).

Gröning developed a passion for screenwriting and began to work as an actor for Peter Keglevic and Nicolas Humbert. He also worked as sound assistant, propmaster and assistant director before making his own films.
A film by Philip Gröning
Screenplay Philip Gröning
Development and Research Philip Gröning and Nicolas Humbert
Photography, Original Sound, Film Editing Philip Gröning
Sound Editing Michael Hinreiner, Benedikt Just, Max Jonathan Silberstein
Sound Mix Michael Kranz
Digital Grading and Film Recording Arri Film & TV
Producers Philip Gröning, Michael Weber, Andres Pfäffli, Elda Guidinetti
Co-producer Frank Evers
Executive Producers Jörg Schulze, Philip Gröning

Bavaria Film International presents
a Philip Gröning Film Production
in co-production with ventura film sa Bavaria Film gmbh cine plus
in cooperation with ARTE/ZDF, Bayerischer Rundfunk, TSI–Televisione Svizzera
with the support of Filmstiftung NRW, FFA, Filmbüro NW

a Zeitgeist Films release