I Remember Me
Director: Kim A. Snyder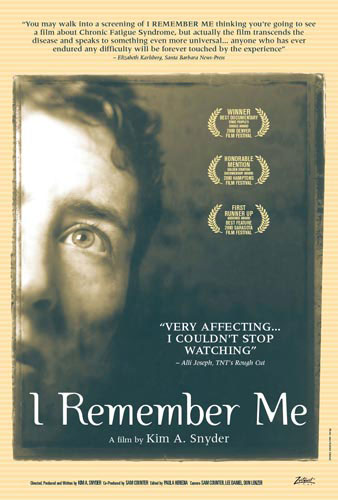 Fueled by the same rage at an unresponsive system that has inspired many a great social documentary, filmmaker Kim Snyder has taken up the fight for the more than 800,000 people living with Chronic Fatigue Syndrome (CFS) in the U.S. today. CFS has recently received much high-profile media discussion due to Seabiscuit author Laura Hillenbrand's longtime battle with the disease.
Investigating the baffling malady once maligned as "yuppie flu," Snyder interweaves her own four-year battle with the disease with the stories of others facing the same challenges; soccer star Michelle Akers and legendary Hollywood director Blake Edwards (Breakfast at Tiffany's, The Pink Panther) are among the participants. More than an account of an epidemic unfolding, I REMEMBER ME speaks to universal themes of loss, human perseverance and the difficulties in grappling with uncertainty.
Kim A. Snyder
Kim A. Snyder graduated with an MA from the Johns Hopkins University School of Advanced International Studies in 1986. She worked as an international film consultant for and produced several highly acclaimed international film workshops bridging the film communities of the United States and Eastern/ Central Europe (The Film Workshop At Prague 1991, New Europe/New York 1992.) Subsequently, she became a U.S. Producer's Representative for several critically acclaimed Eastern and Central European films including SHADOW ON THE SNOW (Hungary, 1990 New Directors Festival) and CROWS (Poland, 1992 Telluride, Toronto, Cannes film festivals), which secured theatrical distribution in the U.S.

In 1994, Kim Associate Produced the Oscar-winning short film TREVOR, directed by Peggy Rajski, a film that was used as the cornerstone of a not-for-profit educational media campaign addressing issues of teen suicide, homophobia and diversity, and was later broadcast on HBO. At the time her illness struck, she was assisting in the production of HOME FOR THE HOLIDAYS, directed by Jodie Foster.
I REMEMBER ME is Kim's directorial debut.


a film by Kim A. Snyder

Directed, Produced and Written by Kim A. Snyder
Co-Produced by Sam Counter
Edited by Paula Heredia
Camera Sam Counter
Camera Lee Daniel
Camera Don Lenzer