Mid-August Lunch
Director: Gianni Di Gregorio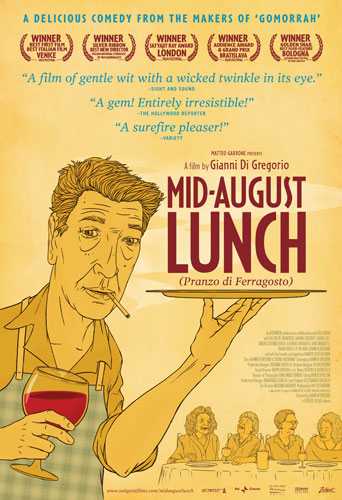 The charismatic Gianni Di Gregorio (co-scenarist of the smash hit
Gomorrah
), stars in his directorial debut—an utterly charming tale of good food, feisty ladies and unlikely friendships during a very Roman holiday. Broke, and armed with only a glass of wine and a wry sense of humor, middle-aged Gianni resides with his 93-year-old mother in their ancient apartment. The condo debts are mounting, but if Gianni looks after the building manager's mother during the Pranzo di Ferragosto (Italy's biggest summer holiday, and the Feast of the Assumption), all will be forgiven. Then the manager also shows up with an auntie, and then a doctor friend appears with
his
mother in tow... Can Gianni keep four such lively mamas well fed and happy in these cramped quarters?
Winner of numerous prizes at international festivals, including Best First Film at Venice and the Satyajit Ray Award at London, plus the Golden Snail at the Academy of Food and Film in Bologna,
Mid-August Lunch
is both warmly vibrant family drama and delicately balanced comedy of manners.
See also Gianni Di Gregorio's
The Salt of Life
.
Gianni Di Gregorio
Gianni Di Gregorio was born in Rome in Trastevere, where he still lives and works.

He fell in love with cinema when he was still a child, spending his mornings at school and his afternoons in the local cinemas, sometimes watching up to three films a day.

After studying Classics at high school he went to university to study literature, but before graduating dropped out to go to the Accademia di Arti Sceniche in Rome, run by Alessandro Fersen, where he took a diploma in directing and acting.

For three years he worked in Fersen's experimental research workshop (taking part in seminars and exchanges with the groups of Bob Wilson, Grotowski, Kantor and Chaikin), which led to the show "Leviathan", presented at the Festival of Spoleto in 1976.

After three years of theatre, as an assistant director and actor, he saw Martin Scorsese's Mean Streets, which made such an impression on him that he left theater and started to work in film as an assistant director. He then moved into screenwriting.

In 1986 he wrote the screenplay for the film Sembra morto ma è solo svenuto by Felice Farina, with Sergio Castellitto and Marina Confalone, which won the Premio FRIPRESCI at the Settimana della Critica, at the 1987 Venice Film Festival.

In the same year he wrote the story and screenplay for the film Carefree Giovanni by Marco Colli, with Sergio Castellitto, Eleonora Giorgi, Aldo Fabrizi, Franco Fabrizi and Luca De Filippo. Presented at the Quinzaine des Realizateurs at Cannes 87, it was awarded the Gran Prix du juri at the festival of Annecy.

In 1991 he wrote Shipwrecks directed by Marco Colli, and the following year he wrote the story and screenplay for the filmAffetti Speciali directed by Felice Farina.

In 2000 he wrote the screenplay for Long Live the Monkey!, based on the short story Le due zitelle by Tommaso Landolfi and directed by Marco Colli.

He met Matteo Garrone after seeing Garrone's first film, Terra di Mezzo. He started working with him as assistant director, in 2000 with Roman Summer, and continued with The Embalmerand First Love. In 2007 he co-wrote the screenplay for the film Gomorrah, directed by Garrone.

His 2008 directorial debut Mid-August Lunch, which he wrote and stars in, was followed in 2011 by The Salt of Life (Gianni e le donne).
CAST

Gianni Gianni Di Gregorio
Gianni's mother Valeria De Franciscis
Luigi's mother Marina Cacciotti
Aunt Maria Maria Calì
Grazia Grazia Cesarini Sforza
Luigi Alfonso Santagata
Viking Luigi Marchetti
Doctor friend Marcello Ottolenghi
Tramp Petre Rosu

CREW

Director Gianni Di Gregorio
Producer Matteo Garrone
Story by Gianni Di Gregorio and Simone Riccardini
Screenplay Gianni Di Gregorio
Director of Photography Gian Enrico Bianchi
Editor Marco Spoletini
Production Designer Susanna Cascella
Costume Designer Silvia Polidori
Sound Engineer Filippo Porcari
Music by Ratchev & Carratello