Philippe Garrel x 2
Director: Philippe Garrel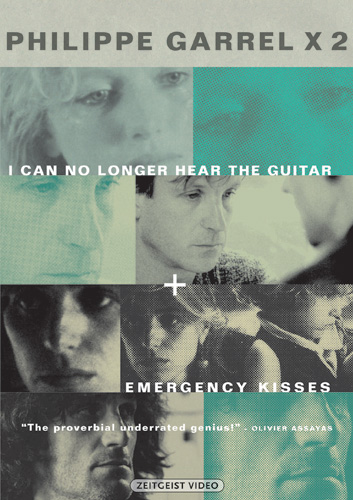 Zeitgeist Films and Film Desk proudly present—for the first time in the U.S.— two of the most important works by French auteur Philippe Garrel (
Regular Lovers
). Both crafted in a poetic, meditative style, these films perfectly demonstrate the eloquent emotional agility of one of France's most essential post-New Wave directors.
I Can No Longer Hear The Guitar
(
J'entends plus la guitare
, 1991) is Garrel's haunting tribute to his ten-year relationship with the iconic German chanteuse Nico. Johanna ter Steege (
The Vanishing
) plays Marianne, the doomed lover of Gérard (Benoît Régent,
Three Colors: Blue
). Caught in a self-destructive heroin haze, they drift together and apart as Gérard struggles with his simultaneous desire for and repulsion towards a stable life.
In the tender and heartbreaking
Emergency Kisses
(
Les Baisers de secours
, 1989), the entire Garrel clan steps in front of the camera as versions of themselves— Philippe, father Maurice, then-wife Brigitte Sy, and five-year-old Louis (
The Dreamers
,
Love Songs
) in his first screen role. When a philandering film director refuses to cast his stage actress wife in a role largely based on her, the couple begins to wrestle with their conflicting philosophies on art and life.
Available on DVD from Zeitgeist. For theatrical and non-theatrical bookings please contact
The Film Desk
.
Philippe Garrel
Philippe Garrel (born April 6, 1948 in Paris) is a French director, cinematographer, screenwriter, editor and producer. His movies have won him awards at the prestigious Cannes Film Festival and Venice Film Festival. He had a ten year relationship with German singer and actress Nico between 1969 and 1979 with the actress appearing in 7 of his films between 1972 and 1979. He is the father of actor Louis Garrel.