CAST
ESTHER GORINTIN | DINARA DROUKAROVA | NINO KHOMASSOURIDZE
CREW
JULIE BERTUCCELLI | BERNARD RENUCCI | ROGER BOHBOT | CHRISTOPHE POLLOCK | EMMANUEL DE CHAUVIGNY | EMMANUELLE CASTRO | EMMANUEL FINKIEL | YAËL FOGIEL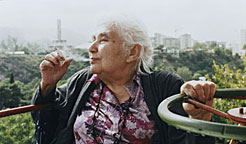 ESTHER GORINTIN (Eka)
Born in Poland, Esther Gorintin now lives in Paris. She began her acting career at the age of 85, playing Vera in Emmanuel Finkiel's Voyages. This won her the Best Actress Prize at the Albi Film Festival, among others. She has since performed in a number of shorts and four other feature films.
Filmography:
2003 SINCE OTAR LEFT... by Julie Bertuccelli
2002 CARNAGE by Delphine Gleize
2001 WIMBLEDON STAGE by Mathieu Amalric
2001 IMAGO by Marie Vermillard
1999 VOYAGES by Emmanuel Finkiel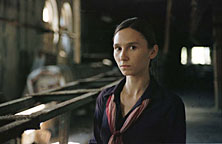 DINARA DROUKAROVA (Ada)
Dinara Droukarova was born in St. Petersburg and has lived in Paris for several years. Discovered at the age of 14 in Vitali Kanevsky's Freeze, Die, Come to Life, she has since acted in a number of films, including the recent Small Cuts.
Filmography:
2003 SINCE OTAR LEFT... by Julie Bertuccelli
2002 SMALL CUTS by Pascal Bonitzer
2000 ENGRENAGE (Caught in the System) by Frank Nicotra
1999 LE DERNIER DES IMMOBILES (Last to Move) by Nicola Sornaga
1989 IT HAPPENED NEAR THE SEA by Ayan Shakhmalyeva
1998 OF FREAKS AND MEN by Alexei Balabanov
1996 UN AMOUR INACHEVE (Unfinished Love) by Fabrice Cazeneuve
1995 LA TOILE (The Canvas), short by Siegfried
1995 THE SON OF GASCOGNE by Pascal Aubier
1994 WE THE CHILDREN OF THE TWENTIETH CENTURY by Vitali Kanevsky
1993 DONIASHA by Aeroptian
1993 ANGELS IN PARADISE by Yevgenvy Lungin
Best Actress Prize, Honfleur Russian Film Festival 1999
1992 SMOG by Ayan Shakmalyeva
1992 AN INDEPENDENT LIFE by Vitali Kanevsky
1990 Freeze, Die, Come to Life by Vitali Kanevsky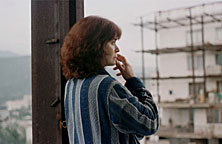 NINO KHOMASSOURIDZE (Marina)
Nino Khomassouidze was born in Georgia and currently lives in Tbilisi. She has acted in films since the age of 15 and has appeared in several Georgian and Russian productions. She was trained at the Theatre Institute in Tbilisi before joining the famous Mardjanishvili Company with whom she has performed in some 40 productions over the last 20 years. As well as acting in films and for the theatre, she has also appeared in several television dramas.


The Filmmakers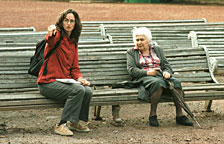 JULIE BERTUCCELLI (director)
Born in 1968, Julie Bertuccelli worked as assistant director to several well-known filmmakers including Otar Iosseliani, Krzysztof Kieslowski, Bertrand Tavernier, Emmanuel Finkiel and Rithy Panh. Since then she has directed a number of documentaries before moving on to feature filmmaking with Since Otar Left...
Bertucelli studied philosophy before being trained as a documentary film-maker at the Ateliers Varan in Paris.
Features:
2003 SINCE OTAR LEFT...
Documentaries:
2001 UN MONDE EN FUSION (A World in Fusion)
2000 VOYAGES VOYAGES ­ THE AEOLIAN ISLES
1999 BIENVENUE AU GRAND MAGASIN (Welcome to the Department Store)
1998 FABRIQUE DES JUGES (Judge Factory)
1994 UNE LIBERTE (One Liberty)
1993 UN METIER COMMES LES AUTRES (A Job as Good as Another)
BERNARD RENUCCI (screenwriter)
Bernard Renucci has written several documentary films directed by Julie Bertuccelli, as well as a number of TV dramas. He directed his first documentary film in 2002.
ROGER BOHBOT (screenwriter)
Roger Bohbot adapted the screenplay for Since Otar Left... He has written screenplays for Eric Zonca, Orso Miret, Chritsophe Blanc and Arnaud Desplechin.
CHRISTOPHE POLLOCK (cinematographer)
Formerly assistant to William Lubtchansky, Christophe Pollock has shot films for directors including Jean-Luc Godard, Jacques Rivette, Jacques Doillon, Eric Rochant, Claude Miller, Claire Devers, Jeanne Labrune, Rithy Panh, Pascal Bonitzer and Manuel Pradal.
EMMANUEL DE CHAUVIGNY (production designer)
Emmanuel de Chauvigny has designed films for Otar Iosseliani, Jacques Rivette, Michael Haneke and Pascal Bonitzer.
EMMANUELLE CASTRO (editor)
Emmanuelle Castro has worked with filmmakers including Louis Malle, Laurence Ferreira Barbosa, Emmanuel Finkiel, Nicole Garcia and Jean-François Stévenin.
EMMANUEL FINKIEL (technical consultant)
Emmanuel Finkiel wrote and directed Madame Jacques sur La Croisette (winner of the French Cesar for Best Short Film, 1997), and Voyages (winner of the Young Audience Prize at Cannes, 1999; and winner of the French Cesar for Best First Film and Best Editing, 2000).
YAËL FOGIEL (executive producer)
An Israeli citizen and fifteen-year resident in France, Yaël Fogiel established her company, Les Films du Poisson, in 1995 with Laetitia Gonzalez and they won the Hachette Young Producer Prize in 1997. Together they have produced more than 60 short, documentary and TV films. Fogiel produced her first feature film in 1998, Emmanuel Finkiel's Voyages. Since then Les Films du Poisson has focused on features, including Motus by Laurence Ferreira Barbosa and La Chose Publique by Mathieu Amalric, as well as Since Otar Left...