Hildegard von Bingen Barbara Sukowa
Brother Volmar Heino Ferch
Richardis von Stade Hannah Herzsprung
Abbot Kuno Alexander Held
Jutta Lena Stolze
Richardis' Mother Sunnyi Melles
Clara Paula Kalenberg
Jutta von Sponheim Mareile Blendl
Hildegard as a child Stella Holzapfel
Abbess Tengwich Annemarie Duringer
Emperor Frederick Barbarossa Devid Striesow
About Barbara Sukowa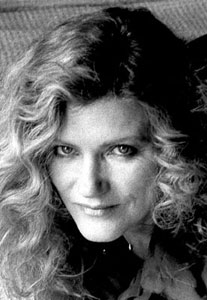 Born in Bremen, actress Barbara Sukowa began her theater career in Berlin in 1971. She played leading roles in productions in Germany and across Europe including Ibsen's The Master Builder, and Shakepeare's A Midsummer Night's Dream, As You Like It and Othello. Currently she is starring in a touring production of Heiner Mueller's Quartett.
In the U.S., Sukowa is perhaps better known for her performances in some of the most iconic films of the New German Cinema. Her breakthrough role was "Mieze" in Rainer Werner Fassbinder's monumental Berlin Alexanderplatz (1980), which earned her the German Best Young Actress Award. Working again with Fassbinder, Sukowa received the German Film Award (Gold) for her performance as the title character in his 1981 film Lola. In addition to Vision - From the Life of Hildegard von Bingen, Sukowa has collaborated with director Margarethe von Trotta on five other films, most notably Marianne and Juliane, for which she won Best Actress at the 1981 Venice Film Festival; and Rosa Luxemburg, for which she received the Best Actress honors at the 1986 Cannes Film Festival. She has twice received the Bavarian Film Award, most recently for Vision.
In 2008, she won Best Actress for The Invention of the Curried Sausage at the Montreal World Film Festival. Sukowa's other films include work by internationally acclaimed auteurs such as Michael Cimino, Lars Von Trier, David Cronenberg, Volker Schlondorff, Agnieszka Holland and Tim Robbins; as well as projects directed by Serge Gainsbourg, actor John Turturro, and artists Cindy Sherman and Robert Longo (who is also her husband).
Barbara Sukowa has also developed a career as a classical music narrator and singer. As a narrator, she has performed Schoenberg's Pierrot Lunaire with the Schoenberg Ensemble under Reinbert de Leeuw; and with the Brentano Quartet and Mitsuko Uchida at Carnegie Hall. She has also worked with the Berlin Philharmonic, the Vienna Philharmonic, the Los Angeles Philharmonic, and the St. Louis Symphony; and with such renowned conductors as Claudio Abbado, Esa Pekka Salonen and David Robertson. Other music performances include Arthur Honegger's Jeanne d'Arc au Bucher; Kurt Weill's The Threepenny Opera; and the U.S. premiere of Michael Jarrell's Cassandre at Carnegie Hall.
Sukowa sang in the U.S. premiere of Im wunderschönen Monat Mai (In the Wonderful Month of May), de Leeuw's adaptation of love songs by Schubert and Schumann, also at Carnegie Hall. The 2007 recording (released by German label Winter & Winter) received Edison and Echo Klassik Awards, and a Grammy Nomination. She has also narrated recordings of Prokofiev's Peter and the Wolf, Mendelssohn's A Midsummer Night's Dream and Schoenberg's Gurrelieder.
Sukowa is also the lead singer of the band the X-Patsys, which she founded with visual artists Jon Kessler and Robert Longo. In summer 2010, Winter & Winter released their album Devouring Time: Barbara Sukowa and the X-Patsys. She lives in Brooklyn.

Selected Barbara Sukowa Filmography
2010 VISION (Margarethe von Trotta)
2008 THE INVENTION OF THE CURRIED SAUSAGE (Ulla Wagner)
2005 ROMANCE & CIGARETTES (John Turturro)
2001 13 CONVERSATIONS ABOUT ONE THING (Jill Sprecher)
1999 THE THIRD MIRACLE (Agnieszka Holland)
1998 CRADLE WILL ROCK (Tim Robbins)
1997 OFFICE KILLER (Cindy Sherman)
1995 JOHNNY MNEMONIC (Robert Longo)
1993 M. BUTTERFLY (David Cronenberg)
1991 VOYAGER (Volker Schlöndorff)
1990 ZENTROPA (Lars von Trier)
1990 THE AFRICAN WOMAN (Margarethe von Trotta)
1987 DAYS TO REMEMBER (Jeanine Meerapfel)
1987 THE SICILIAN (Michael Cimino)
1986 ROSA LUXEMBURG (Margarethe von Trotta)
1983 A COP'S SUNDAY (Michel Vianey)
1982 EQUATEUR (Serge Gainsbourg)
1981 MARIANNE & JULIANNE (Margarethe von Trotta)
1981 LOLA (Rainer Werner Fassbinder)
1980 BERLIN ALEXANDERPLATZ (Rainer Werner Fassbinder)