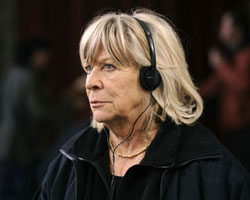 Born in Berlin, Margarethe von Trotta is one of the leaders of the New German Cinema movement, as well as one of the world's most important feminist filmmakers. From the early 1960s, after returning to Germany from Paris (where she encountered the Nouvelle Vague and the films of Ingmar Bergman), von Trotta then pursued acting. As an actress she worked closely with both Rainer Werner Fassbinder (notably in Gods of the Plague) and her husband Volker Schlöndorff (in A Free Woman and Coup de Grace). Her directorial debut, The Lost Honor of Katharina Blum, which she co-directed with Schlöndorff in 1975, tells the story of a young woman who has a casual affair with a man she later discovers to be a terrorist. In 1977, she wrote and directed her first solo feature, The Second Awakening of Christa Klages, which introduced many of the themes that she would return to in her later films: female bonding, sisterhood, and the uses and effects of violence. Based on a true story, Christa Klages tells the story of a young woman who resorts to bank robbery in order to keep her kindergarten open.
Starting in 1979, von Trotta began a cinematic trilogy that cemented her reputation as one of the leading directors of the German new wave. Sisters, or the Balance of Happiness, describes the life of two sisters deeply joined, both emotionally and intellectually, in a symbiotic relationship that weighs heavily on them, even after one of them commits suicide. In 1981 she followed this up with Marianne and Juliane (winner of the Golden Lion at the Venice Film Festival). The film portrays two sisters - one a reporter, the other a terrorist - during the social and political upheaval of 1968 Germany. This was followed in 1986 by Rosa Luxemburg, an epic portrait of one of the leading figures of European socialism. Portrayed with stunning grace by Barbara Sukowa (who also gave an award-winning performance in Marianne and Julianne), the character is based primarily on Luxemburg's letters and diaries, and strikes a balance between the deeply personal and the exactingly political. Her more recent films include Love and Fear (1988), The African Woman (1990), The Promise (1995), and Rosenstrasse (2003). Rosenstrasse tells the story of a non-violent protest in 1943 Berlin, carried out by the non-Jewish wives and relatives of Jewish men who had been arrested for deportation. Vision – From the Life of Hildegard von Bingen is her latest film.
Von Trotta's son with first husband Jurgen Moeller, Felix Moeller, is a respected filmmaker in his own right and a partner with her in Blueprint Media, their Munich-based production company. In 2010, Zeitgeist Films released his acclaimed documentary Harlan: In the Shadow of Jew Süss.
Despite being seen as a leading feminist director, Margarethe von Trotta herself rejects the description of her films as the product of "women's filmmaking," arguing that it confines one to a ghetto of sorts. She believes that she should instead be seen as a filmmaker who is at once a woman, as well as a director who examines the interior of the feminine personal as well as the exterior of the political. She is also a Professor of Film at the European Graduate School in Saas-Fee, Switzerland, and remains an important personality of German cinema.

Margarethe von Trotta Selected Filmography
2010 VISION – FROM THE LIFE OF HILDEGARD VON BINGEN
2006 I AM THE OTHER WOMAN
2003 ROSENSTRASSE
1995 THE PROMISE
1993 THE LONG SILENCE
1990 THE AFRICAN WOMAN
1988 LOVE AND FEAR
1987 FELIX
1986 ROSA LUXEMBURG
1983 SHEER MADNESS
1981 MARIANNE & JULIANNE
1979 SISTERS, OR THE BALANCE OF HAPPINESS
1977 THE SECOND AWAKENING OF CHRISTA KLAGES
1971 THE LOST HONOR OF KATHARINA BLUM
(Co-directed with Volker Schlöndorff)