Act of God
Director: Jennifer Baichwal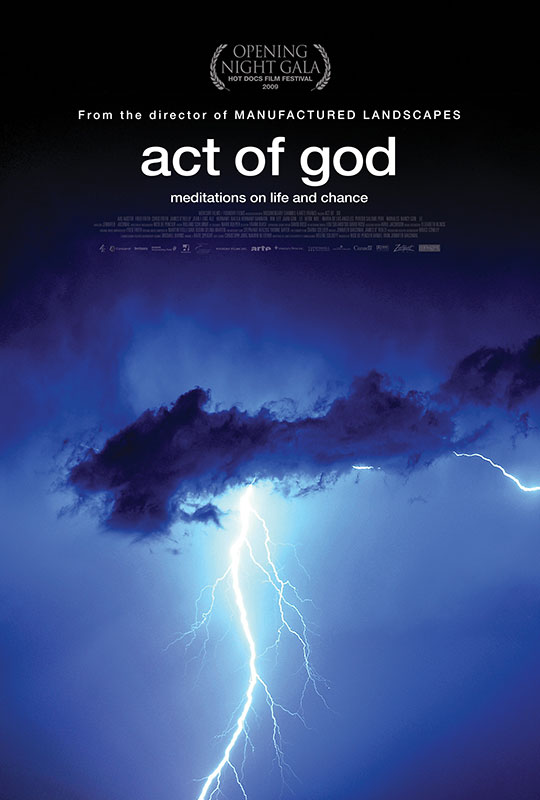 Is being hit by lightning a random natural occurrence or a predestined event? Accidents, chance, fate and the elusive quest to make sense out of tragedy underpin director Jennifer Baichwal's (Manufactured Landscapes) captivating new work, an elegant cinematic meditation on the metaphysical effects of being struck by lightning. To explore these profound questions, Baichwal sought out riveting personal stories from around the world from a former CIA assassin and a French storm chaser, to writer Paul Auster and improvisational musician Fred Frith. The philosophical anchor of the film, Auster was caught in a terrifying and deadly storm as a teenager, and it has deeply affected both his life and art: "It opened up a whole realm of speculation that I've continued to live with ever since." In his doctor brother's laboratory, Frith experiments with his guitar to demonstrate the ubiquity of electricity in our bodies and the universe. Visually dazzling and aurally seductive, Act of God singularly captures the harsh beauty of the skies and the lives of those who have been forever touched by their fury.
Jennifer Baichwal
Jennifer Baichwal was born in Montréal and grew up in Victoria, British Columbia. Her first film, LOOKING YOU IN THE BACK OF THE HEAD, asked thirteen women to try to describe themselves and was first broadcast, to critical acclaim, on TVOntario's From the Heart. It subsequently sold for broadcast across Canada.

LET IT COME DOWN: THE LIFE OF PAUL BOWLES, her first feature documentary, won a 1999 International Emmy for Best Arts Documentary. It premiered at the Toronto International Film Festival in 1998 and was nominated that year for a Best Feature Documentary Genie Award. It won Best Biography at Hot Docs in 1999 and was picked up for theatrical release by Mongrel Media in Canada, Zeitgeist Films in the U.S., and Uplink in Japan. The film has been sold for broadcast in Canada, Europe, Scandinavia and the U.S. It has also been selected for a number of international film and television festivals, including Jerusalem, Buenos Aires, FIPA, Banff (where it received a Rockie nomination), Istanbul and Edinburgh. The film was released on dvd by Zeitgeist Films in November 2003.

THE HOLIER IT GETS documents a trek Baichwal took with her brother and two sisters to the source of the Ganges river with her father's ashes. The film won Best Independent Canadian Film and Best Cultural Documentary at Hot Docs 2000, Geminis for Best Editing and Best Writing and was nominated for the Donald Brittain Award and the Chalmers Documentarian Award. It was commissioned by TVOntario and features music by Ravi Shankar and John McLaughlin.

THE TRUE MEANING OF PICTURES is a feature length film on the work of Appalachian photographer Shelby Lee Adams. It was commissioned by TVOntario, Bravo!, SBS Australia and Discovery Germany, and is distributed by Rhombus International. The film premiered at the Toronto International Film Festival in 2002; it was invited to the Sundance International Film Festival in January 2003. It won a Gemini award for Best Arts Documentary in 2003 and has played at numerous international festivals. The film was released on dvd by Docurama/New Video in October 2003.

Baichwal, along with Nick de Pencier, was commissioned in 2003-4 to make 40 short films on artists who have been supported over the past four decades by the Ontario Arts Council, to celebrate the council's 40th anniversary. These include writer Michael Ondaatje, artist Michael Snow, pianist Eve Egoyan and playwright Judith Thompson, and were broadcast on TVOntario.

In 2006 her documentary about the photographer Edward Burtynsky—MANUFACTURED LANDSCAPES—premiered at the Toronto Film Festival; her documentary about people who have been struck by lightning, ACT OF GOD, was the opening night film at Toronto'™s Hot Docs in 2009; and her collaboration with Margaret Attwood, PAYBACK, premiered at the Sundance Film Festival in 2012. All three films are distributed in the US by Zeitgeist Films.

in 2013 her second collaboration with Edward Burtynsky, WATERMARK, premiered at the Toronto Film Festival.
Director Jennifer Baichwal

Director of Photography Nick de Pencier

Editor Roland Schlimme

Produced by Nick de Pencier, Daniel Iron and Jennifer Baichwal

A Mercury Films and Foundry Films production
in association with Documentary, Channel 4 and ARTE France

Original Music Improvised by Fred Frith

Original Music Composed by Martin Tielli, Dave Bidini and Selina Martin

Featuring
Paul Auster
Fred Frith
Chris Frith
James OÂ'Reilly
Jean Ivens
Alex Hermant
Dalila Hermant
Dannion Brinkley
Juan Gonzalez Hernandez
Maria de los Angeles Peredo
Salome Perez Morales
Nancy Gonzalez