Ballets Russes
Director: Dan Geller, Dayna Goldfine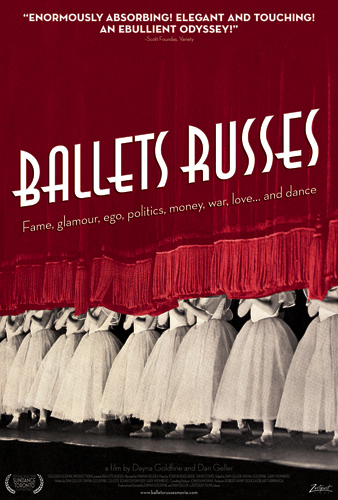 Unearthing a treasure trove of archival footage, filmmakers Dan Geller and Dayna Goldfine have fashioned a dazzlingly entrancing ode to the revolutionary twentieth-century dance troupe known as the Ballets Russes. What began as a group of Russian refugees who never danced in Russia became not one but two rival dance troupes who fought the infamous "ballet battles" that consumed London society before World War II.

BALLETS RUSSES maps the company's Diaghilev-era beginnings in turn-of-the-century Paris--when artists such as Nijinsky, Balanchine, Picasso, Miró, Matisse, and Stravinsky united in an unparalleled collaboration--to its halcyon days of the 1930s and '40s, when the Ballets Russes toured America, astonishing audiences schooled in vaudeville with artistry never before seen, to its demise in the 1950s and '60s when rising costs, rocketing egos, outside competition, and internal mismanagement ultimately brought this revered company to its knees.

Directed with consummate invention and infused with juicy anecdotal interviews from many of the company's glamorous stars, BALLETS RUSSES treats modern audiences to a rare glimpse of the singularly remarkable merger of Russian, American, European, and Latin American dancers, choreographers, composers, and designers that transformed the face of ballet for generations to come. — Sundance Film Festival, 2005
Dan Geller
Dan Geller graduated from Cornell University with a B.A. in history and received his M.A. in documentary production from Stanford University.


Dayna Goldfine
Dayna Goldfine holds a B.A. in feminist studies from Stanford University, and received her film training at De Anza College in Cupertino, California.

For over twenty years, Emmy-award winning directors/producers Dan Geller and Dayna Goldfine have jointly created critically-acclaimed, multi-character documentary narratives that braid their characters' individual personal stories to form a larger portrait of the human experience. Their most recent film is THE GALAPAGOS AFFAIR: SATAN CAME TO EDEN (2013). Their work includes the award-winning SOMETHING VENTURED (2011), which premiered at SXSW, went on to play at festivals internationally, and was broadcast nationwide on PBS; BALLETS RUSSES (2005) which was recognized as one of the top five documentaries of 2005 by both the National Society of Film Critics and the National Board of Review and appeared on a dozen critical "10 Best Films" lists, including those of Time Magazine, the Los Angeles Times, The Hollywood Reporter, the San Francisco Chronicle and Slate; NOW AND THEN: FROM FROSH TO SENIORS, which premiered theatrically in October 1999 and aired on PBS in October 2000 as the lead program of the Independent Lens series; KIDS OF SURVIVAL: THE ART AND LIFE OF TIM ROLLINS + K.O.S. (1996), a feature-length documentary about the South Bronx-based art group Tim Rollins & K.O.S., which aired on Cinemax in September 1998 and was the recipient of two national Emmy Awards; FROSH: NINE MONTHS IN A FRESHMAN DORM (1994); and, the award-winning ISADORA DUNCAN: MOVEMENT FROM THE SOUL (1988).

Produced and Directed by Dayna Goldfine & Dan Geller
Produced by Robert Hawk & Douglas Blair Turnbaugh
Narrator Marian Seldes
Edited by Dan Geller, Dayna Goldfine & Gary Weimberg
Original Music Todd Boekelheide & David Conte
Written by Dan Geller, Dayna Goldfine, Gary Weimberg & Celeste Schaefer Snyder
Consulting Producer Jonathan Dana
Associate Producer Celeste Schaefer Snyder
Consulting Editor Nathaniel Dorsky
Additional Editing Elizabeth Finlayson
Additional Writing Susan Stern
Writing Consultant Tucker Malarkey
Additional Research Jason Snyder
Director of Photography Dan Geller
Sound Recordist Dayna Goldfine
Photo Retouching Heather Shirkey
Sound Mix/Rerecording Philip Perkins

A Zeitgeist Film Release