Be Natural: The Untold Story of Alice Guy-Blaché
Director: Pamela B. Green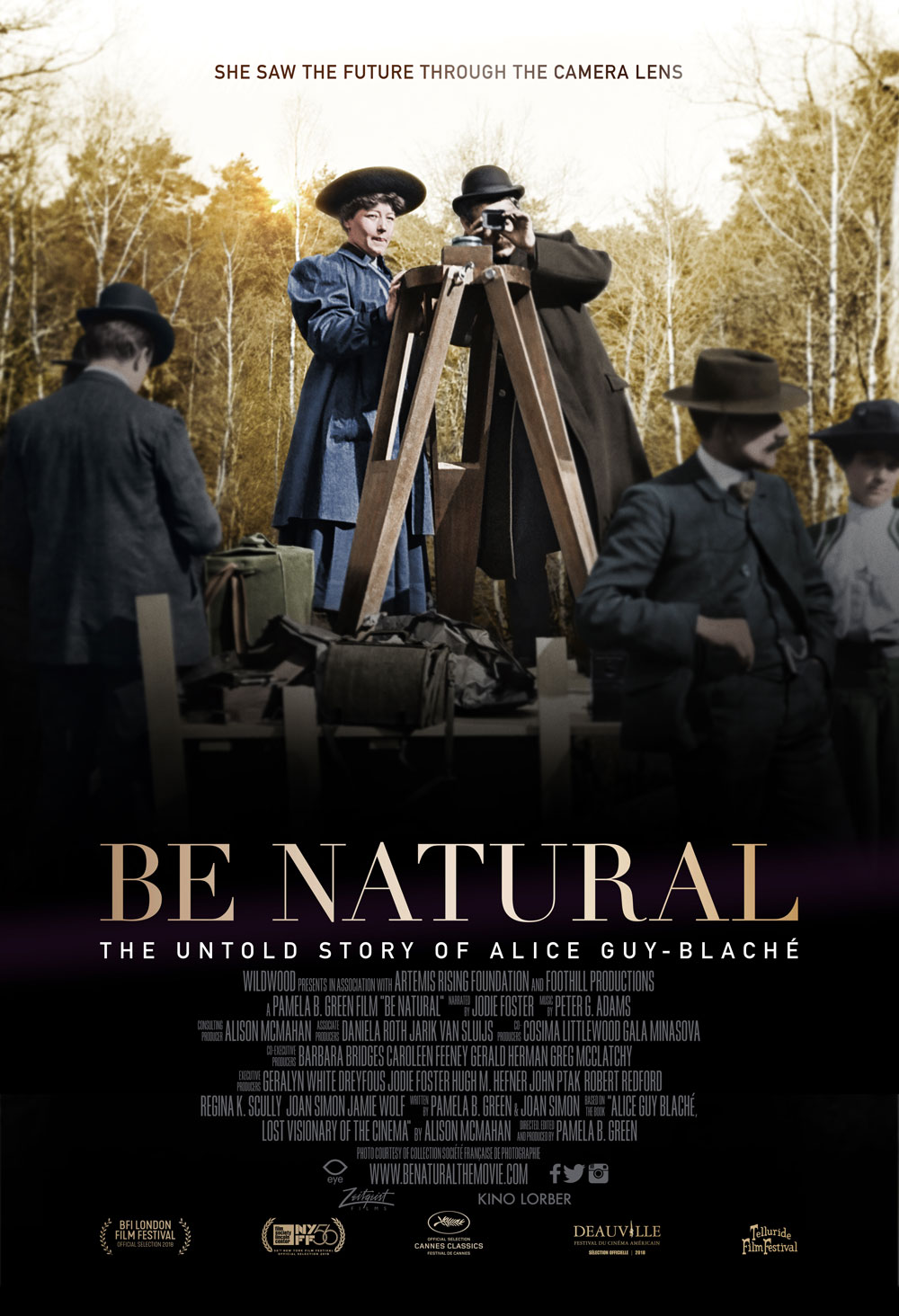 Alice Guy-Blaché was a true pioneer who got into the movie business at the very beginning—in 1894, at the age of 21. Two years later, she was made head of production at Gaumont and started directing films. She and her husband moved to the United States, and she founded her own company, Solax, in 1910—they started in Flushing and moved to a bigger facility in Fort Lee, New Jersey. But by 1919, Guy-Blaché's career came to an abrupt end, and she and the 1000 films that bore her name were largely forgotten. Pamela B. Green's energetic film is both a tribute and a detective story, tracing the circumstances by which this extraordinary artist faded from memory and the path toward her reclamation. Narration by Jodie Foster. –New York Film Festival

BE NATURAL premiered at the Cannes, Telluride, New York, Deauville and London Film Festivals in 2018. It opened in Los Angeles on April 19, 2019, and New York on April 26 followed by a nationwide release.

To book this film please contact Cosima Littlewood.

Trailers, a press kit, photos, posters and social media materials can be downloaded from our DropBox.

BE NATURAL is Certified Fresh on Rotten Tomatoes!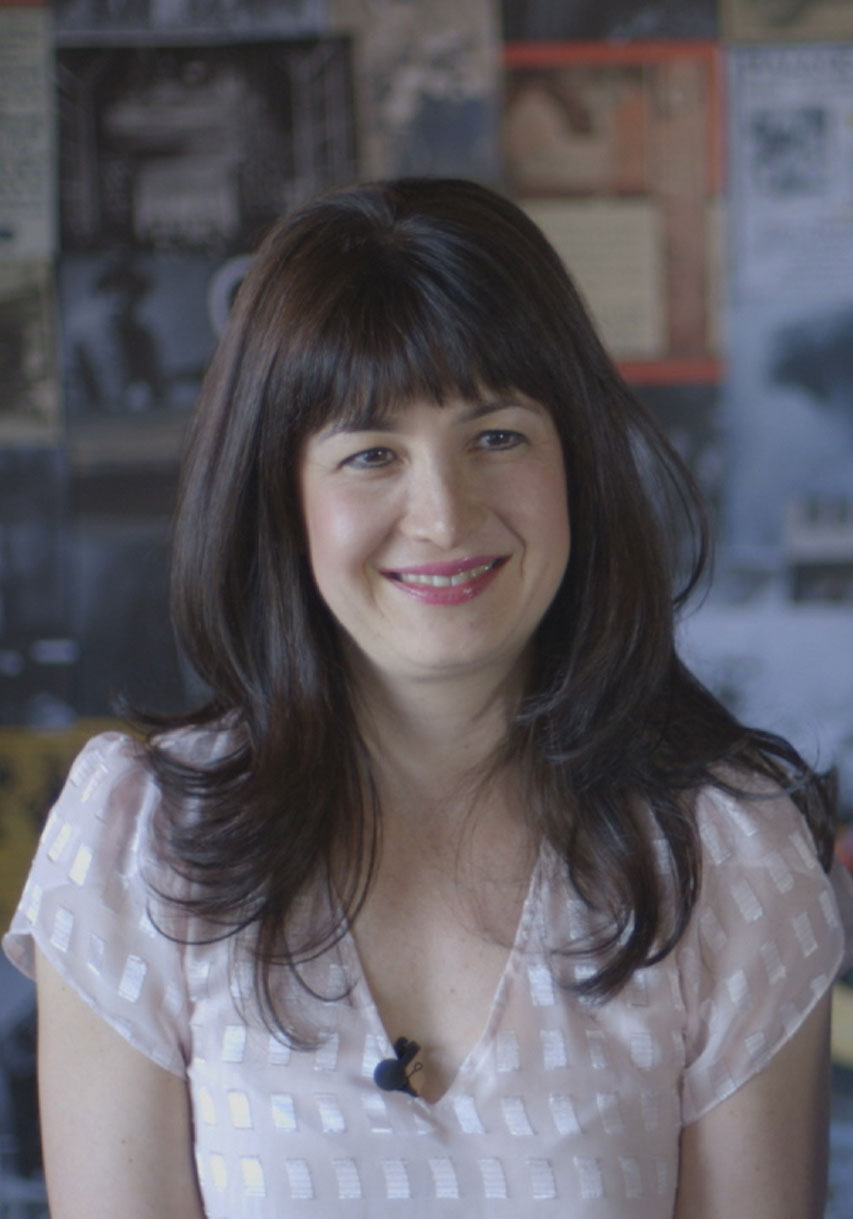 Pamela B. Green
Originally from New York, Pamela B. Green lived most of her life in Europe and Israel and as a result, is fluent in English, French, Italian, and Hebrew. In 2005, she founded PIC, an entertainment and motion design boutique based in Los Angeles, California. Green's work ranges from feature film main titles, motion graphics, creative directing, directing and producing music videos and commercials. She is known in the industry for creating titles sequences and story sequences using her knowledge of graphic design, animation, editorial, and rare archival stock footage research.
Green recently founded Legwork Collective, whose "media detectives" find and obtain rights to unusual and rarely seen before footage, stills, audio, and artifacts for use in feature films, documentaries, TV series, commercials and other industries outside of entertainment.
Nominated for an Emmy for the documentary Bhutto, Pamela B. Green has produced main titles, created and advised on internal story sequences and marketing campaigns for films such as the Bourne series, Fast and Furious, The Muppets, Rings and several Marvel comic book franchises. She has also worked on films such as The Cabin the Woods and The Kingdom. For television and streaming, she has created titles for Supergirl, The Flash, and Quantico among many others.
In addition, Pamela B. Green has creative directed and produced TV show and award show packages for, among others, the Academy Awards, Billboard Awards, and Critics Choice Awards, and MTV Awards.
Narrated by Jodie Foster

Featuring
Alice Guy-Blaché
with
Agnès Varda
Alan Williams
Alison McMahan
Anastasia Masaro
Anand Tucker
Andy Samberg
Anne Fletcher
Anne Fontaine
Ava DuVernay
Ben Kingsley
Bobby Cohen
Bryony Dixon
Catherine Hardwicke
Cathy Schulman
Cari Beauchamp
Cecile Starr
Deborah Nadoolman Landis
Diablo Cody
Dino Everett
Drake Stutesman
Elsie Fisher
Evan Rachel Wood
Frederik Du Chau
Floria Sigismondi
Gale Anne Hurd
Geena Davis
Gillian Armstrong
Howard Cohen
James Bobin
Jan-Christopher Horak
Janeane Garofalo
Jane Gaines
Jean-Michel Frodon
Joan Simon
John Bailey
Jon M. Chu
Julie Anne Robinson
Julie Corman
Julie Delpy
Julie Taymor
Kevin Macdonald
Kevin Stitt
Lake Bell
Marc Abraham
Marc Wanamaker
Mark Stetson
Mark Romanek
Marjane Satrapi
Maxine Haleff
Michel Hazanavicius
Neil Hunt
Lorenzo di Bonaventura
Patty Jenkins
Peter Billingsley
Peter Farrelly
Peter Decherney
Pierre-William Glenn
Rob Haworth
Robert von Dassanowsky
Richard Abel
Serge Bromberg
Stephanie Allain
Tom Meyers
Vadim Perelman
Valerie Steele
Vanessa Schwartz
Walter Murch
Wayne Kramer
Music by Peter G. Adams
Film Editing by Pamela B. Green
Legal Services Greg Bernstein
Lead Photographer Boubkar Benezabat
Production Manager Alexandra Useche
Additional Editor Emily C. Wallin
Additional Editor Stephen M. Rickert Jr.
Supervisor Sound Editor Daniel Saxlid
Post Production Supervisor Russ Paris
DI Colorist Corinne Bogdanowicz
DI Producer Christine Carr
Executive Producers
Geralyn White Dreyfous
Jodie Foster
Hugh M. Hefner
Robert Redford
Regina K. Scully
John Ptak
Joan Simon
Jamie Wolf
Co-Executive Producers
Barbara Bridges
Gerald Herman
Greg McClatchy
Dick Rosenzweig
Diane Stewart
Cameron O'Reilly
Co Producers
Cosima Littlewood
Gala Minasova
Associate Producers
Jeremy Bonham
Frank Buxton
Abigail E. Disney
Caroleen Feeney
Bruce Heavin
Nion McEvoy
Michel Merkt
Daniela Roth
Elaine Thomas
Teri Thomerson
Jarik Van Sluijs
Amanda Warren
Lynda Weinman
D.D. Wigley
Consulting Producers
Dino Everett
Alison McMahon
Anthony Slide
"CRITIC'S PICK! TREMENDOUSLY MOVING... By the end of 'Be Natural,' you won't only have a clear idea of who this remarkable woman was; you may well have acquired a new taste in old movies" – A.O. Scott, The New York Times
"Illuminating! What starts as a biography turns into a detective thriller." – Katie Walsh, The Los Angeles Times
"A lively, entertaining and visually appealing film... Ought to be mandatory viewing for every film student and filmmaker." – , Leonard Maltin
"A timely contribution to the conversation about the challenges facing women filmmakers…someone who really should be better known by now." – Leslie Felperin, The Hollywood Reporter
"A detective story wrapped up as a biopic…had me in tears by the time it ended. A stirring document of an amazing filmmaker!" – Pete Hammond, Deadline Hollywood