Beyond the Visible - Hilma af Klint
Director: Halina Dyrschka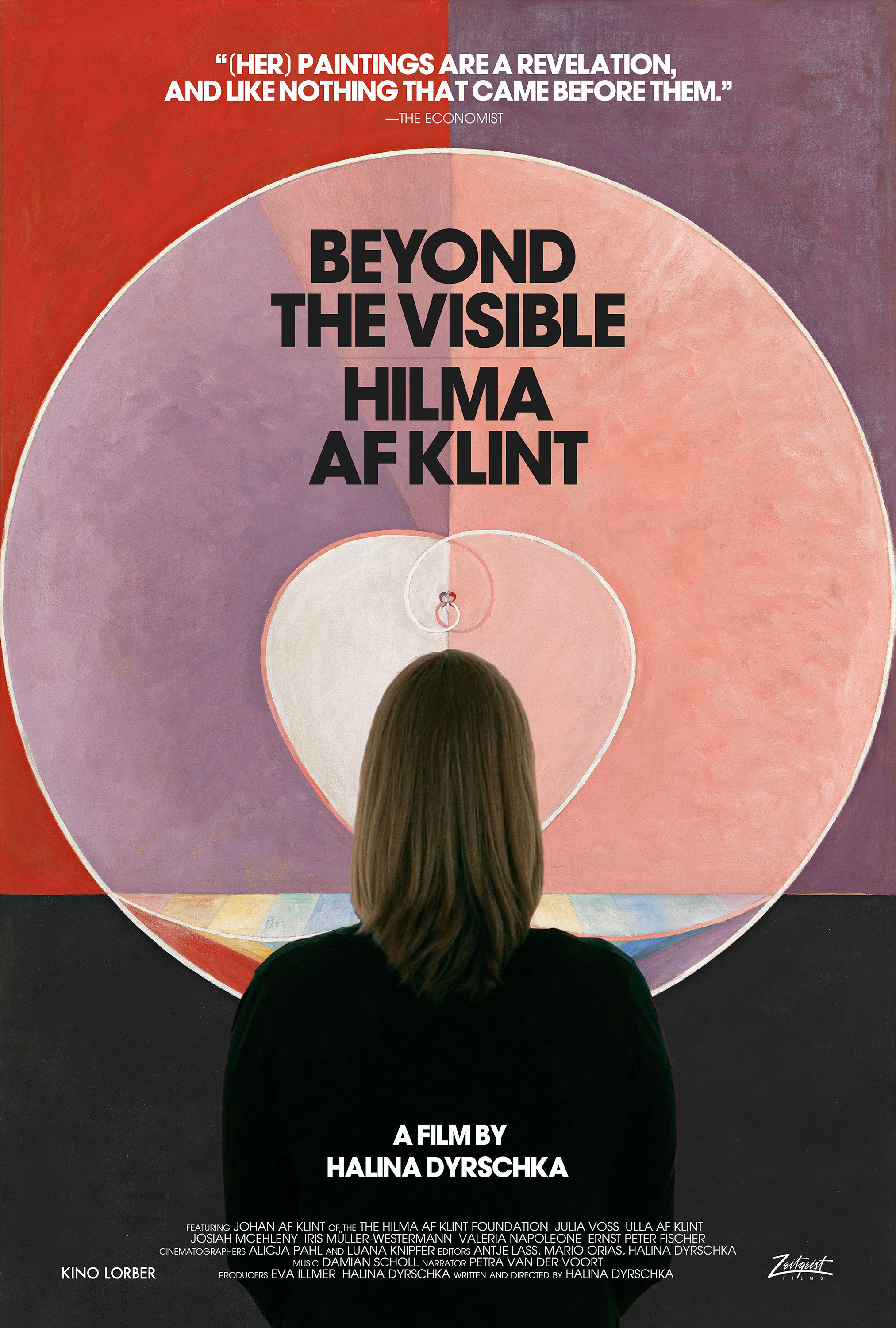 Hilma af Klint was an abstract artist before the term existed, a visionary, trailblazing figure who, inspired by spiritualism, modern science, and the riches of the natural world around her, began in 1906 to reel out a series of huge, colorful, sensual, strange works without precedent in painting. The subject of a recent smash retrospective at the Guggenheim Museum, af Klint was for years an all-but-forgotten figure in art historical discourse, before her long-delayed rediscovery. Director Halina Dryschka's dazzling, course correcting documentary describes not only the life and craft of af Klint, but also the process of her mischaracterization and erasure by both a patriarchal narrative of artistic progress and capitalistic determination of artistic value.

BEYOND THE VISIBLE is a Zeitgeist Films release in association with Kino Lorber. To book this film please contact Nancy Gerstman or Emily Russo.

Stills, a trailer, social media assets and a press kit can be downloaded from our DropBox.

BEYOND THE VISIBLE is now available on DVD, Blu-ray and on Kino Now.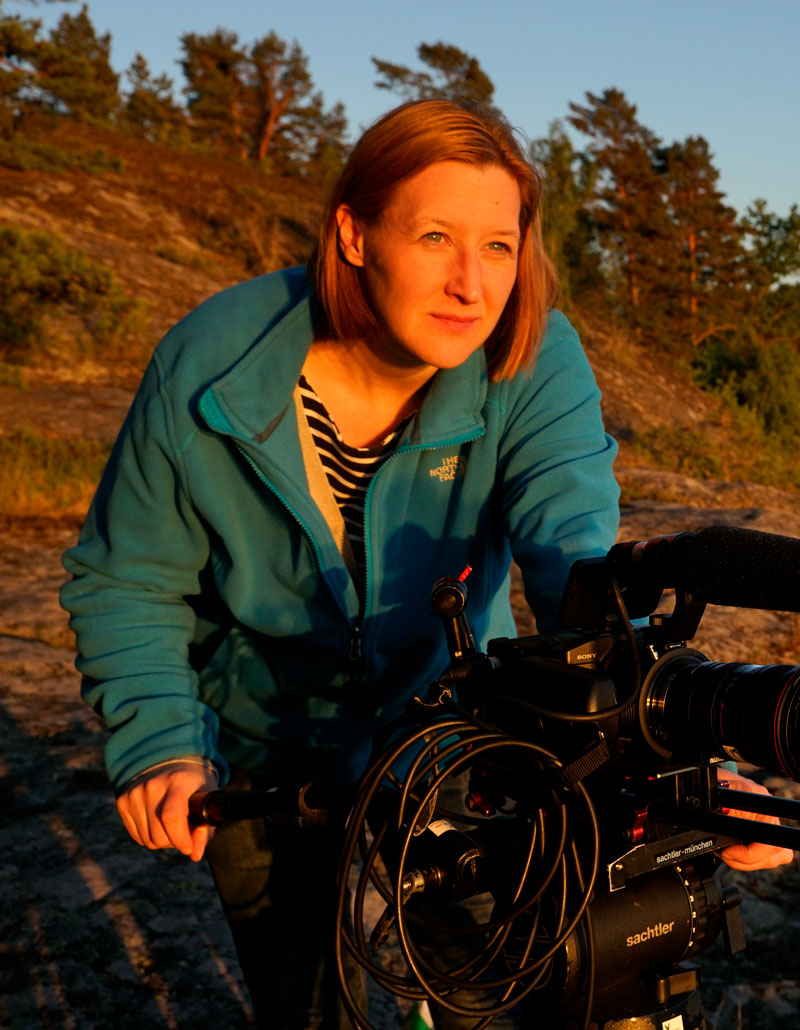 Halina Dyrschka
Halina Dyrschka was born in Berlin, Germany and is active as a director and producer. After studying acting, classical singing and film production she founded the company AMBROSIA FILM in Berlin. Her first film as a director the short film "9andahalf's Goodbye" was shown at over 40 film festivals worldwide and has won several awards. BEYOND THE VISIBLE – HILMA AF KLINT marks her directorial feature documentary debut and is the first and only film on the Swedish artist Hilma af Klint.
DIRECTOR/ AUTHOR Halina Dyrschka
PRODUCERS Eva Illmer, Halina Dyrschka
CINEMATOGRAPHERS Alicja Pahl and Luana Knipfer
EDITORS Antje Lass, Mario Orias, Halina Dyrschka
MUSIC Damian Scholl
NARRATOR Petra van der Voort

FEATURING

Johan af Klint, The Hilma af Klint Foundation
Julia Voss
Ulla af Klint
Josiah McEhleny
Iris Müller-Westermann
Valeria Napoleone
Ernst Peter Fischer
and more…
"CRITIC'S PICK. Bristles with the excitement of discovery and also with the impatience that recognition has taken so long. It refreshes the eyes and the mind." – A.O. Scott, The New York Times
"One of the best films I've seen about fine art. It casts an entrancing spell that allows the staggering depth of its subject's work to consume us." – Matt Fagerholm, RogerEbert.com
"Gorgeous…goes far deeper than the surface…making an airtight case for af Klint's ascension to an elevated place in art history." – Shana Nys Dambrot, LA Weekly
"An illuminating articulation of the era's social and cultural complexities.  It's more than worth a look — not only for its careful illumination of the artist's biography, plus an abundant representation of her luminous paintings, but for the way in which it exposes the obstacles af Klint and her legacy faced." – Christopher Knight, Los Angeles Times
"Takes a deep dive into her oeuvre, while also revealing known details of the artist's life." – Lorry Kitka, Film Threat
"The film fascinates as an excavation of lost history as well as a study of the values and biases that shape the artistic canon.  Dyrschka's delivers an engaging master class of art theory and history. Beyond the Visible: Hilma af Klint provides a unique opportunity to stroll the galleries as the artist gets her posthumous spotlight" – Pat Mullen, POV Magazine
"MOVIE OF THE WEEK. Dryschka's fascinating documentary is an illuminating introduction to a major artist all but erased from modern art history." – Jennifer Merin, Alliance of Women Film Journalists
"Supported by an enormous amount of research…piquantly points out connections between af Klint's art and certain scientific trends of her day…provides some zesty historical details." – Alex Greenberger, Artnet News
"A gratifyingly detailed look at her life and work, with generous helpings of her canvases shown onscreen." – Kenji Fujishima, Fine Art Globe
"If there's a jaw-dropping moment in this quiet, yet driven documentary it's when af Klint's abstract paintings are shown side by side against similar pieces from celebrated artists like Kandinsky, Mondrian, Cy Twombly, and Paul Klee. Straight and wiggly lines, colorful circles, triangles, spirals… they all did it, but it's clear that af Klint did it first." – Empress Eve, Geeksofdoom.com