Court
Director: Chaitanya Tamhane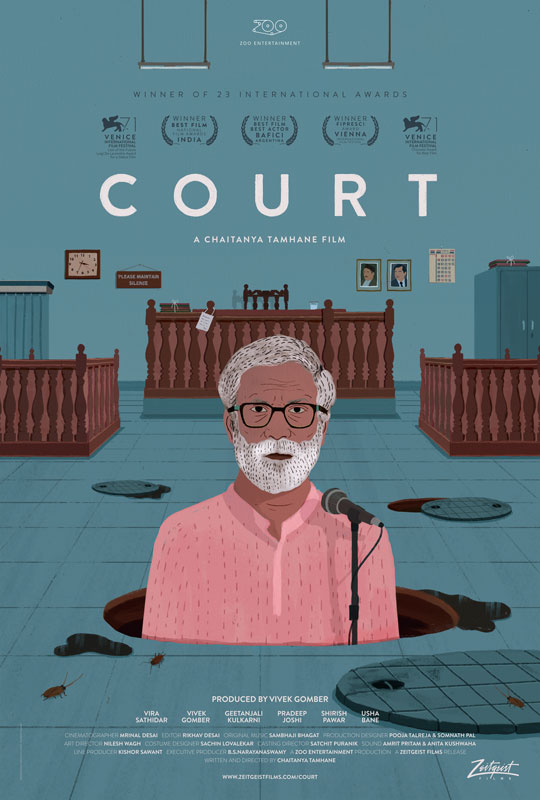 INDIA'S OFFICIAL SELECTION FOR THE 2015 ACADEMY AWARDS
WINNER OF 29 INTERNATIONAL AWARDS

"India's Oscar entry, COURT by Chaitanya Tamhane, is a masterpiece - a work of the deepest empathy, sublime in its construction."
–Joshua Oppenheimer, director of ACT OF KILLING

Winner of top prizes at the Venice and Mumbai film festivals, Chaitanya Tamhane's Court is a quietly devastating, absurdist portrait of injustice, caste prejudice, and venal politics in contemporary India. An elderly folk singer and grassroots organizer, dubbed the "people's poet," is arrested on a trumped-up charge of inciting a sewage worker to commit suicide. His trial is a ridiculous and harrowing display of institutional incompetence, with endless procedural delays, coached witnesses for the prosecution, and obsessive privileging of arcane colonial law over reason and mercy. What truly distinguishes Court, however, is Tamhane's brilliant ensemble cast of professional and nonprofessional actors; his affecting mixture of comedy and tragedy; and his naturalist approach to his characters and to Indian society as a whole, rich with complexity and contradiction. —New Directors/New Films

COURT had its US premiere at New Directors/New Films in March 2015 and after playing in theeater around the country last summer and fall is now available on iTunes.

Read about COURT in THE NEW YORKER

Chaitanya Tamhane
Born in Mumbai in 1987, Chaitanya Tamhane is an English literature graduate.
SIX STRANDS (2010), his first short film, was screened at various international film festivals including Rotterdam, Clermont-Ferrand, Edinburgh, and Slamdance.
In 2012, he was selected for the Berlinale Talent Campus at the Berlin Film Festival. COURT is his first feature film. The film was awarded the Hubert Bals Fund from the Rotterdam Film Festival.
FILMOGRAPHY
COURT / Feature Film / 2014
SIX STRANDS / Short Film / 2010
FOUR STEP PLAN / Documentary / 2006
CAST
Vira Sathidar as Narayan Kamble
Vivek Gomber as Vinay Vora
Geetanjali Kulkarni as Public Prosecutor Nutan
Pradeep Joshi as Judge Sadavarte
Usha Bane as Sharmila Pawar
Shirish Pawar as Subodh

CREW
Writer & Director Chaitanya Tamhane
Producer Vivek Gomber
Cinematography Mrinal Desai
Editing Rikhav Desai
Music Sambhaji Bhagat
Production Design Pooja Talreja and Somnath Pal
Costume Design Sachin Lovalekar
Sound Design Anita Kushwaha and Amrit Pritam
"ENGROSSING... There are courtroom dramas, and then there's COURT, Chaitanya Tamhane's impressive debut, which flays alive India's justice system while commenting on class, education and access to power. Managing to be both extremely rational and extremely humane, the film works so well thanks to an intelligent, superbly understated script and a feel for naturalism that extends beyond mere performance." – Jay Weissberg, Variety
"Biting and devastating, Court is one of the real standouts of this year's New Directors/New Films." – Dustin Chang, Twitch
"What starts as an absurdist comedy soon blooms into a searing evisceration of India's legal system." – , Time Out New York
"Critics Pick! The wheels of justice grind slowly and mercilessly in "Court," Chaitanya Tamhane's quiet, devastating critique of the antiquated Indian legal system. " – Stephen Holden, New York Times
"Critics Pick! Court is one of the strongest debut features in years. " – Alan Scherstuhl, Village Voice