Derrida
Director: Kirby Dick, Amy Ziering Kofman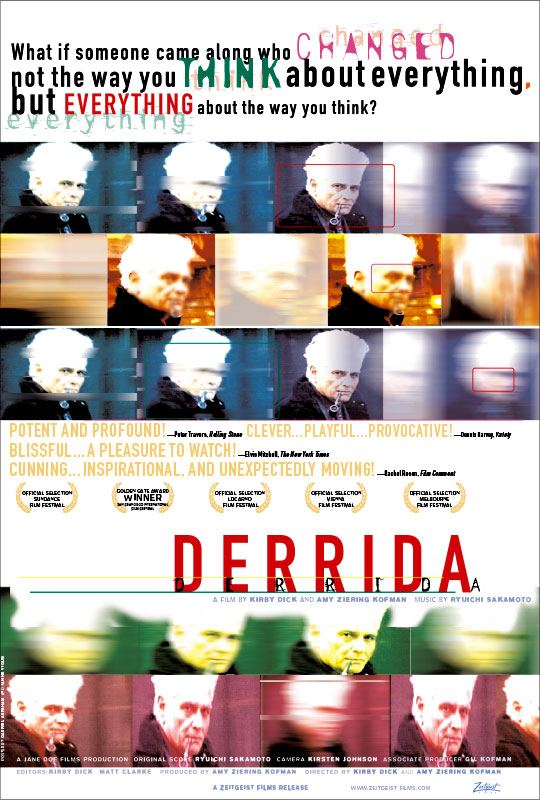 One of the most influential and iconoclastic figures of the 20th century, French philosopher and father of "deconstruction" Jacques Derrida has single-handedly altered the way we look at history, language, art and film. In the spirit of Derrida's work, acclaimed filmmakers Kirby Dick (Sick: The Life and Death of Bob Flanagan, Supermasochist) and Amy Ziering Kofman have created an innovative and entertaining portrait by questioning the very concept of biography itself. Featuring a mesmerizing score by Oscar-winning composer Ryuichi Sakamoto (The Last Emperor), Derrida is a playful and provocative glimpse at a visionary thinker as he ruminates on everything from Seinfeld to the sex lives of ancient philosophers.
Kirby Dick
Kirby Dick is an award-winning Los Angeles filmmaker. His most recent film, THIS FILM IS NOT YET RATED, premiered at the 2006 Sundance Film Festival. His previous film, TWIST OF FAITH, about clergy sexual abuse, was nominated for an Academy Award. Earlier films include DERRIDA, winner of the Golden Gate Award at the San Francisco Film Festival, and CHAIN CAMERA, which premiered at the Sundance Film Festival. In 1997 he directed the internationally acclaimed SICK: THE LIFE AND DEATH OF BOB FLANAGAN, SUPERMASOCHIST, which won the Special Jury Prize at the Sundance Film Festival and the Grand Prize at the Los Angeles Film Festival.


Amy Ziering Kofman
DERRIDA marks Amy Ziering Kofman's directing debut. She most recently produced the critically acclaimed feature documentary TAYLOR'S CAMPAIGN, which followed the race for a seat on the Santa Monica City Council by one of its homeless residents.


Directed by Kirby Dick and Amy Ziering Kofman
Composed by Ryuichi Sakamoto
Produced by Amy Ziering Kofman
Edited by Kirby Dick and Matt Clarke
Associate Producer Gil Kofman
Camera Kirsten Johnson
Sound Mark Z. Danielewski, Pascal Depres, Benoit Hillebrandt
Additional Camera Richard Atkinson, Baird Bryant, Christine Burrill, Herve Cohen, Mark Z. Danielewski, Gil Kofman, Arturo Smith, Geza Sinkovics, Chris Tetens
Additional Sound Alan Barker, Kip Gynn, Yuri Racin, Chris Scarfile
Additional Editing Gil Kofman
First Assistant Editor Brian Jonason
Assistant Editors Mark Z. Danielewski, Adam Finberg, Annette Aryanpour, Damien Caldwell
Editing Consultant Tristan Brighty
Subtitles Amy Ziering Kofman
Post-Production Supervisor Brian Jonason
Music Mixed by Ryuichi Sakamoto and Fernando Aponte
Music Recorded at Kab Studios, NYC
Music Recorded by Fernando Aponte
Re-Recording mixer Mark Linden
Titles Mike Kahne