Divan
Director: Pearl Gluck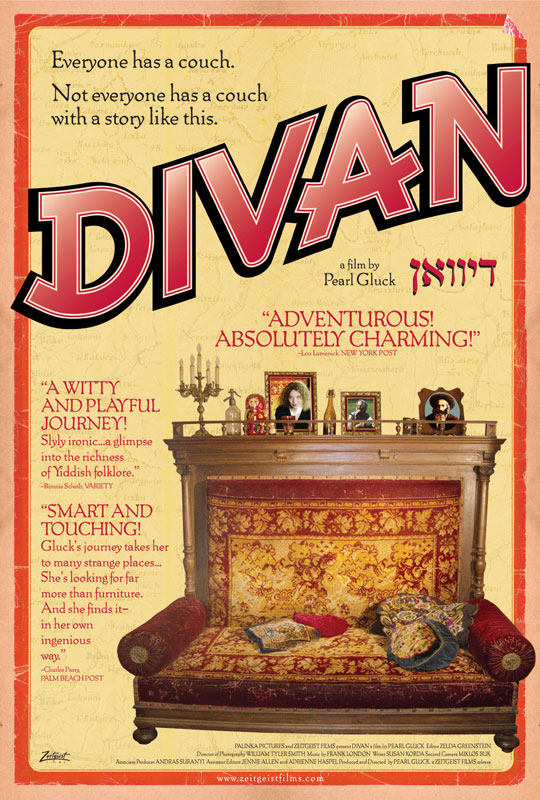 As a teenager, filmmaker Pearl Gluck left her Orthodox Jewish clan in Brooklyn for secular life in Manhattan. Many years later, Pearl's father has one wish: that she marry and return to the community. Pearl, however, takes a more creative approach to mend the breach. She travels to Hungary to retrieve a turn-of-the-century family heirloom: a couch upon which esteemed rabbis once slept. En route for the ancestral divan, Pearl encounters a colorful cast of characters who provide guidance and inspiration, including a couch exporter, her ex-Communist cousin in Budapest, a pair of Hungarian-American matchmakers and a renegade group of formerly ultra-Orthodox Jews. Nimbly clever and intensely illuminating, DIVAN is a visual parable that offers the possibility of personal reinvention and cultural re-upholstery.

DIVAN is out of print on DVD for home use but it can be watched here.
Pearl Gluck
Ten years after leaving her native Borough Park, Brooklyn, Pearl Gluck received a Fulbright grant to collect oral histories from Yiddish speakers in areas of Hungary once home to thriving Hasidic communities. At heart, she is a zamler, Yiddish for collector, an ethnographer.

Divan is a Hasidic tale five years in the making and is her debut feature documentary, developed with the assistance of the Sundance Institute. Although she broke from her past, Gluck continues to draw from her rich Hasidic heritage and through her current work seeks to provide both a bridge to the past and a form of cross-communal dialogue through the arts. She was the first to receive a Yiddish Fulbright to Hungary and her work was created with the support of foundations such as New York State Council on the Arts, Eva Eastman Fund, and the National Foundation for Jewish Culture.

Gluck's video art includes Trance with sound artist Basya Schechter for the Eldridge Street Project in NYC, opening April 30, 2003, and a multimedia installation in Weimar, Germany for backup.loungelab 2002.

She co-directed the award-winning short, Great Balls of Fire (6 mins; 2001) which is a homeless man's response to September 11. The short continues to screen worldwide at venues such as Transmediale, Oberhausen, Walker Center for the Arts, New York Video Festival, and in competition at the Globalica 10th International Media Art Biennale in Wroclaw, Poland.

Gluck has spearheaded community arts programs, curated literary and film events from Hungary to Israel to New York City, and has just returned from a February artist residency at the Paideia Institute in Stockholm. As part of her ongoing commitment to educational outreach, she has appeared on numerous college and university campuses, and acted as writer/mentor at the MacArthur-granted program, The Harlem Writers Crew.

Her first involvement with documentary film was in A Life Apart: Hasidism in America (1998; Oren Rudavsky and Menachem Daum). Her appearance in the film has encouraged grass-roots organization for an ex-Orthodox creative alliance. As one reviewer of The Boston Globe wrote, "Gluck deserves a documentary of her own."




Writer/Director/Producer Pearl Gluck
Editor Zelda Greenstein
Director of Photography William Tyler Smith
Second Camera Miklos Buk
Co-Writer Susan Korda
Composer Frank London
Hungary Associate Producers Andras Suranyi
New York Associate Producers Isaac Stein, Sara Goodman
Additional Photography Christopher Edwards, John Kirby, Pearl Gluck, Matthias Erdely
Post Production Supervisor Eric Mueller
Online Editor Steve Reich
Post Production Online Services Splice Here
Sound Editor Tom Hambleton
Assistant Sound Editor Michael Schafer, Jerry Horwath
Post Production Sound and Mix Undertone Music
Assistant Editors Adrienne Haspel, Jennie Allen
Post Production Assistant Vivian Kamen
Title Design/Animation Ed Raeker
Graphics/Maps Reelworks, Inc.
Legal Services Robert Siegel, Esq.
Internet/Technology Eric Goldhagen, interactivist.net, Daniel Sieradski, the44.net, Pink Candy Productions
Hungarian Translators Peter Solymosi, Krisztina Biber
Yiddish Subtitles Editor Yermiyahu Ahron Taub
A Palinka Pictures Production