The Draughtsman's Contract
Director: Peter Greenaway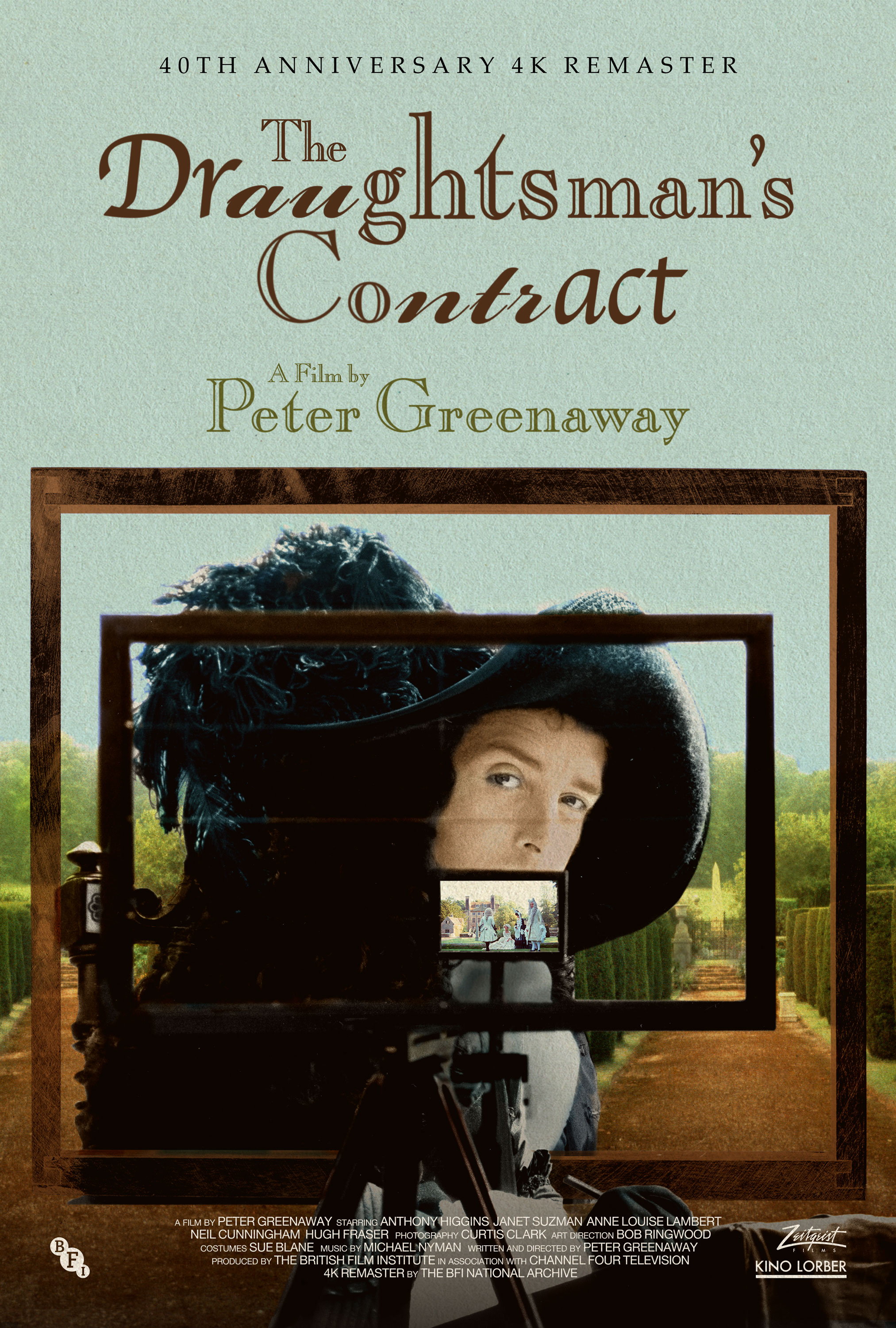 Newly remastered in 4K by the BFI National Archive.
Set in a richly exaggerated 17th-century England, Peter Greenaway's witty, stylised, erotic country house murder mystery catapulted him to the forefront of international art cinema. Adorned with intricate wordplay, extravagant costumes and opulent photography, Greenaway's first narrative feature weaves a labyrinthine mystery around the maxim "draw what you see, not what you know." An aristocratic wife (Janet Suzman) commissions a young, cocksure draughtsman (Anthony Higgins) to sketch her husband's property while he is away—in exchange for a fee, room and board, and one sexual favor for each of the twelve drawings. As the draughtsman becomes more entrenched in the devious schemings in this seemingly idyllic country home, curious details emerge in his drawings that may reveal a murder.

Bolstered by a mesmerising score by then-newcomer Michael Nyman and stunning cinematography by Curtis Clark, The Draughtsman's Contract is a luscious cinematic banquet for eye, ear and mind.
The remastered Draughtsman's Contract played December 2022 at Film Forum in New York. To book this film please contact Nancy Gerstman or Emily Russo.
A press kit, trailer, stills, jpegs of the poster and social media assets are available to download from our Exhibition DropBox.
Peter Greenaway
Peter Greenaway embarked on his career as a filmmaker in 1966 at age 24. After graduating from Walthamstow College of Art, he began a long period of employment as a film director and editor at the Central Office of Information, a UK government department responsible for making public information films. Both of these institutions have heavily marked his film work, bringing together a strong visual sense as befits a painter, and an obsessive exploration of the absurdity of bureaucracies and the possibilities or otherwise of the documentary form. These two elements can be seen throughout his early short films.

Throughout his career, as well as making films, Greenaway has remained active as a fine artist, exhibiting paintings at Lord's Gallery in 1964; illustrating three books in 1970 (The Alphabetical Gang Lion; Gang Lion and the Visual Flush and Tulse Luper and the Centre Walk); producing the Water Papers (a set of fifty drawings) in 1974 (exhibited at Arts 38 and Curwen Gallery in 1976) and the paintings and drawings involved in A Walk Through H (1978) and The Draughtsman's Contract in 1982.

With the making of the astonishingly successful The Draughtsman's Contract, Greenaway not only entered the domain of the feature film, but he also helped to change the face of British film itself. Bizarre, intensely personal films were no longer perceived as crazy projects but as commercially viable (with help from the newly established Channel 4). Thus began a long, successful career in which Greenaway's talents and obsession found a platform in films such as A Zed & Two Noughts; Drowning by Numbers; The Cook, The Thief, His, Wife and Her Lover; Prospero's Books; The Pillow Book and The Tulse Luper Suitcases.
Cast
Mr. Neville Anthony Higgins
Mrs. Herbert Janet Suzman
Mrs. Talmann Anne Louise Lambert
Mr. Noyes Neil Cunningham
Mr. Talmann Hugh Fraser
Mr. Herbert Dave Hill
Mr. Seymour David Gant
The Poulencs David Meyer and Tony Meyer
Mr. Parkes Nicholas Amer

Written and Directed by Peter Greenaway
Producer David Payne
Cinematography Curtis Clark , ASC
Art Director Bob Ringwood
Editor John Wilson
Costumes Sue Blane
Music Michael Nyman
Production Company BFI Production Board,
in association with Channel 4
"Five stars. Greenaway's arch tale of sexual and political manipulation has not lost its power to bewilder and compel.... The Draughtsman's Contract has a singular brilliance." – Peter Bradshaw, The Guardian
"Proclaimed the arrival of Greenaway with a blast on the Baroque Trumpet. Few directors can have contrived so piercing an annunciation of their talent." – , The Independent (UK)
"A TANTALIZING PUZZLE, WRAPPED IN EROTICISM AND PRESENTED WITH THE UTMOST ELEGANCE. The raw materials of this story could have been fashioned into a bawdy romp like Tom Jones. But the director has made a canny choice. Instead of showing us everything, and explaining everything, he gives us the clues and allows us to draw our own conclusions. IT'S LIKE A CROSSWORD PUZZLE FOR THE SENSES. I HAVE NEVER SEEN A MOVIE QUITE LIKE IT." – Roger Ebert,
"Greenaway's breakthrough... startled and entranced British audiences and European audiences even more so, with its rich, weird mix of luscious costumes and theatricality, emotionless line-readings, austerely inert staging, opaque plotting, mad elegance and mysterious eroticism…After 40 years…it looks more brilliant, more uncompromisingly cerebral and more exasperating than ever." – Peter Bradshaw, The Guardian
"Astonishingly elegant…extraordinarily detailed…mind-bendingly rich." – Vincent Canby, The New York Times