Elena
Director: Andrey Zvyagintsev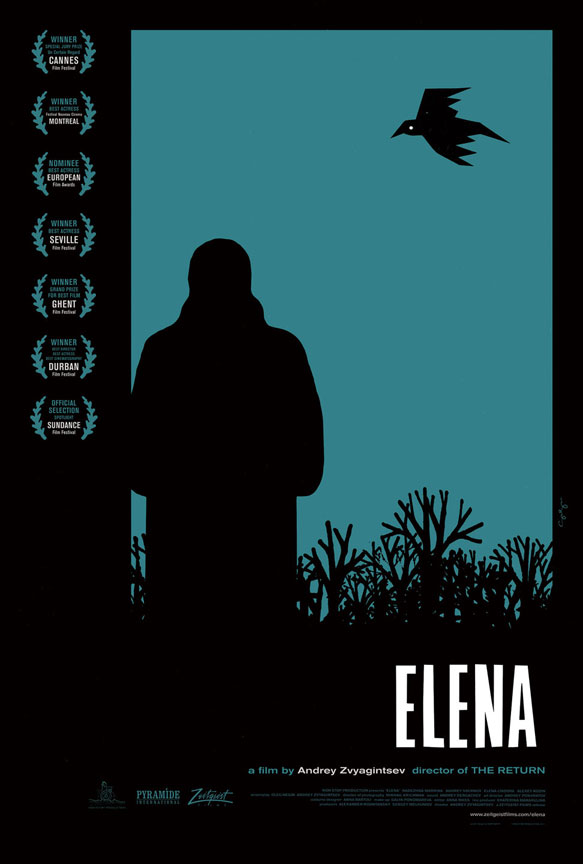 FROM THE DIRECTOR OF LEVIATHAN

Winner of Cannes' Un Certain Regard Special Jury Prize, Elena is a gripping, modern twist on the classic noir thriller. Sixty-ish spouses Vladimir and Elena uneasily share his palatial Moscow apartment—he's a still-virile, wealthy businessman; she's his dowdy former nurse who has clearly "married up." Estranged from his own wild-child daughter, Vladimir openly despises his wife's freeloading son and family. But when a sudden illness and an unexpected reunion threaten the dutiful housewife's potential inheritance, she must hatch a desperate plan…. Masterfully crafted by award-winning Russian filmmaker Andrey Zvyagintsev (Golden Globe nominee The Return) and featuring evocative, Hitchcockian music by Philip Glass, Elena is a subtly stylish exploration of crime, punishment and human nature.

ELENA is now available on Blu-ray, DVD and digital.
Andrey Zvyagintsev
Andrey Zvyagintsev was born in 1964 in Novosibirsk, Siberia. After graduating in 1990 from the acting department of Russian Academy of Theatre Arts (GITIS), where he studied under Eugene Lazarev, Andrey went on to act in independent theatre, TV and film.

In 2000 he made his directorial debut with three episodes for REN TV's The Black Room. He won over 40 prestigious international awards for his film. Zvyagintsev's first feature,The Return, was nominated for a Golden Globe after winning the Golden Lion and the Lion of the Future for Best Director's Debut at the 60th Venice Film Festival in 2003. The film was sold to 75 countries. His second feature, The Banishment, premiered at the 60th Cannes Film Festival in 2007 and earned Konstantin Lavronenko the Palme D'Or for Best Leading Actor, the first ever for a Russian actor. His next film, Elena, won the Special Jury Prize in the Un Certain Regard section of the 2011 Cannes Film Festival. His most recent film, Leviathan, premiered at Cannes in 2014.
Elena NADEZHDA MARKINA
Vladimir ANDREY SMIRNOV
Katerina ELENA LYADOVA
Sergey ALEXEY ROZIN
Tatyana EVGENIA KONUSHKINA
Sasha IGOR OGURTSOV
Lawyer VASILIY MICHKIV
Vitek ALEXEY MASLODUDOV

Director: Andrey Zvyagintsev
Producer: Alexander Rodnyansky, Sergey Melkumov
Production Company: NON STOP PRODUCTIONS
Screenplay: Oleg Negin, Andrey Zvyagintsev
Cinematographer: Mikhail Krichman
Editor: Anna Mass
Sound: Andrey Dergachev, Stas Krechkov
Production Designer: Vasily Gritskov, Valeriy Zhukov

The film contains music from Symphony No. 3 (1995) by PHILIP GLASS
"CRITICS' PICK. Brilliant and gripping." – Stephen Holden, The New York Times
"Shoot this film in black and white and cast Barbara Stanwyck as Elena, and you'd have a 1940s classic!" – Roger Ebert, Chicago Sun Times
"Spellbinding and impeccably crafted.... Performances are superb across the board, framed in elegant widescreen compositions that simmer with violence." – Sheri Linden, Los Angeles Times
"Nicely noirish, cynically satisfying." – Michael O'Sullivan, Washington Post
"A thing of severe and chilly beauty, directed by the prodigiously talented Andrei Zvyagintsev. A remarkable work!" – Ty Burr, The Boston Globe
"Along with Zvyagintsev's assured direction, the performances are what make "Elena" so remarkable." – Bill Goodykoontz, Arizona Republic
"PICK OF THE WEEK! Mesmerizing! A mysterious existential thriller that's brilliantly acted and masterfully directed, without a second of wasted screen time." – Andrew O'Hehir, Salon
"Grounded in classic elements of film noir but lensed with a stillness that becomes paradoxically nerve-rattling...a thriller about the shifting moral calculus in a world where money changes everything." – Steve Dollar, The Wall Street Journal
"Stunning...An outstanding Russian drama of fractured families, money and quiet desperation." – Neil Young, The Hollywood Reporter
"A wise and impeccably controlled drama that finds Russian helmer Andrei Zvyagintsev in outstanding form.... Zvyagintsev spins a taut, engrossing yarn about a coveted inheritance, cruel class differences and quietly monstrous misdeeds." – Justin Chang, Variety
"An intensely compelling slice of noir about moral rot and class warfare in post-Soviet Russia....A bone-deep existential unease and spiritual alienation, a preoccupation with sin that is at once quintessentially Russian and wholly archaic..... [Zvyagintsev's] vision of eternal human frailty is inescapably tragic and religious — and brutally unforgiving." – Ella Taylor, NPR
"Devastating! I can't recommend it highly enough...a distressingly universal tale of haves and have-nots, not to mention an apt reminder that morality and ethics can be slippery propositions when other interests drive us." – Tim Greirson, IFC.com
"Pulses with tremendous tension! An austere Russian drama with shades of Hitchcock." – Scott Tobias, The AV Club
"As the film unfolds, we get so many new angles of how to look at these characters and the story overall. There is so much here to endlessly enjoy." – Rudie Obias, Shockya
"Beautifully shot." – Will McCord, Paste Magazine
"Impeccably composed, stark visuals lending a near-apocalyptic mood that permeates every frame. Andrey Zvyagintsev taps into the rich tradition of film noir, as well as the influence and cultural echoes of such diverse Russian forebears as Dostoevsky, Chekhov and Tarkovsky." – Christopher Bourne, Twitch
"Extraordinary... Grounded by Markina's magnificent performance...brilliantly shot by Zvyagintsev regular Krichman, and its chill heightened by hyper, excited bursts from Glass's score" – Howard Feinstein, Screen Daily