The Galapagos Affair: Satan Came to Eden
Director: Dan Geller, Dayna Goldfine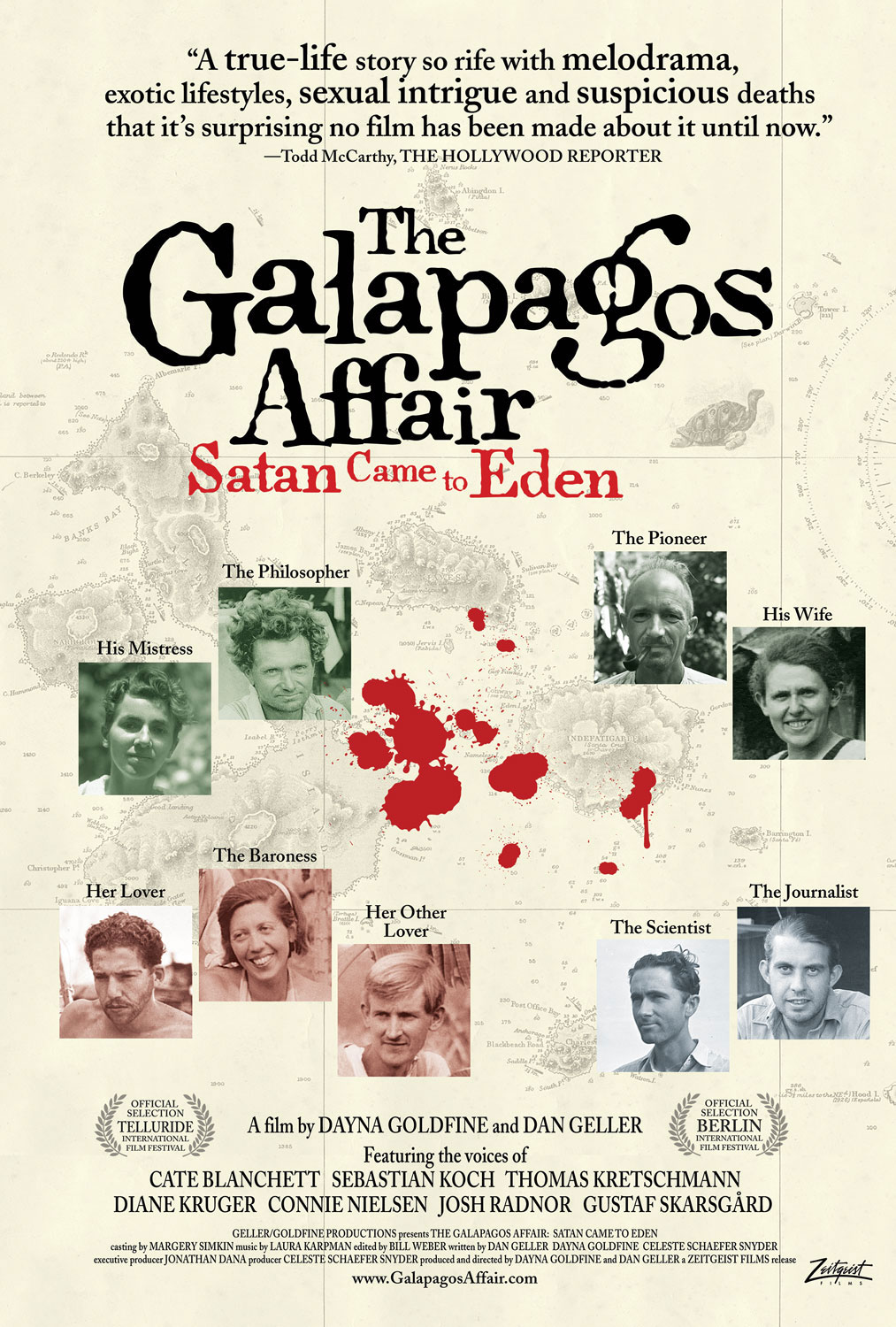 Darwin meets Hitchcock in this true-crime tale of paradise found and lost. The Galapagos Affair: Satan Came To Eden is a fascinating documentary portrait of a 1930s murder mystery as strange and alluring as the famous archipelago itself. Fleeing conventional society, a Berlin doctor and his mistress start a new life on uninhabited Floreana Island. But after the international press sensationalizes the exploits of the Galapagos' "Adam and Eve", others flock there—including a self-styled Swiss Family Robinson and a gun-toting Viennese Baroness and her two lovers. Clashing personalities are aggravated by the island community's lusty free-love ethos, and when some of the islanders disappear, suspicions of murder hang in the air leaving an unsolved mystery which remains the subject of local lore today.

To bring this extraordinary story to life, filmmakers Dayna Goldfine and Dan Geller (Ballets Russes) nimbly interweave newly unearthed home movies of these original settlers; testimonies of modern day islanders; stunning HD footage of native flora and fauna; and powerful voice performances by Oscar® winner Cate Blanchett, Diane Kruger, Connie Nielsen, Sebastian Koch, Thomas Kretschmann, Gustaf Skarsgård and Josh Radnor. Macabre yet inspiring, The Galapagos Affair is a gripping parable of Robinson Crusoe adventure and utopian dreams gone awry.

Dan Geller
Dan Geller graduated from Cornell University with a B.A. in history and received his M.A. in documentary production from Stanford University.


Dayna Goldfine
Dayna Goldfine holds a B.A. in feminist studies from Stanford University, and received her film training at De Anza College in Cupertino, California.

For over twenty years, Emmy-award winning directors/producers Dan Geller and Dayna Goldfine have jointly created critically-acclaimed, multi-character documentary narratives that braid their characters' individual personal stories to form a larger portrait of the human experience. Their most recent film is THE GALAPAGOS AFFAIR: SATAN CAME TO EDEN (2013). Their work includes the award-winning SOMETHING VENTURED (2011), which premiered at SXSW, went on to play at festivals internationally, and was broadcast nationwide on PBS; BALLETS RUSSES (2005) which was recognized as one of the top five documentaries of 2005 by both the National Society of Film Critics and the National Board of Review and appeared on a dozen critical "10 Best Films" lists, including those of Time Magazine, the Los Angeles Times, The Hollywood Reporter, the San Francisco Chronicle and Slate; NOW AND THEN: FROM FROSH TO SENIORS, which premiered theatrically in October 1999 and aired on PBS in October 2000 as the lead program of the Independent Lens series; KIDS OF SURVIVAL: THE ART AND LIFE OF TIM ROLLINS + K.O.S. (1996), a feature-length documentary about the South Bronx-based art group Tim Rollins & K.O.S., which aired on Cinemax in September 1998 and was the recipient of two national Emmy Awards; FROSH: NINE MONTHS IN A FRESHMAN DORM (1994); and, the award-winning ISADORA DUNCAN: MOVEMENT FROM THE SOUL (1988).

Directed by Dayna Goldfine & Dan Geller

Written by Dayna Goldfine, Dan Geller
& Celeste Schaefer Snyder
Based on the books, journals, articles and letters of Dore Strauch, Margret Wittmer, Friedrich Ritter, Heinz Wittmer and John Garth

Featuring performances by (in alphabetical order)
Cate Blanchett (Dore Strauch
Sebastian Koch (Heinz Wittmer )
Thomas Kretschmann (Friedrich Ritter)
Diane Kruger (Margret Wittmer)
Connie Nielsen (Baroness Eloise von Wagner)
Josh Radnor (John Garth)
Gustaf Skarsgård (Rolf Blomberg)

Produced by Dan Geller, Dayna Goldfine
& Celeste Schaefer Snyder
Executive Producer Jonathan Dana
Edited by Bill Weber
Original Music Laura Karpman
Casting Margery Simkin
Associate Producer William McComas
Cinematography Dan Geller
Location Sound Dayna Goldfine
"Directors Goldfine and Geller tell their story with such engaged confidence that we are swept along to its wild end. Move over, Charles Darwin, when it comes to great tales about the Galapagos, you've got company. " – Kenneth Turan, Los Angeles Times
"FASCINATING!... A captivating tale of trying to escape from civilization, yet never really succeeding." – Lori Huck, Examiner.com
"Has more twists than your average thriller, and it's twice as exciting! " – Jackson Scarlett, 7x7
"4 STARS (OUT OF 4)! Documentarians Dan Geller and Dayna Goldfine go into this film with two aces already in hand—a remarkable real-life story...and an amazing cache of home movies made by the inhabitants. They turn in THE MOST IRRESISTIBLE FILM SO FAR OF 2014." – Mick LaSalle, San Francisco Chronicle
"ABSORBING, SUSPENSEFUL! A STORY THIS WELL TOLD DESERVES TO BE RELISHED! Goldfine and Geller pace and structure The Galapagos Affair like the true-crime tale that it is, its mysteries rich and involving, its characters enduring in the imagination long after the film has ended." – Alan Scherstuhl, The Village Voice
"With characteristic poise and intelligence, Goldfine and Geller spin the yarn very well, balancing eccentricity with accessibility. Their film makes judicious use of its subjects' home movies and of Ritter and Strauch's usefully articulate writings (read, respectively, by Thomas Kretschmann and Cate Blanchett). Blessed with a great cast of human characters, they also pay keen attention to various beasts, some more domesticated than others." – Jonathan Kiefer, SF Weekly
"FASCINATING! A stranger-than-fiction gem." – Chris Nashawaty, Entertainment Weekly
"The Galapagos Affair has more going for it than most of the claptrap filling multiplexes right now.... A good historical documentary should tell an interesting story in a cohesive way and arouse our interest, even if we know nothing about the subject matter. The Galapagos Affair does just that." – Leonard Maltin, Indiewire
"A darkly amusing historical documentary about the fruitless search for paradise on Earth by vainglorious, world-weary dreamers who set themselves above, and apart from, the rest of humanity. The heart of the film...is a hybrid of juicy period soap opera and 'Survivor.'" – Stephen Holden, The New York Times
"There's big trouble in paradise in The Galapagos Affair: Satan Came to Eden, a true-life story so rife with melodrama, exotic lifestyles, sexual intrigue and suspicious deaths that it's surprising that no film has been made about it until now. This inescapably fascinating documentary...combines contemporary material with fantastic film footage taken at the time and excellent dramatic readings by a fine international cast." – Todd McCarthy, The Hollywood Reporter
"A riveting reconstruction of paradise gone to hell....Plays out like a game of tropical 'Clue' writ large....Cate Blanchett is marvelous." – Beth Hanna, Thompson on Hollywood, Indiewire
"A story with characters worthy of the richest fiction—including a decadent baroness intent on building a luxury hotel—climaxing in a violent, still unsolved mystery. Nearly a decade in the making, this remarkable documentary recounts the strange and sordid Floreana tale using the actual journals and diaries of the key players, here brought to life by an all-star voice cast. It's a haunting exploration of wildness, human nature and our struggles to escape what perhaps is inevitable." – Scott Foundas, Chief Critic, Variety
"Intriguing… a gripping real-life story… Sex, violence, bitter conflict and an unresolved murder mystery are the defining aspects of its story of how a plan to set up a new life in a idyllic island location goes so badly wrong." – Mark Adams, Screen Daily
"A thrilling and well-crafted documentary about intrigue, murder, and the failure of utopian ideals." – Theis Duelund, Los Angeles Magazine