Gregory Crewdson: Brief Encounters
Director: Ben Shapiro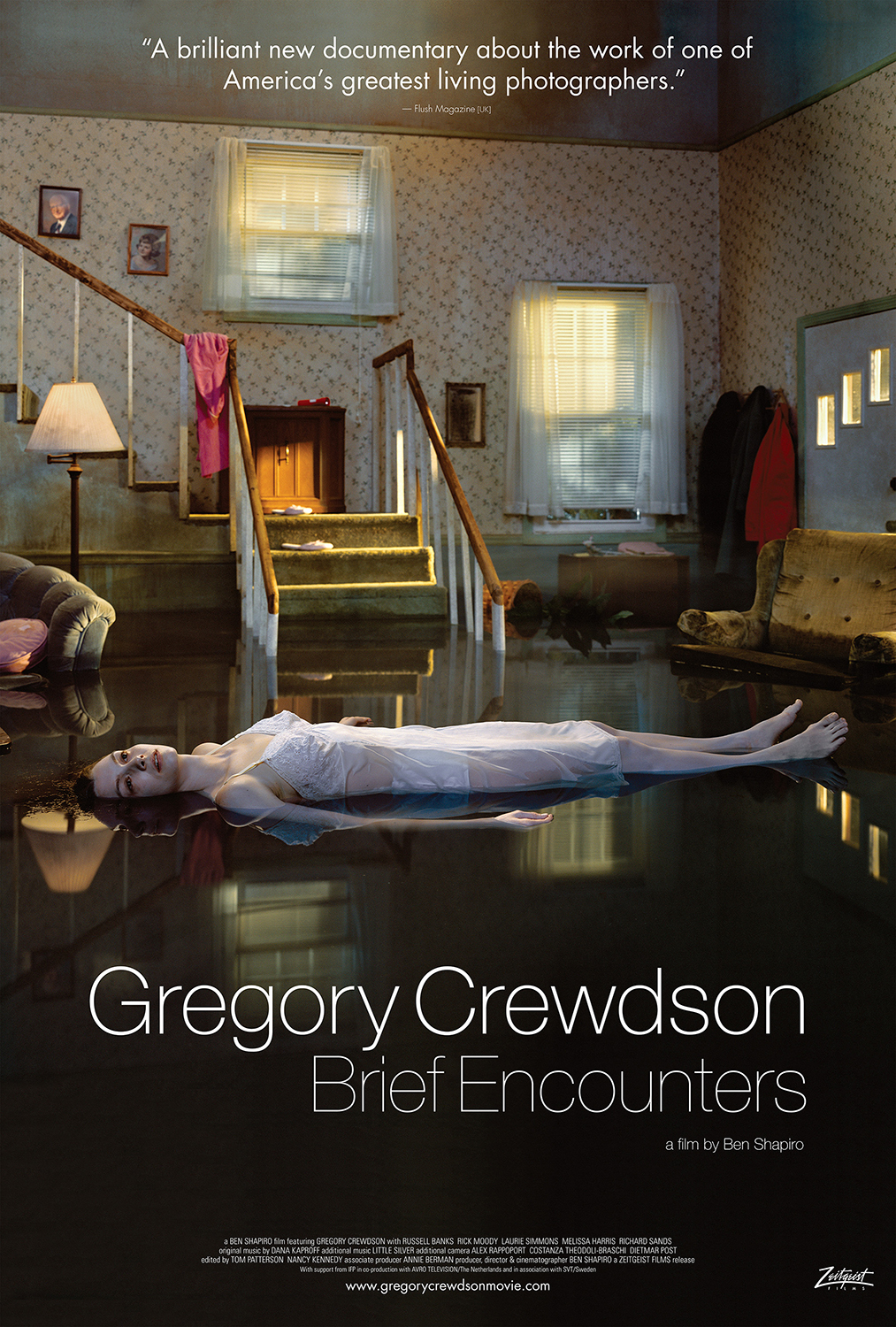 An acclaimed photographer with the eye of a filmmaker, Gregory Crewdson has created some of the most gorgeously haunting pictures in the history of the medium. His meticulously composed, large-scale images are stunning narratives of small-town American life—moviescapes crystallized into a single frame. While the photographs are staged with crews that rival many feature film productions, Crewdson takes inspiration as much from his own dreams and fantasies as the worlds of Alfred Hitchcock, David Lynch, Edward Hopper and Diane Arbus. Crewdson's imagery has also infiltrated the pop culture landscape—including his inimitable
Six Feet Under ads
and Yo La Tengo album art. Shot over a decade with unprecedented access,
Gregory Crewdson: Brief Encounters
beautifully bares the artist's process—and it's as mesmerizing and riveting as the images themselves.
To watch
Gregory Crewdson: Brief Encounters
outside the USA visit the film's
website
.
Ben Shapiro
Ben Shapiro was born in Western Massachusetts, grew up in L.A., and today is a New York-based documentary director and cinematographer. His work has appeared on television (PBS, Sundance Channel, CBS, National Geographic), and at major festivals, and museums including the Museum of Modern Art. His projects have received support from the National Endowment for the Arts and for the Humanities, and the Corporation for Public Broadcasting, and awards include Peabody, Du-Pont, Emmy, and AFI First Prize. He also is a radio producer and regular contributor to NPR programs and to RadioDiaries.


featuring
Gregory Crewdson
with
Russell Banks
Rick Moody
Melissa Harris
Richard Sands
Costanza Theodoli-Braschi

producer, director & cinematographer
Ben Shapiro

edited by
Tom Patterson
Nancy Kennedy

original music by
Dana Kaproff

additional camera
Alex Rappoport
Costanza Theodoli-Braschi
Dietmar Post (Berlin)

associate producer
Annie Berman

additional music
Steve Curtis
Erika Simonian
Little Silver

editorial consultant
Penelope Falk

production consultant
Robert Hawk

a Ben Shapiro film
With support from IFP
In co-production with
AVRO Television/The Netherlands
and in association with SVT/Sweden
(Commissioning Editor for
AVRO: Marijke Huijbregts)
"CRITICS' PICK! With marvelous discipline, Mr. Shapiro crams a wealth of material into a tight 77 minutes, smoothly communicating the group effort required to achieve the perfect shot." – Jeannette Catsoulis, The New York Times
"A beautiful and contemplative look at Crewdson's process." – Elisabeth Donnelly, The Paris Review
"Anyone haunted by Mr. Crewdson's photographs, each one as complex in orchestration as a movie scene, will be compelled as the methodical process is revealed." – Steve Dollar, The Wall Street Journal
"For those unfamiliar with Crewdson's oeuvre, the docu serves as a delicious eye-opener, while for fans it furnishes an unprecedented look at his long-secret methods, utilizing crews and budgets suitable for independent features, by which his eerily frozen moments of Americana come into being." – Ronnie Scheib, Variety
"9 out of 10. ENGAGING, ASTUTE! Brief Encounters makes clear that everyone and everything are photogenic, painfully and perfectly photogenic. " – Cynthia Fuchs, Pop Matters
"Creepy doesn't begin to describe these masterworks of control freakery, nor does beautiful—they look as if they're glowing from the inside out, even as Crewdson's scenes of furtive common people make viewers feel like voyeurs."" – David Fear, Time Out New York
"A finely sketched portrait of the artist's unlikely pursuit of perfection." – Michelle Orange, Village Voice
"A sprawling look at a ten-year process that shows some of his most brilliant photographs—from the inception of an idea, to the building of a moment, and the final stunning result as Crewdson reflects on his life and work, his fears and desires, and the things that tickle his creative fancy." – Hillary Weston, BlackBook Magazine
"Chronicles the filmshoot-like process that goes into each of his eerie and exquisite large-format images." – Benjamin Sutton, L Magazine
"Filmed over a decade, beginning in 2000, 'Gregory Crewdson: Brief Encounters' provides an unparalleled view of the moment of creation of his images. It also reveals the life-story behind the work." – , Wertical
"A brilliant new documentary about the work of one of America's greatest living photographers." – , Flush Magazine (UK)
"Shapiro's goal isn't so much a comprehensive biopic as an in-the-moment snapshot of creative fervent... Brief Encounters is great entertainment." – Ela Bitencourt, Slant Magazine
"A refreshingly frank look at the artistic process, as comprehensive and lovingly realized as the work it pays tribute to." – Dan Schoenbrun, Filmmaker Magazine
"Seek out this wonderful film – it is one of my personal favorites in the endless stream of art documentaries released in the past year and I could not recommend it more highly." – Elisa Carmichael, TASJ Magazine
"This engaging profile is difficult if not impossible to look away from once it gets going — not at all unlike Crewdson's photographs." – Mike Scott, New Orleans Times Picayune
"For its ability to 'move the soul and inspire a true sense of wonder', I selected it as one of my Top Docs of the 2012 SXSW Film Festival." – Larry Richman, Independent Film Analysis
"Engrossing … [Crewdson's world] is a terrible, lovely, uncanny sort of place, a real-world Twilight Zone of Americana. SXSW Pick." – Marc Savlov, Austin Chronicle