The Horse Boy
Director: Michel Orion Scott, Rupert Isaacson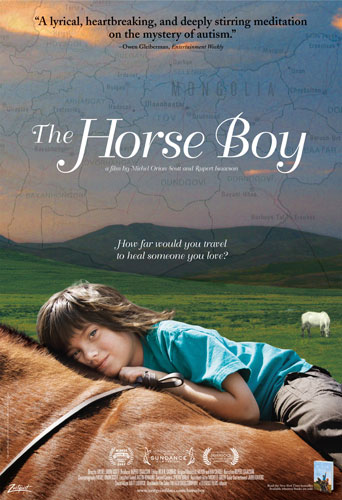 Official Selection 2009 Sundance Film Festival

How far would you travel to heal someone you love? An intensely personal yet epic spiritual journey, The Horse Boy follows one Texas couple and their autistic son as they trek on horseback through Outer Mongolia in an attempt to find healing for him. When two-year-old Rowan was diagnosed with autism, Rupert Isaacson, a writer and former horse trainer, and his wife Kristin Neff, a psychology professor, sought the best possible medical care, but traditional therapies had little effect. Then they discovered that Rowan has a profound affinity for animals—particularly horses—and the family set off on a quest that would change their lives forever.

Directed by Michel Orion Scott, The Horse Boy is part travel adventure, part insight into shamanic healing and part intimate look at the autistic mind. In telling one family's extraordinary story, the film gives voice to the thousands who display amazing courage and creativity everyday in the battle against this mysterious and heartbreaking epidemic. The filmic companion to Isaacson's best-selling book of the same name, and a festival favorite, this ravishing documentary odyssey gives insight into how, in life's darkest moments, one can find the gateway to joy and wonder.
Michel Orion Scott
Michel Orion Scott (Director and Cinematographer) spent most of his youth exploring the thick wooded areas of central Texas where he was born and raised. The son of a cowboy father and a Jewish hippie mother, his life has always reflected his eclectic upbringing. After earning a degree in film from the University of Texas at Austin, where he also studied modern dance, Scott took on a diverse range of projects ranging from set construction and design on Hollywood features to abstract experimental work and documentaries.

Scott soon began to search for ways to use his career in film to deepen his relationship with the earth. My Father in the River, the first film that began this journey, took him to the heart of the Bolivian rainforest, where he worked with the indigenous Moseten Indians of the region, using them as actors, extras and crewmembers in a truly collaborative effort.

Since that project, Scott has been studying and drawing inspiration from the study of wilderness survival through indigenous skills and crafts and has recently created promotional films for companies such as The Indigenous Land Rights Fund, Sol Education Abroad, and MAPAJO, an indigenous rights organization and eco-tourism company.

Scott'™s films reveal how affected he is by simple human relationships and family dynamics, while his background in dance is reflected in the extreme focus on how movement and framing creates metaphor in film. Also intrigued by the study of science and politics, Scott continues to explore the ways that ancient knowledge and wisdom can inform and advance the current state of society. He draws much of his inspiration from the study of native cultures, indigenous crafts and a desire to connect with the root of humanity through wilderness studies.

The Horse Boy marks Scott'™s debut as a feature film director.


Rupert Isaacson
Rupert Isaacson (Producer and Narrator) was born in London in 1967 to southern African parents. He has worked as a journalist and human rights activist in Africa for many years. In addition to writing for the British and American press, Isaacson has authored several guidebooks to Africa and India as well as the nonfiction books The Healing Land: The Bushmen and the Kalahari Desert and The Wild Host: The history and the Meaning of the Hunt. The first tells the story of his time spent living with the San Bushman hunter-gatherers of the Kalahari Desert, and their traditional healers; the second is an account of man's relationship with hunting. He has written a book about his experience in Mongolia: The Horse Boy: A Father's Quest to Heal His Son. He lives in Austin, Texas with his wife Kristin Neff and their son Rowan. The Horse Boy is his first film.


Director:
Michel Orion Scott
Producer:
Rupert Isaacson
Editor:
Rita K. Sanders
Assistant Editor:
Michelle Green
Composers:
Lili Haydn, Kim Carroll
Sound Recordist:
Justin Hennard
Second Camera:
Jeremy Bailey

Autism expert interviewees include:
Dr. Temple Grandin
Prof. Simon Baron-Cohen
Roy Richard Grinker