Jellyfish
Director: Etgar Keret, Shira Geffen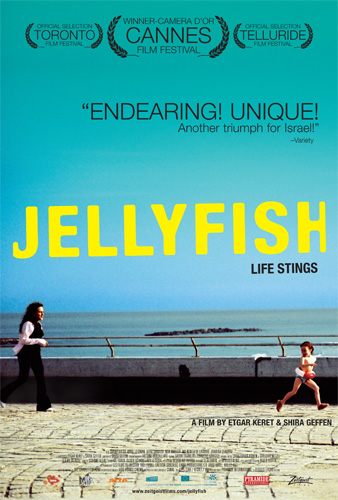 Winner of the Camera d'Or at the 2007 Cannes Film Festival

Poignant, often witty and exceedingly cinematic, JELLYFISH (MEDUZOT), tells the story of three very different Tel Aviv women whose intersecting stories weave an unlikely portrait of modern Israeli life. Batya, a catering waitress, takes in a child apparently abandoned at a local beach. Batya is one of the servers at the wedding reception of Keren, a bride who breaks her leg escaping a locked toilet stall, ruining her chance at a dream Caribbean honeymoon. And attending the event with an employer is Joy, a non Hebrew-speaking domestic worker who has guiltily left her son behind in her native Philippines.

As this distaff trio separately wends their way through Israel's most cosmopolitan city, they struggle with issues of communication, affection and destiny—but at times find uneasy refuge in its tranquil seas.
Etgar Keret
Born in Tel Aviv in 1967, Etgar Keret is one of Israel's most acclaimed contemporary authors. His books, which are bestsellers in Israel, have also received international acclaim and have been published in 22 languages.

His collection The Nimrod Flipout was chosen by the L.A. Times and the Boston Phoenix as one of the best books of 2006. In 2007 he was shortlisted for "the world's richest short story award", the Frank O'Connor prize, for his collectionMissing Kissinger. In Israel he has received the Book Publishers Association's Platinum Prize several times, as well as the Prime Minister's Prize, and the Ministry of Culture's Cinema Prize.

Over 40 short films have been based on his stories. The upcoming American independent feature film Wristcutters: A Love Story, which premiered at Sundance, was adapted from his novella Kneller's Happy Campers.

As a filmmaker himself, Keret's first short film Skin Deep(1996, 40 mins) won prizes at several international film festivals, and was awarded an Israeli Oscar.

Jellyfish is his first feature film as a director. As well as winning the Camera D'Or at Cannes he and his partner Shira Geffen won the Best Director Award from the French Artists and Writers' Guild.

Keret is also a lecturer in the film department at Tel Aviv University.
Shira Geffen
Born in 1971, scriptwritter and Jellyfish co-director Shira Geffen is an acclaimed writer of children's books and stageplays. Her plays have been performed in Israel and abroad.

Partners in life and in their work, Etgar and Shira are maverick spirits of the Israeli artistic scene.



Cast
Sarah Adler Batya
Nikol Leidman The little girl
Gera Sandler Michael
Noa Knoller Keren
Ma-nenita De Latorre Joy
Zharira Charifai Malka

Directed by Etgar Kerret & Shira Geffen

Screenplay Shira Geffen

Cinematography Antoine Héberlé

Sound Gil Toren, Oliver Dô Hùu, Aviv Aldema

Editing François Gédigier, Sasha Franklin

Production Design Avi Fahima

Music Christopher Bowen

Produced by Lama Films & Les Films du Poisson