Last Train Home
Director: Lixin Fan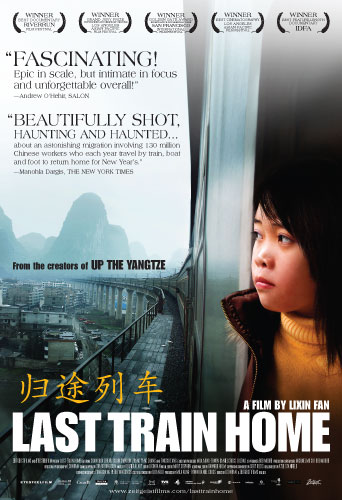 Every spring, China's cities are plunged into chaos as 130 million migrant workers journey to their home villages for the New Year's holiday. This mass exodus is the world's largest human migration—an epic spectacle that reveals a country tragically caught between its rural past and industrial future.
Working over several years in classic verité style Chinese-Canadian filmmaker Lixin Fan (with the producers of the award-winning hit documentary
Up the Yangtze
) travels with one couple who have embarked on this annual trek for almost two decades. Like so many of China's rural poor, Zhang Changhua and Chen Suqin left behind their two infant children for grueling factory jobs. Their daughter Qin—now a restless and rebellious teenager—both bitterly resents their absence and longs for her own freedom away from school, much to the utter devastation of her parents. Emotionally engaging and starkly beautiful,
Last Train Home
's intimate observation of one fractured family sheds light on the human cost of China's ascendance as an economic superpower.
For related resources and a discussion guide visit
Influence Film Club's Last Train Home page
.
WINNER - GOLDEN GATE AWARD 2010 - SAN FRANCISCO INTERNATIONAL FILM FESTIVAL - INVESTIGATIVE DOCUMENTARY PRIZEWINNER - RIVERRUN 2010 - BEST DOCUMENTARYWINNER - IDFA 2009 - BEST FEATURE LENGTH DOCUMENTARYWINNER - RIDM 2009 - BEST CANADIAN FILMWINNER - WHISTLER FILM FESTIVAL 2009 - BEST FEATURE DOCUMENTARYWINNER - VICTORIA FILM FESTIVAL 2010 - BEST DOCUMENTARYOFFICIAL SELECTION - SUNDANCE FILM FESTIVAL 2010WINNER - LOS ANGELES ASIAN PACIFIC FILM FESTIVAL 2010 - GRAND JURY PRIZE FOR OUTSTANDING DOCUMENTARY FEATUREWINNER - LOS ANGELES ASIAN PACIFIC FILM FESTIVAL 2010 - BEST CINEMATOGRAPHY

Lixin Fan
Lixin Fan was born in China, growing up as his country was modernizing and rapidly integrating with the world. Starting off as a journalist with the national television broadcaster CCTV, he traveled the country and experienced first hand the inequality caused by China's rapid economic expansion. This inspired him to become a documentary filmmaker with a focus on social issues.

Lixin's debut feature documentary LAST TRAIN HOME is the winner of Joris Ivens Award at IDFA 2009. The film deals with the world's largest human migration by millions of factory workers every year during the Chinese New Year. LAST TRAIN HOME is selected in world documentary competition at Sundance Film Festival 2010 and won the top prize at RIDM (Montreal) and the Whistler International Film Festival.

In 2006, Lixin worked as associate producer/soundman on the acclaimed feature documentary UP THE YANGTZE, a film about the world's largest hydroelectric project, the Three Gorges Dam. The film played the Sundance Film Festival in 2008, won the Genie award as Canada's top documentary feature, and was nominated for an Indie Spirit Award.

In 2003, he edited the Peabody and Grierson award-wining documentary TO LIVE IS BETTER THAN TO DIE. The film, recognized as one of the most shocking documentary on the topic, revealed China's AIDS epidemic and was featured in the Sundance Film Festival and was broadcasted on HBO, BBC, CBC and PBS.



featuring
ZHANG CHANGHUA
CHEN SUQIN
ZHANG QIN
ZHANG YANG
TANG TINGSUI

Directed by
LIXIN FAN

Edited by
LIXIN FAN
MARY STEPHEN

Director of Photography
LIXIN FAN

Camera Operators
SHAOGUANG SUN
LIXIN FAN

Music by
OLIVIER ALARY

Produced by
MILA AUNG-THWIN
DANIEL CROSS

Executive Producers
DANIEL CROSS
MILA AUNG-THWIN
QI ZHAO

Co-Producer
BOB MOORE