Let It Come Down: The Life of Paul Bowles
Director: Jennifer Baichwal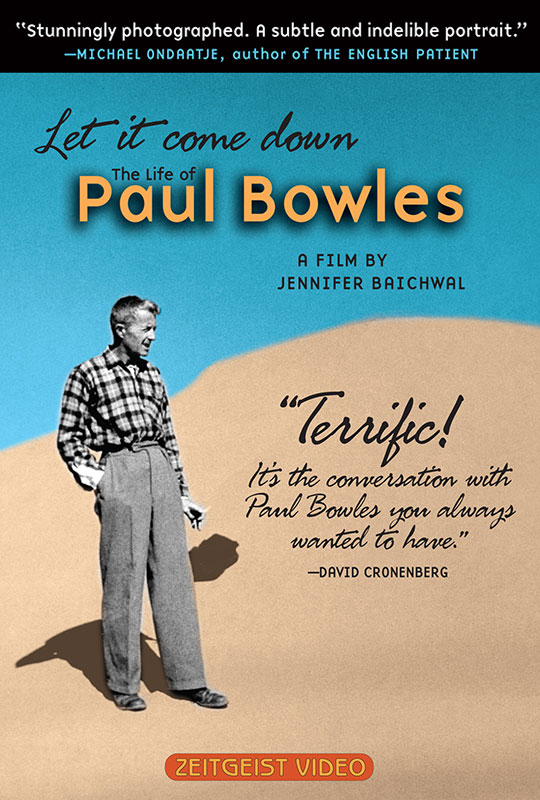 One of the most enigmatic artists of the 20th century, writer, composer and wanderer Paul Bowles (1910–1999) is profiled by a filmmaker who has been obsessed with his genius since age nineteen. Set against the dramatic landscape of North Africa, the mystery of Bowles (famed author of
The Sheltering Sky
) begins to unravel in Jennifer Baichwal's poetic and moving LET IT COME DOWN: THE LIFE OF PAUL BOWLES. Rare, candid interviews with the reclusive Bowles—at home in Tangier, as well as in New York during an extraordinary final reunion with Allen Ginsberg and William Burroughs—are intercut with conflicting views of his supporters and detractors. At the time in his mid-eighties, Bowles speaks with unprecedented candor about his work, his controversial private life and his relationships with Gertrude Stein, Tennessee Williams, Truman Capote, the Beats, and his wife and fellow author Jane Bowles.
LET IT COME DOWN is out of print on DVD. If you would be interested in streaming it online please email us.
Jennifer Baichwal
Jennifer Baichwal was born in Montréal and grew up in Victoria, British Columbia. Her first film, LOOKING YOU IN THE BACK OF THE HEAD, asked thirteen women to try to describe themselves and was first broadcast, to critical acclaim, on TVOntario's From the Heart. It subsequently sold for broadcast across Canada.

LET IT COME DOWN: THE LIFE OF PAUL BOWLES, her first feature documentary, won a 1999 International Emmy for Best Arts Documentary. It premiered at the Toronto International Film Festival in 1998 and was nominated that year for a Best Feature Documentary Genie Award. It won Best Biography at Hot Docs in 1999 and was picked up for theatrical release by Mongrel Media in Canada, Zeitgeist Films in the U.S., and Uplink in Japan. The film has been sold for broadcast in Canada, Europe, Scandinavia and the U.S. It has also been selected for a number of international film and television festivals, including Jerusalem, Buenos Aires, FIPA, Banff (where it received a Rockie nomination), Istanbul and Edinburgh. The film was released on dvd by Zeitgeist Films in November 2003.

THE HOLIER IT GETS documents a trek Baichwal took with her brother and two sisters to the source of the Ganges river with her father's ashes. The film won Best Independent Canadian Film and Best Cultural Documentary at Hot Docs 2000, Geminis for Best Editing and Best Writing and was nominated for the Donald Brittain Award and the Chalmers Documentarian Award. It was commissioned by TVOntario and features music by Ravi Shankar and John McLaughlin.

THE TRUE MEANING OF PICTURES is a feature length film on the work of Appalachian photographer Shelby Lee Adams. It was commissioned by TVOntario, Bravo!, SBS Australia and Discovery Germany, and is distributed by Rhombus International. The film premiered at the Toronto International Film Festival in 2002; it was invited to the Sundance International Film Festival in January 2003. It won a Gemini award for Best Arts Documentary in 2003 and has played at numerous international festivals. The film was released on dvd by Docurama/New Video in October 2003.

Baichwal, along with Nick de Pencier, was commissioned in 2003-4 to make 40 short films on artists who have been supported over the past four decades by the Ontario Arts Council, to celebrate the council's 40th anniversary. These include writer Michael Ondaatje, artist Michael Snow, pianist Eve Egoyan and playwright Judith Thompson, and were broadcast on TVOntario.

In 2006 her documentary about the photographer Edward Burtynsky—MANUFACTURED LANDSCAPES—premiered at the Toronto Film Festival; her documentary about people who have been struck by lightning, ACT OF GOD, was the opening night film at Toronto'™s Hot Docs in 2009; and her collaboration with Margaret Attwood, PAYBACK, premiered at the Sundance Film Festival in 2012. All three films are distributed in the US by Zeitgeist Films.

in 2013 her second collaboration with Edward Burtynsky, WATERMARK, premiered at the Toronto Film Festival.
Directed by Jennifer Baichwal
Produced by Nick de Pencier & Jennifer Baichwal
Director of Photography Nick de Pencier
Additional Cinematography Jim Allodi
Editor David Wharnsby
Associate Editor Roland Schlimme
Executive Producer Daniel Iron
Readings Tom McCamus
Producer/Sound Recordist (1994 shoot) Denise Holloway
Research/Boom (1994 shoot) Evan Solomon
Music Research Rodney Sharman
Archival Research Benjamin Wilchfort
Title Design Malcolm Brown

This film was made possible with the generous assistance of:
Scalo Publishing for the use of Paul Bowles' photographs; The Harry Ransom Research Center, The University of Texas at Austin; Shift Magazine; Betsy Carey; Gotham Book Mart Inc., NYC; Peter Garland; Phillip Ramey; Head Gear Animation; Black Sparrow Press; Rhombus Media; Estate of Gertrude Stein