Let My People Go!
Director: Mikael Buch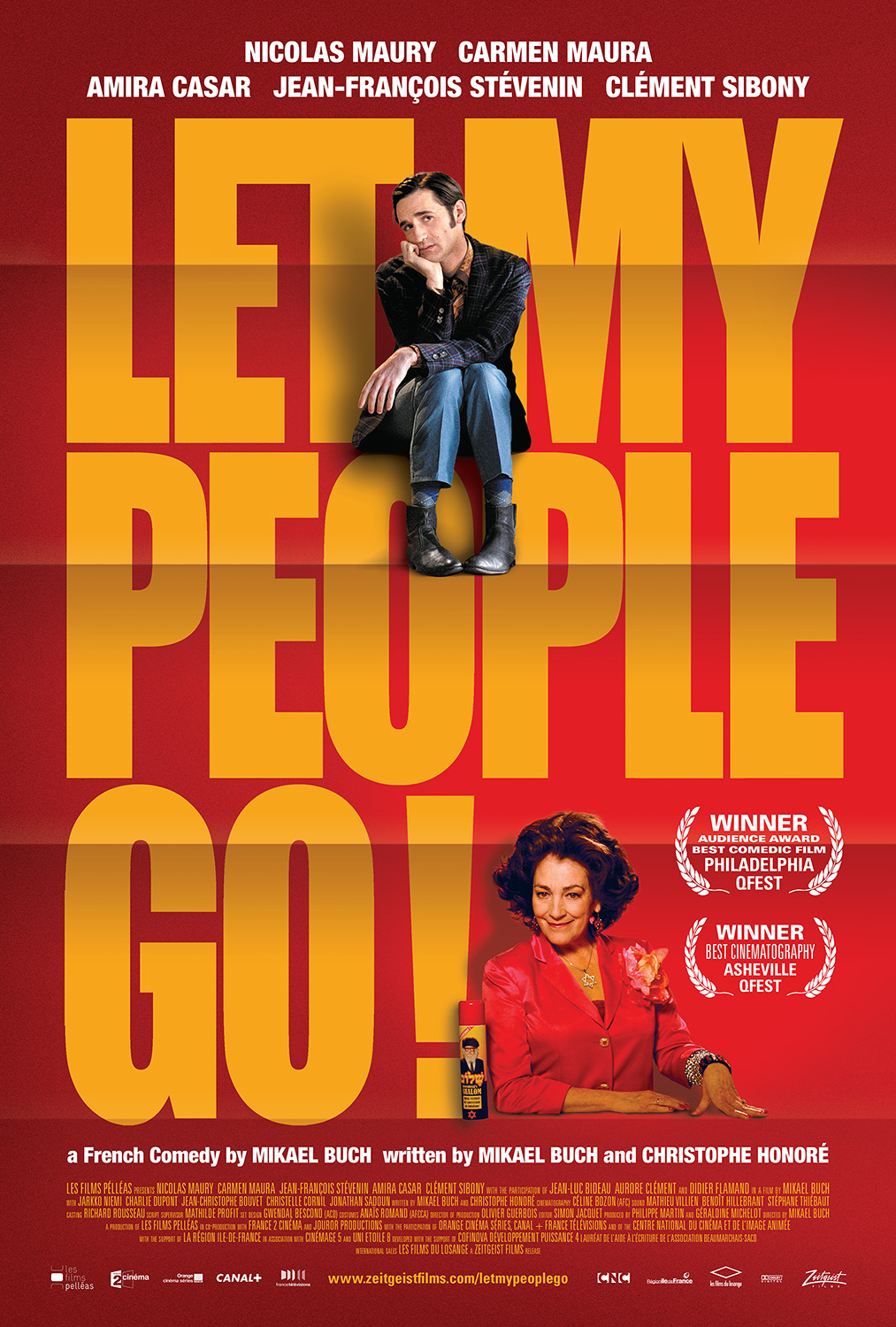 A sweet and hilarious fusion of gay romantic comedy, Jewish family drama and French bedroom farce, Mikael Buch's Let My People Go! follows the travails and daydreams of the lovelorn Ruben (Regular Lovers' Nicolas Maury), a French-Jewish gay mailman living in fairytale Finland (where he got his MA in "Comparative Sauna Cultures") with his gorgeous Nordic boyfriend. But just before Passover, a series of mishaps and a lovers' quarrel exile the heartbroken Ruben back to Paris and his zany family—including Almodovar goddess Carmen Maura (Women on the Verge of a Nervous Breakdown, Volver) as his ditzy mom, and Truffaut regular Jean-François Stévenin as his lothario father. Scripted by director Mikael Buch and renowned arthouse auteur Christophe Honoré (Love Songs),Let My People Go! both celebrates and upends Jewish and gay stereotypes with wit, gusto and style to spare. The result is deeply heartwarming, fabulously kitschy and hysterically funny.

WINNER - AUDIENCE AWARD - BEST COMEDIC FILM - PHILADELPHIA QFEST

WINNER - BEST CINEMATOGRAPHY - ASHEVILLE QFEST
Mikael Buch
Mikael Buch was born in Marseille in 1983. He entered the Directing department at La Fémis film school in 2004. Several of his shorts, including La Déchirure and Comment j'ai accepté ma place parmi les mortels, were selected and won prizes at various festivals. In 2009 he directed Accordez-moi as part of a series of short films for Arte TV. Let My People Go! is his first long feature film.
CAST
Ruben NICOLAS MAURY
Rachel CARMEN MAURA
Nathan JEAN-FRANÇOIS STÉVENIN
Irène AMIRA CASAR
Samuel CLÉMENT SIBONY
Teemu JARKKO NIEMI
Maurice Goldberg JEAN-LUC BIDEAU
Monsieur Tilikainen KARI VÄÄNÄNEN
Helka OUTI MÄENPÄÄ

Directed by MIKAEL BUCH
Screenplay by MIKAEL BUCH and CHRISTOPHE HONORE
Director of Photography CELINE BOZON (AFC)
Production Designer GWENDAL BESCOND (ACD)
Sound MATHIEU VILLIEN, BENOIT HILLEBRANT
and STEPHANE THIEBAUT
Casting Director RICHARD ROUSSEAU (ARDA)
Costume Designer ANAÏS ROMAND (AFCCA)
Production Manager OLIVIER GUERBOIS
Script MATHILDE PROFIT
Editing SIMON JACQUET
Original score ERIC NEVEUX
Associated producer DAVID THION
Produced by PHILIPPE MARTIN
and GERALDINE MICHELOT

Production LES FILMS PELLEAS
In coproduction with FRANCE 2 CINEMA, JOUROR PRODUCTIONS
With the participation of ORANGE CINEMA SERIES, CANAL +, FRANCE TELEVISIONS, CENTRE NATIONAL DU CINEMA ET DE L'IMAGE ANIMEE
With the support of LA REGION ILE DE FRANCE
In association with CINEMAGE 5, PALATINE ETOILE 8
Developped with the support of COFINOVA DEVELOPPEMENT PUISSANCE 4
"A bubbly froth of gay camp and comic Jewish hysteria.... Will bring smiles of recognition to anyone who hasn't seen early Woody Allen in a while." – Joshua Rothkopf, Time Out New York
"A charmingly wacky, unpredictable comedy that is filled with fun cinematic references, with the first-time feature-film director openly paying tribute to his many influences with an infectious glee." – , This Week in New York
"Let My People Go! is built on a foundation of sweetness and smarts." – , Aspen Times
"Cartoonish situations, broad characterizations and color-saturated Pierre-et-Gilles aesthetic amplify each narrative stroke, resulting in a satisfying if not wholly filling bonbon of a film." – Mark James, Film School Rejects
"Candy-colored and sugarcoated, Let My People Go! tosses gay stereotypes into a Jewish holiday, adds the bedroom-door-banging beats of French farce, then piles on the dysfunction." – Jeannette Catsoulis, The New York Times
"A fairy-tale romance whose title acknowledges both a saturation in and longing to be free of Jewish cultural baggage, Mikael Buch's Let My People Go! cross-breeds cultures that are rarely paired onscreen." – John DeFore, The Hollywood Reporter
"Romantic comedies may be commonplace at the multiplex. However, throw in a little Jewish guilt, a gay friendly plot and a bit of farce, and you've got the quirkiest love story to release in 2012." – Ebony March, Palm Springs Life
"If you're looking for a comedy and an entertaining fun movie, you will have to see Let My People Go!" – Carol Kaufman Sega, Stage Happenings
"For a fun, undemanding time at the movies, one couldn't do much better than the sweet zaniness of Mikael Buch's Let My People Go!" – Michael Hawley, Film 415