Love, Cecil
Director: Lisa Immordino Vreeland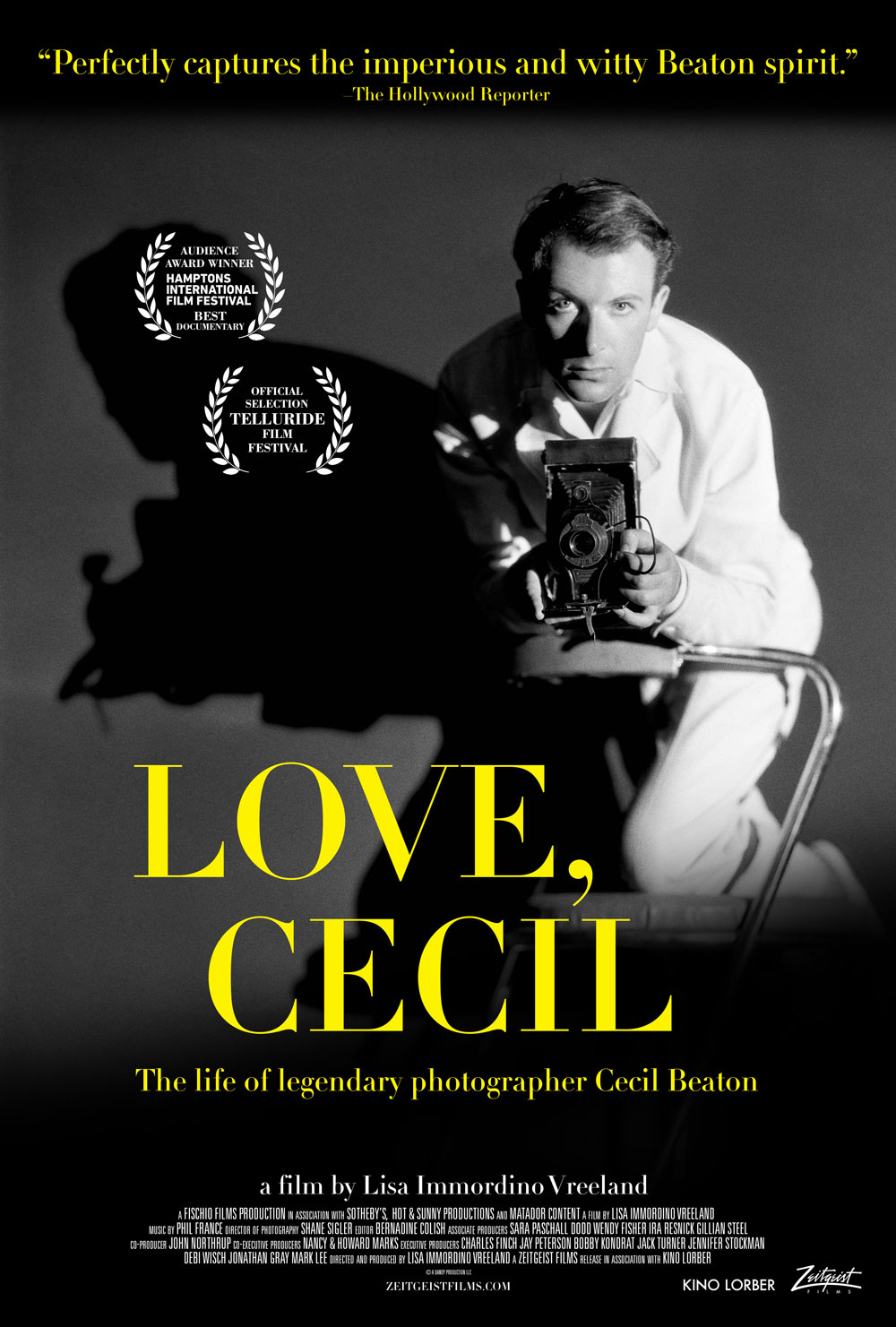 Oscar®-winning set and costume designer, photographer, writer and painter Cecil Beaton was not only a dazzling chronicler, but an arbiter of his time. From the Bright Young Things to the front lines of war to the international belle monde and the pages of Vogue and then onto the Queen's official photographer, Beaton embodied the cultural and political changes of the twentieth century. In this tender portrait, director Lisa Immordino Vreeland (Diana Vreeland: The Eye Has To Travel, Peggy Guggenheim: Art Addict) blends archival footage and photographs with voice over of Beaton's famed diaries to capture his legacy as a complex and unique creative force. Dynamic and lyrical, LOVE, CECIL is an examination of Beaton's singular sense of the visual, which dictated a style that set standards of creativity that continue to resonate and inspire today. Narrated by Rupert Everett.
LOVE, CECIL opened at the Film Society of Lincoln Center's Elinor Bunin Monroe Theatre on June 29, 2018.

A Zeitgeist Films release in association with Kino Lorber. To book this film please contact Nancy Gerstman or Emily Russo or call 212-274-1989.

Trailers, stills, a press kit and a hi-res jpeg of the poster can be downloaded from our Dropbox.

Lisa Immordino Vreeland
Lisa Immordino Vreeland has been immersed in the world of fashion and art for the past 25 years. Her first book was accompanied by her directorial debut of the documentary of the same name, Diana Vreeland: The Eye Has To Travel (2012). The film had its European premiere at the Venice Film Festival and its North American premiere at the Telluride Film Festival. It went on to win the Silver Hugo at the Chicago Film Festival and the fashion category for the Design of the Year Awards—otherwise known as "The Oscars" of design—at the Design Museum in London. She recently completed Peggy Guggenheim: Art Addict that premiered at the Tribeca Film Festival (2015) and had its European premiere at Art Basel. Her second book, Love, Cecil will be coming out in October to accompany the film.
Narrated by Rupert Everett
Featuring
David Bailey - Manolo Blahnik - Hamish Bowles
Susanna Brown – Leslie Caron – Peter Eyre
Phillipe Garner - Ray Gurton - Nicky Haslam
David Hockney - Alastair Macaulay - Isaac Mizrahi
Robin Muir - Hilary Roberts - Sir Roy Strong
Penelope Tree - Hugo Vickers - Tim Walker
Music by
Phil France
Director of Photography
Shane Sigler
Editor
Bernadine Colish
Associate Producers
Sara Paschall Dodd
Wendy Fisher
Ira Resnick
Gillian Steel
Co-Producer
John Northrup
Co-Executive Producers
Nancy & Howard Marks
Executive Producer
Charles Finch
Executive Producers
Jay Peterson
Bobby Kondrat
Jack Turner
Executive Producers
Jennifer Stockman
Debi Wisch
Executive Producers
Jonathan Gray
Mark Lee
Directed and Produced by
Lisa Immordino Vreeland
A Fischio Films Production
in Association with
Sotheby's
Matador Content
Hot & Sunny Productions
© A Dandy Production LLC
"A magical experience... a slide show from heaven. The pleasure of LOVE, CECIL is that it puts you in touch with someone who was intoxicated by life in the same way that he swooned for art." – Owen Gleiberman, Variety
"Directed with energy and affection…enlivened by vivid swatches of Beaton's own prose." – Glenn Kenny, The New York Times
"Hugely entertaining. A precious cinematic bouquet." – Doris Toumarkine, Film Journal International
"See this on the big screen where you can best revel in the gorgeous costumes, vivid set designs, dramatic sketches and portraits, and snippets from two of the all-time great Broadway musicals." – Harvey Karten, Big Apple Reviews
"Fills out history with sparkling imagery." – Abbey Bender, The Village Voice