Manufactured Landscapes
Director: Jennifer Baichwal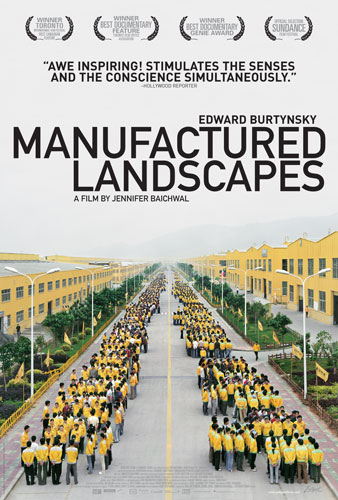 MANUFACTURED LANDSCAPES is the striking new documentary on the world and work of renowned artist Edward Burtynsky. Internationally acclaimed for his large-scale photographs of "manufactured landscapes"—quarries, recycling yards, factories, mines and dams—Burtynsky creates stunningly beautiful art from civilization's materials and debris. The film follows him through China, as he shoots the evidence and effects of that country's massive industrial revolution. With breathtaking sequences, such as the opening tracking shot through an almost endless factory, the filmmakers also extend the narratives of Burtynsky's photographs, allowing us to meditate on our impact on the planet and witness both the epicenters of industrial endeavor and the dumping grounds of its waste.
In the spirit of such environmentally enlightening sleeper-hits as AN INCONVENIENT TRUTH and RIVERS AND TIDES, MANUFACTURED LANDSCAPES powerfully shifts our consciousness about the world and the way we live in it, without simplistic judgments or reductive resolutions.
AWARDS
Best Documentary Feature - Toronto Film Critics Association
Best Canadian Feature - Toronto Film Critics Association
Best Canadian Feature - Toronto Film Festival
Best Documentary - Genie Awards
For related resources and a discussion guide visit
Influence Film Club's Manufactured Landscapes page
.
Jennifer Baichwal
Jennifer Baichwal was born in Montréal and grew up in Victoria, British Columbia. Her first film, LOOKING YOU IN THE BACK OF THE HEAD, asked thirteen women to try to describe themselves and was first broadcast, to critical acclaim, on TVOntario's From the Heart. It subsequently sold for broadcast across Canada.

LET IT COME DOWN: THE LIFE OF PAUL BOWLES, her first feature documentary, won a 1999 International Emmy for Best Arts Documentary. It premiered at the Toronto International Film Festival in 1998 and was nominated that year for a Best Feature Documentary Genie Award. It won Best Biography at Hot Docs in 1999 and was picked up for theatrical release by Mongrel Media in Canada, Zeitgeist Films in the U.S., and Uplink in Japan. The film has been sold for broadcast in Canada, Europe, Scandinavia and the U.S. It has also been selected for a number of international film and television festivals, including Jerusalem, Buenos Aires, FIPA, Banff (where it received a Rockie nomination), Istanbul and Edinburgh. The film was released on dvd by Zeitgeist Films in November 2003.

THE HOLIER IT GETS documents a trek Baichwal took with her brother and two sisters to the source of the Ganges river with her father's ashes. The film won Best Independent Canadian Film and Best Cultural Documentary at Hot Docs 2000, Geminis for Best Editing and Best Writing and was nominated for the Donald Brittain Award and the Chalmers Documentarian Award. It was commissioned by TVOntario and features music by Ravi Shankar and John McLaughlin.

THE TRUE MEANING OF PICTURES is a feature length film on the work of Appalachian photographer Shelby Lee Adams. It was commissioned by TVOntario, Bravo!, SBS Australia and Discovery Germany, and is distributed by Rhombus International. The film premiered at the Toronto International Film Festival in 2002; it was invited to the Sundance International Film Festival in January 2003. It won a Gemini award for Best Arts Documentary in 2003 and has played at numerous international festivals. The film was released on dvd by Docurama/New Video in October 2003.

Baichwal, along with Nick de Pencier, was commissioned in 2003-4 to make 40 short films on artists who have been supported over the past four decades by the Ontario Arts Council, to celebrate the council's 40th anniversary. These include writer Michael Ondaatje, artist Michael Snow, pianist Eve Egoyan and playwright Judith Thompson, and were broadcast on TVOntario.

In 2006 her documentary about the photographer Edward Burtynsky—MANUFACTURED LANDSCAPES—premiered at the Toronto Film Festival; her documentary about people who have been struck by lightning, ACT OF GOD, was the opening night film at Toronto'™s Hot Docs in 2009; and her collaboration with Margaret Attwood, PAYBACK, premiered at the Sundance Film Festival in 2012. All three films are distributed in the US by Zeitgeist Films.

in 2013 her second collaboration with Edward Burtynsky, WATERMARK, premiered at the Toronto Film Festival.
Director
JENNIFER BAICHWAL

Director of Photography + Creative Consultant
PETER METTLER

Editor
ROLAND SCHLIMME

Commissioning Editor, TVO
RUDY BUTTIGNOL

Producers for the National Film Board of Canada
PETER STARR
GERRY FLAHIVE

Produced by
NICK de PENCIER
DANIEL IRON
JENNIFER BAICHWAL
Mercury Films Inc. and Foundry Films Inc.
iIn co-production with the National Film Board of Canada
and in association with TV Ontario