Nowhere in Africa
Director: Caroline Link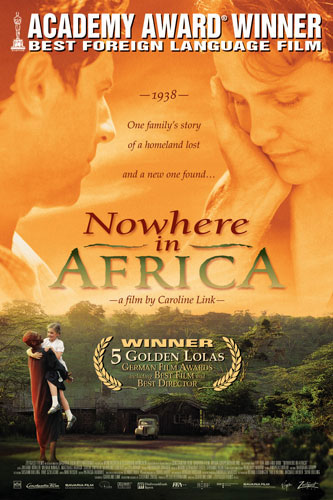 WINNER OF THE ACADEMY AWARD FOR BEST FOREIGN-LANGUAGE FILM
A love story spanning two continents, NOWHERE IN AFRICA is the extraordinary true tale of a Jewish family who flees the Nazi regime in 1938 for a remote farm in Kenya. Abandoning their once-comfortable existence in Germany, Walter Redlich, his wife Jettel (Juliane Köhler, of AIMÉE & JAGUAR) and their five-year-old daughter Regina each deal with the harsh realities of their new life in different ways. Attorney Walter is resigned to working the farm as a caretaker; pampered Jettel resists adjustment at every turn; while the shy yet curious Regina immediately embraces the country— learning the local language and customs, and finding a friend in Owuor, the farm's cook.

As the war rages on the other side of the world, the trio's relationships to their strange environment become increasingly complicated as Jettel grows more self-assured and Walter more haunted by the life they left behind. As they eventually learn to cherish their life in Africa, they also endeavor to find a way back to each other.

Winner of the 2002 Best Foreign Language Film Oscar, as well as five 2002 German Film Awards (Golden Lolas), including best film, director and cinematography, NOWHERE IN AFRICA was written and directed by Caroline Link and is based on the best-selling autobiographical novel by Stefanie Zweig.
Caroline Link
Caroline Link was born in 1964. After graduating from high school she spent a year in the U.S. In 1984 she took her first steps in the movie business as an intern at Bavaria Film Studios. She then participated in many TV and movie projects as a script editor and assistant director. Her graduation project at the Academy for Film and Television in Munich, called SOMMERTAGE, received the Kodak Advancement Prize at the Film Festival in Hof. In 1992 she made the children's film KALLE DER TRAUMER for German TV. In the same year she also started researching the script for BEYOND SILENCE. In 1995 she began shooting the unusual story about a deaf couple and their musically talented child, which received an Academy Award nomination for Best Foreign Language Film. In 1999, her successful adaptation of Erich Kaster'€™s ANNALOUISE AND ANTON (which also starred Juliane Kohler) was the recipient of many international awards. NOWHERE IN AFRICA was Germany's highest grossing film of 2002 and Caroline Link received a German Film Award for Best Director.


A film by Caroline Link

Based upon the novel by Stefanie Zweig

Starring
Juliane Köhler
Merab Ninidze
Matthias Habich
Sidede Onyulo
Karoline Eckertz
Lea Kurka

Written and Directed by Caroline Link
Producer Peter Herrmann
Executive Producer Andreas Bareiss
Co-Producer Bernd Eichinger
Co-Producers Thilo Kleine
Michael Weber Sven Ebeling

With support from FilmFernsehFonds Bayern, Filmforderungsanstalt, Bayerischen Bankenfonds and BKM.