Oliver Sacks: His Own Life
Director: Ric Burns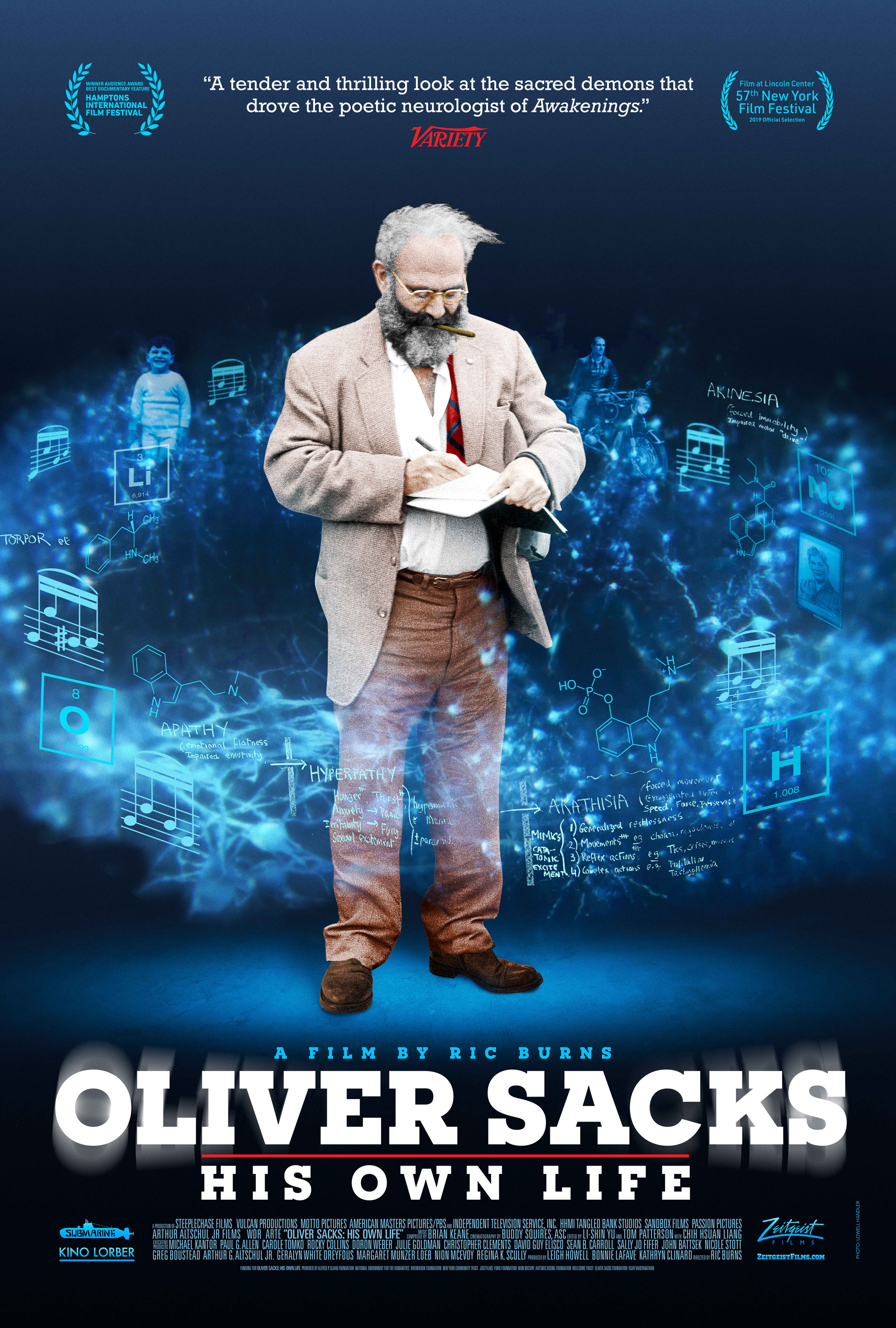 *******************************************************
NOW AVAILABLE ON DIGITAL!
Watch on Apple TV
Watch on Amazon Prime
Watch on KinoNow
ALSO AVAILABLE ON DVD AND BLU-RAY
*******************************************************
A month after receiving a fatal diagnosis in January 2015, Oliver Sacks sat down for a series of filmed interviews in his apartment in New York City. For eighty hours, surrounded by family, friends, and notebooks from six decades of thinking and writing about the brain, he talked about his life and work, his abiding sense of wonder at the natural world, and the place of human beings within it. Drawing on these deeply personal reflections, as well as nearly two dozen interviews with close friends, family members, colleagues and patients, and archival material from every point in his life, this film is the story of a beloved doctor and writer who redefined our understanding of the brain and mind.

Oliver Sacks: His Own Life is a Zeitgeist Films release in association with Kino Lorber. To book this film please contact Nancy Gerstman or Emily Russo.
Press materials can be downloaded from our Dropbox. A subtitled version of the trailer can be viewed and downloaded here.

Ric Burns
Ric Burns is a documentary filmmaker and writer, best known for his eight-part, 17-hour series New York: A Documentary Film, which premiered nationally on PBS to critical acclaim (1999, 2001, 2003). Burns has been writing, directing and producing historical documentaries for over 25 years, since his collaboration on the PBS series The Civil War (1990), which he produced with his brother Ken and co-wrote with Geoffrey Ward. Since founding Steeplechase in 1989, he has directed many films of note for PBS including Coney Island (1991), The Donner Party (1992), The Way West (1995), Ansel Adams (2002), Eugene O'Neill, Andy Warhol (2006), Into the Deep: America, Whaling & the World (2010), Death and the Civil War (2013), American Ballet Theatre: A History (2015), Debt of Honor: Disabled Veterans in American History (2015), The Pilgrims (2015), VA: The Human Cost of War (2017), and The Chinese Exclusion Act (2018). His work has won numerous film and television awards including six Emmy awards, three Alfred I. DuPont-Columbia Journalism awards, two George Foster Peabody Awards, two Organization of American Historians' Erick Barnouw prizes, three Writers Guild of America Awards for Outstanding Individual Achievement in a Craft: Writing, and the D.W. Griffith Award of the National Board of Review. Burns was educated at Columbia University and Cambridge University. He lives in New York City with his wife and two sons.
"Critic's Pick! Illuminates details of what can only be called an extraordinary existence. Beautifully presents a portrait of his compassion and bravery." – Glenn Kenny, The New York Times
"First-rate. Sacks' insights into his own psychological journey, which includes a poignant late life romance after decades of celibacy, are wonderfully perceptive, but equally invaluable are those of his colleagues — a brilliant assemblage of artists and scientists who love him dearly. " – Chuck Wilson, L.A. Weekly
"Majestic. A moving portrait of a man taking deep stock of his life with great satisfaction and verve." – Kevin Crust, Los Angeles Times
"A portrait at once tender and thrilling, a movie that presents us with a man who led an eccentrically defiant, at times reckless existence… a wanderer in the body of a clinician, like Jack Kerouac crossed with Jonas Salk. He was that rare if not unique thing, a scientific navigator of the soul. Penny Marshall's film AWAKENINGS… caught Sacks' audacity. What he saw, like a beacon, were the inner lives of his patients. Sacks's scientifically wired empathy… was a gift that descended from his own sacred demons. The still ebullient Oliver holds court… a melodious one-world-British-Jewish form of verbal play." – Owen Gleiberman, Variety
"Insightful. A rare look inside the mind of the world's most famous cognitive scientist. The private Sacks sat down with Burns for a series of filmed interviews in his apartment in New York - 80 hours over five days - talking about this life. Sacks shares intimate details of his battles with growing up gay in 1950s England, drug addiction, homophobia and a medical establishment that accepted his work only decades after the fact." – Patrick Hipes, Screen Daily
"Elegantly photographed. Revealing. Thoughtful, deeply affecting." – Stephen Farber, The Hollywood Reporter