Payback
Director: Jennifer Baichwal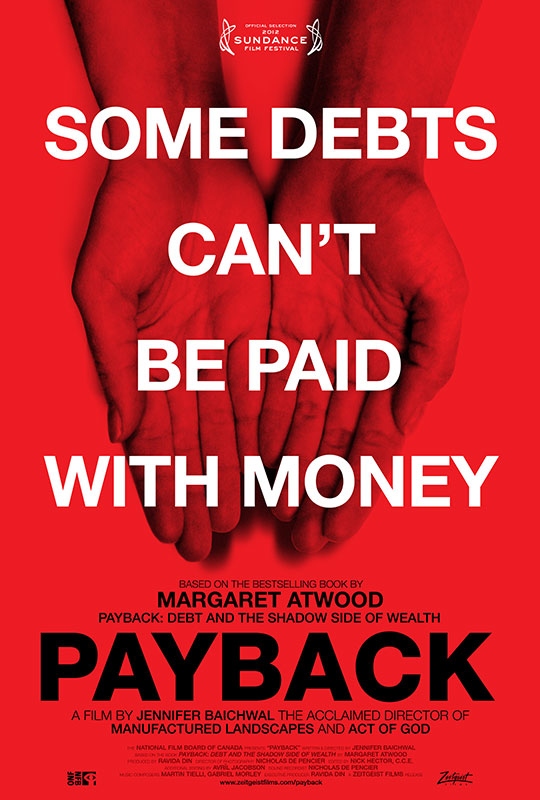 Margaret Atwood's visionary work Payback: Debt and the Shadow Side of Wealth is the basis for this riveting and poetic documentary on "debt" in its various forms—societal, personal, environmental, spiritual, criminal, and of course, economic. Filmmaker Jennifer Baichwal (Manufactured Landscapes) strikingly interweaves these (sometimes surprising) debtor/creditor relationships: two families in a years-long Albanian blood feud; the BP oil spill vs. the Earth; mistreated Florida tomato farm workers and their bosses; imprisoned media mogul Conrad Black and the U.S. justice system. With stunning cinematography and insightful commentary from renowned thinkers Raj Patel, Louise Arbour and Atwood herself, Payback is a brilliant, game-changing rumination on the subject.
Jennifer Baichwal
Jennifer Baichwal was born in Montréal and grew up in Victoria, British Columbia. Her first film, LOOKING YOU IN THE BACK OF THE HEAD, asked thirteen women to try to describe themselves and was first broadcast, to critical acclaim, on TVOntario's From the Heart. It subsequently sold for broadcast across Canada.

LET IT COME DOWN: THE LIFE OF PAUL BOWLES, her first feature documentary, won a 1999 International Emmy for Best Arts Documentary. It premiered at the Toronto International Film Festival in 1998 and was nominated that year for a Best Feature Documentary Genie Award. It won Best Biography at Hot Docs in 1999 and was picked up for theatrical release by Mongrel Media in Canada, Zeitgeist Films in the U.S., and Uplink in Japan. The film has been sold for broadcast in Canada, Europe, Scandinavia and the U.S. It has also been selected for a number of international film and television festivals, including Jerusalem, Buenos Aires, FIPA, Banff (where it received a Rockie nomination), Istanbul and Edinburgh. The film was released on dvd by Zeitgeist Films in November 2003.

THE HOLIER IT GETS documents a trek Baichwal took with her brother and two sisters to the source of the Ganges river with her father's ashes. The film won Best Independent Canadian Film and Best Cultural Documentary at Hot Docs 2000, Geminis for Best Editing and Best Writing and was nominated for the Donald Brittain Award and the Chalmers Documentarian Award. It was commissioned by TVOntario and features music by Ravi Shankar and John McLaughlin.

THE TRUE MEANING OF PICTURES is a feature length film on the work of Appalachian photographer Shelby Lee Adams. It was commissioned by TVOntario, Bravo!, SBS Australia and Discovery Germany, and is distributed by Rhombus International. The film premiered at the Toronto International Film Festival in 2002; it was invited to the Sundance International Film Festival in January 2003. It won a Gemini award for Best Arts Documentary in 2003 and has played at numerous international festivals. The film was released on dvd by Docurama/New Video in October 2003.

Baichwal, along with Nick de Pencier, was commissioned in 2003-4 to make 40 short films on artists who have been supported over the past four decades by the Ontario Arts Council, to celebrate the council's 40th anniversary. These include writer Michael Ondaatje, artist Michael Snow, pianist Eve Egoyan and playwright Judith Thompson, and were broadcast on TVOntario.

In 2006 her documentary about the photographer Edward Burtynsky—MANUFACTURED LANDSCAPES—premiered at the Toronto Film Festival; her documentary about people who have been struck by lightning, ACT OF GOD, was the opening night film at Toronto'™s Hot Docs in 2009; and her collaboration with Margaret Attwood, PAYBACK, premiered at the Sundance Film Festival in 2012. All three films are distributed in the US by Zeitgeist Films.

in 2013 her second collaboration with Edward Burtynsky, WATERMARK, premiered at the Toronto Film Festival.
Writer and Director Jennifer Baichwal
Cinematographer Nicholas de Pencier
Editor Nick Hector
Music Martin Tielli and Gabriel Morley
Producer Ravida Din
"Making a film about an idea, rather than a political issue or a specific historical incident, is devilishly difficult, but the ingenious Canadian documentarian Jennifer Baichwal pulls it off in PAYBACK, which explores the concept of debt through many of its juridical, environmental and moral ramifications. It's ultimately haunting, beautiful and strangely optimistic." – Andrew O'Hehir, SALON
"FIVE STARS. The stories and on camera interviews are interwoven seamlessly. The cinematography is beautiful. The editing is brilliant. PAYBACK is a profound and challenging investigation of the notion of debt and how it impacts all of us." – Jennifer Merin, ABOUT.COM
"PAYBACK is a rarefied conceptual documentary. By integrating the views of activist-writers from Raj Patel to Eric Schlosser, this poetic, intermittently haunting film ultimately argues for generosity and open-heartedness in the face of greed, exploitation and vengeance. Tech credits are superb." – Rob Nelson, VARIETY
"Typical in a Baichwal film the visuals are exquisite – the spilled oil blackening the blue Gulf like a vast bruise; the rows upon rows of tomato vines imprisoning their stooped and sweating pickers. So, in its adopted home on the screen, the discussion acquires a new power in the imagery." – Rick Groen, THE GLOBE AND MAIL (Toronto)