A Place Called Chiapas
Director: Nettie Wild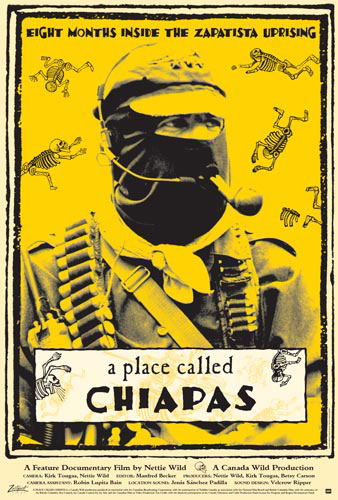 In 1994, the Zapatista National Liberation Army, made up of impoverished Mayan Indians from the state of Chiapas, took over five towns and 500 ranches in southern Mexico. The government deployed its troops and at least 145 people died in the ensuing battle. Filmmaker Nettie Wild travelled to the country's jungle canyons to film the elusive and fragile life of this uprising.
Nettie Wild
Canadian Nettie Wild is best known for her documentary feature films A RUSTLING OF LEAVES: Inside the Philippine Revolution (1989) and BLOCKADE (1993), both of which have won acclaim at film festivals around the world. Among other honors, A RUSTLING OF LEAVES was awarded The People's Choice Award at the Berlin FIlm Festival (Forum of New Cinema), the Prix du Public at the National Film Board's Salute to the Documentary and the Grand Prize at the Houston Film Festival. BLOCKADE shared honors as Most Popular Canadian Feature at the Vancouver International Film Festival, won the Red Ribbon at the American FIlm and Video Festival and the Silver Award at the Houston International Film Festival.

A PLACE CALLED CHIAPAS had its world premiere at the Berlin Film Festival, and permiered at the Sydney Film Festival, Toronto International Film Festival, and won the Audience Award for Best Documentary at the AFI-Los Angeles Film Festival. A PLACE CALLED CHIAPAS also recently won a Genie Award for best Canadian Feature Documentary.
Director/Producer/Writer/Co-Camera - Nettie Wild

Cinematographer/Producer - Kirk Tougas and Nettie Wild

Producer/Production Manager - Betsy Carson

Editor/ Co-Writer - Manfred Becker

Sound Designer - Velcrow Ripper

Location Sound - Jesús Sánchez Padilla

Camera Assistant - Robin Lupita Bain

Music - Joseph Pepe Danza, Salvador Ferreras, Celso Machado, Laurence Mollerup

a Canada Wild Production produced in association with the Canadian Broadcasting Corporation; with the participation of Telefilm Canada; in association with the National Film Board and British Columbia Film; with the assistance of the British Columbia Arts Council, the Canada Council for the Arts and the Canadian Film or Video Production Tax credit; with the financial participation of Rogers Documentary Fund and the Canada Television and Cable Production Fund License Fee Program.