Private Practices: The Story of a Sex Surrogate
Director: Kirby Dick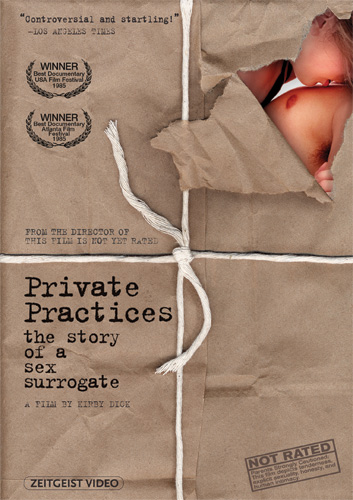 In this groundbreaking cult documentary from 1985, director Kirby Dick (This Film Is Not Yet Rated, Derrida) weaves a fascinating study of the curious role of a sex surrogate in the (then) recently established discipline of sexual therapy. Maureen Sullivan and two of her clients agreed to have the entire progression of their therapy taped, and what emerges is a disarming and compassionate look at the struggles people face in connecting with one another. Twenty-five-year-old Kipper is a virginal grad student who gets nervous just talking to a girl, let alone touching her; and John, at 45, is newly divorced and suffering from the revelation that his ex-wife was silently dissatisfied with their sexual relationship for twenty years.

As Maureen attempts to build up their confidence, she exposes her own doubts in this touching film that eschews a clinical approach to sex.
Kirby Dick
Kirby Dick is an award-winning Los Angeles filmmaker. His most recent film, THIS FILM IS NOT YET RATED, premiered at the 2006 Sundance Film Festival. His previous film, TWIST OF FAITH, about clergy sexual abuse, was nominated for an Academy Award. Earlier films include DERRIDA, winner of the Golden Gate Award at the San Francisco Film Festival, and CHAIN CAMERA, which premiered at the Sundance Film Festival. In 1997 he directed the internationally acclaimed SICK: THE LIFE AND DEATH OF BOB FLANAGAN, SUPERMASOCHIST, which won the Special Jury Prize at the Sundance Film Festival and the Grand Prize at the Los Angeles Film Festival.


Directed and Produced by Kirby Dick
Edited by Lois Freeman and Kirby Dick
Photographed by Christine Burrill and Catherine Coulson
Narration by Noreen Hennesey
Music by Tom Recchon