The Salt of Life
Director: Gianni Di Gregorio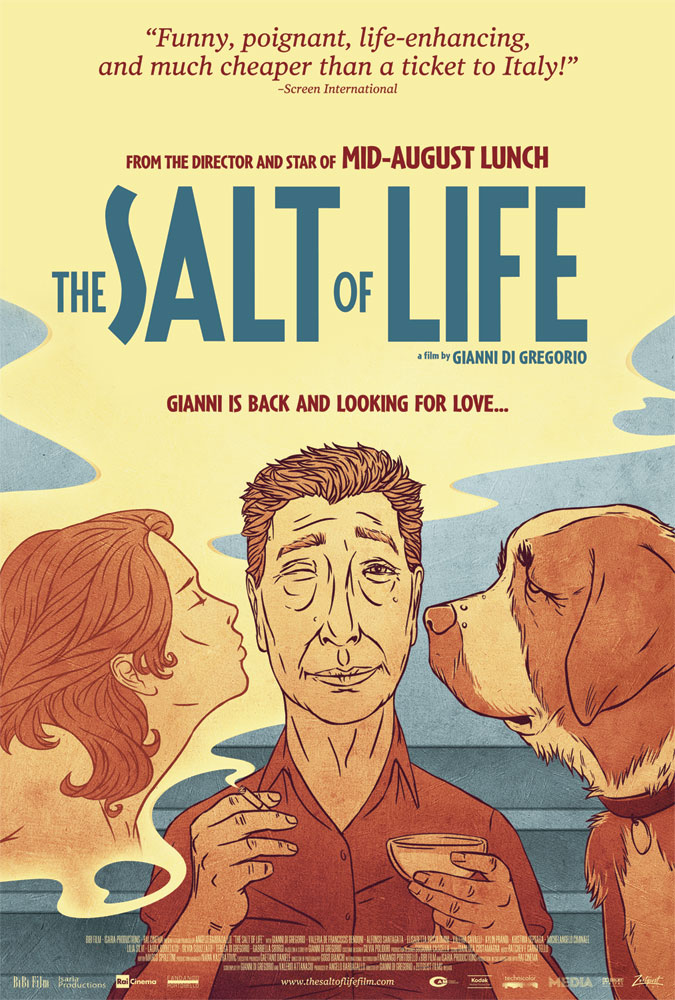 In his warm and witty follow-up to the 2010 sleeper hit
Mid-August Lunch
, writer-director-actor Gianni Di Gregorio has created another sparkling comedy—this time with a dash of the bittersweet. In
The Salt of Life
, Gianni plays a middle-aged retiree who has become invisible to all distaff Romans, regardless of age or relation. He contends with an aristocratic, spendthrift mother (again played by
Lunch
's great nonagenarian Valeria de Franciscis Bendoni); a wife who is more patronizing friend than romantic partner; a daughter (played by Di Gregorio's daughter Teresa) with a slacker boyfriend whom Gianni unwillingly befriends; and a wild young neighbor who sees him merely as her dog walker. Watching his "codger" friends snare beautiful younger women on the sun-kissed cobblestones of Trastevere, Gianni tries his polite, utterly gracious best to generate some kind of extracurricular love life—with both hilarious and poignant results.
See also Gianni Di Gregorio's
Mid-August Lunch.
Gianni Di Gregorio
Gianni Di Gregorio was born in Rome in Trastevere, where he still lives and works.

He fell in love with cinema when he was still a child, spending his mornings at school and his afternoons in the local cinemas, sometimes watching up to three films a day.

After studying Classics at high school he went to university to study literature, but before graduating dropped out to go to the Accademia di Arti Sceniche in Rome, run by Alessandro Fersen, where he took a diploma in directing and acting.

For three years he worked in Fersen's experimental research workshop (taking part in seminars and exchanges with the groups of Bob Wilson, Grotowski, Kantor and Chaikin), which led to the show "Leviathan", presented at the Festival of Spoleto in 1976.

After three years of theatre, as an assistant director and actor, he saw Martin Scorsese's Mean Streets, which made such an impression on him that he left theater and started to work in film as an assistant director. He then moved into screenwriting.

In 1986 he wrote the screenplay for the film Sembra morto ma è solo svenuto by Felice Farina, with Sergio Castellitto and Marina Confalone, which won the Premio FRIPRESCI at the Settimana della Critica, at the 1987 Venice Film Festival.

In the same year he wrote the story and screenplay for the film Carefree Giovanni by Marco Colli, with Sergio Castellitto, Eleonora Giorgi, Aldo Fabrizi, Franco Fabrizi and Luca De Filippo. Presented at the Quinzaine des Realizateurs at Cannes 87, it was awarded the Gran Prix du juri at the festival of Annecy.

In 1991 he wrote Shipwrecks directed by Marco Colli, and the following year he wrote the story and screenplay for the filmAffetti Speciali directed by Felice Farina.

In 2000 he wrote the screenplay for Long Live the Monkey!, based on the short story Le due zitelle by Tommaso Landolfi and directed by Marco Colli.

He met Matteo Garrone after seeing Garrone's first film, Terra di Mezzo. He started working with him as assistant director, in 2000 with Roman Summer, and continued with The Embalmerand First Love. In 2007 he co-wrote the screenplay for the film Gomorrah, directed by Garrone.

His 2008 directorial debut Mid-August Lunch, which he wrote and stars in, was followed in 2011 by The Salt of Life (Gianni e le donne).
CAST
Gianni Gianni Di Gregorio
Mother Valeria de Franciscis Bendoni
Alfonso Alfonso Santagata
Gianni's Wife Elisabetta Piccolomini
Valeria Valeria Cavalli
Alyn Alyn Prandi
Cristina Kristina Cepraga
Michelangelo Michelangelo Ciminale
Teresa Teresa Di Gregorio
Lilia Lilia Silvi
Gabriella Gabriella Sborgi
Twins Laura Squizzato and Silvia Sqiuzzato

CREW
Director Gianni Di Gregorio
Screenplay Gianni Di Gregorio, Valerio Attanasio
Producer Angelo Barbagallo
Executive Producer Gaetano Daniele
Director of Photography Gogò Bianchi
Editor Marco Spoletini
Composers Ratchev e Carratello
Production Designer Susanna Cascella
Costume Designer Silvia Polidori
Sound Gianluca Costamagna
1st Assistant Director Guido Colla
Casting Directors Fabiola Banzi, Francesca Borromeo
Production company BiBi Film – Isaria Productions
In collaboration with Rai Cinema

"The movie's sensuous appreciation of ripeness and abundance extends to food, clothing and foliage; the lushness of a city in bloom virtually bursts from the screen." – Stephen Holden, The New York Times
"Rueful, funny and wise, "The Salt of Life" is a comedy not of errors but of the tiniest of missteps. A warm yet melancholy film of quiet yet inescapable charm, it has a feeling for character and personality that couldn't be more delicious." – Kenneth Turan, Los Angeles Times
"It's two fine comedies in a row for Di Gregorio, previously touted for Mid-August Lunch... A winning talent!" – Gerald Peary, The Boston Phoenix
"Di Gregorio keeps the action and the jokes lissome and fluid, rather than locking them into a rigid formula. As actor, director and writer, he approaches the idea of ever-present longing with the suppleness of a dancer. On the surface, The Salt of Life may seem like a movie made just for old folks. The trick is that it really is about the youth that stays with you, even when your aging body is working hard to convince you otherwise." – Stephanie Zacharek, Movieline
"Easygoing and naturalistic! Di Gregorio conjures a Rome that's homey and literally warm." – Mark Jenkins, NPR
"The pixie-dust ending will leave you smiling ...and likely singing an unexpected tune." – Paul D'Agostino, The L Magazine
"A tremendous achievement. Di Gregorio navigates his film with such a sense of delicacy that its tone is never coarsened." – Jay Weissberg, Variety
"Full of rich visual detail that will make you smile." – Val Kermode, Eye for Film
"Gianni Di Gregorio is fantastic and should be getting more attention.... Of all of the movies I've seen this time in Rome, this is the one I most hope will make it to American theaters." – Cheri Passell, I Love Italian Movies
"The film is packed with subtly observed details of behaviour and gesture of a kind we associate with Ealing comedy at its zenith, and an elaborate Chekhovian story is being told before we realise it." – Philip French, The Observer (UK)
"Eminently worth seeing for its sheer warmth and humanity." – Derek Malcolm, This is London
"Shrewdly observed and sensitively handled this is a warm-hearted, civilised treat for anyone seeking refuge from the summer blockbusters." – Allan Hunter, The Daily Express (UK)
"Swingers for sexagenarians, Salt is perfect for older audiences who like a little spice in their cinematic offerings." – James Croot, Flicks.co.nz
"4 STARS. Lustrous, effortless, entrancing, it infects your mood as happily as a hazy Roman afternoon." – Nigel Andrews, The Financial Times (UK)
"This thoroughly delightful Italian comedy by screenwriter-turned-auteur Gianni Di Gregorio is a kind of romantic realist-fantasia with Fellini in its DNA, and a little of Woody Allen." – Peter Bradshaw, The Guardian (UK)