Short Cut to Nirvana
Director: Maurizio Benazzo, Nick Day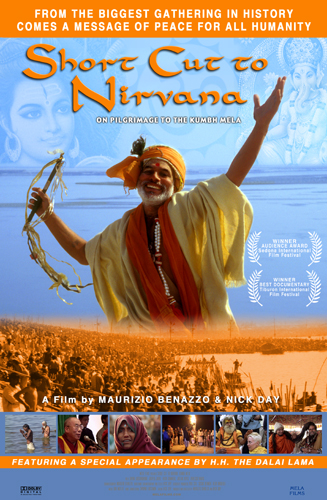 The Kumbh Mela is the biggest gathering of people in the history of humanity – although few in the West have ever heard of it. More than 70 million pilgrims attend this extraordinary spiritual festival, which has been held every 12 years near Allahabad, India, for over two millennia. A vast tent city is established to accommodate the masses, and many of India's greatest gurus and spiritual leaders set up camp to give discourses to their devotees. On certain auspicious days everyone takes a holy dip at the confluence of two actual rivers - the Ganges and Yamuna - and a mythical river, the Saraswati. On the main bathing day, more than 25 million people bathe in the sacred waters. This single act of faith is believed to cleanse the sins of a thousand lifetimes and secure release from the endless cycle of rebirth – literally a short cut to the state of purest bliss…nirvana.

SHORT CUT TO NIRVANA takes a voyage of discovery through this vivid and vibrant world, accompanied by an irrepressible young Hindu monk, Swami Krishnanand, and several Westerners, each on their own spiritual quest. We encounter some of the Kumbh Mela's wisest and most fascinating characters, including an ascetic sadhu who has held his arm in the air for over 20 years, another who sits on a throne of nails, a Japanese devotee who is buried in a pit for three days, and a guru who proposes that Americans would do well to start meditating for three hours each day. We also spend moments in the company of an honored guest, the Dalai Lama, as senior leaders of Hinduism and Buddhism join together in an historic moment of unity.

More than a simple account of the Kumbh Mela, this film is a sensory experience of an ancient, grand occasion, a swirl of color and motion, song and cacophony, the sacred and the surreal --spiritual India exactly as anyone would hope to find it. And from this ancient tradition comes a powerful and uplifting message of harmony, unity, and peace for all humanity.
Maurizio Benazzo
Italian-born Maurizio Benazzo has worked in film and television in a variety of roles, both in front of and behind the camera.

Recent camera credits include a series about New York for RAI Television, Italy; producer and on-screen presenter for "Gotham" - a highly acclaimed offbeat magazine series for Metro TV, New York;and many more.

Maurizio co-produced "At The Movies", which was first broadcast in Brazil and featured Helena Duncan and Nelson Motta. It was later adapted for RAI, Italy, and featured Giovanna Calvino, Salman Rushdie and Isabella Rosellini.

A successful screen actor, Maurizio has appeared in numerous feature films, TV shows and commercials.

Apart from his film and television work, Maurizio also serves as president of HealthShare International. a non-profit organization dedicated to providing health training and educational sponsorship to indigenous groups in the rainforests of South America.


Nick Day
Nick Day studied cinema at the British Film Institue and trained and worked as a video editor in London before relocating to New York City.

His productions credits include a diverse range of films, documentaries, news stories and commercials for international clients such as RAI Italy, ZDF Germany and Channel 4 UK.

Nick also co-produced the feature series "At The Movies", which was broadcast in Brazil and Italy, featuring Giovanna Calvino, Salman Rushdie and Isabella Rosellini.

Nick has written several screenplays, including The Fallen, which won him the screenwriter's award at the 2004 Breckenridge Film Festival.

Nick also serves on the board of HealthShare International as its vice president. In addition, he has worked with various Tibet support groups, helping to build two schools for Tibetan refugees in Nepal and India. He is a long time member of both International Campaign for Tibet and Amnesty International.