Something Ventured
Director: Dan Geller, Dayna Goldfine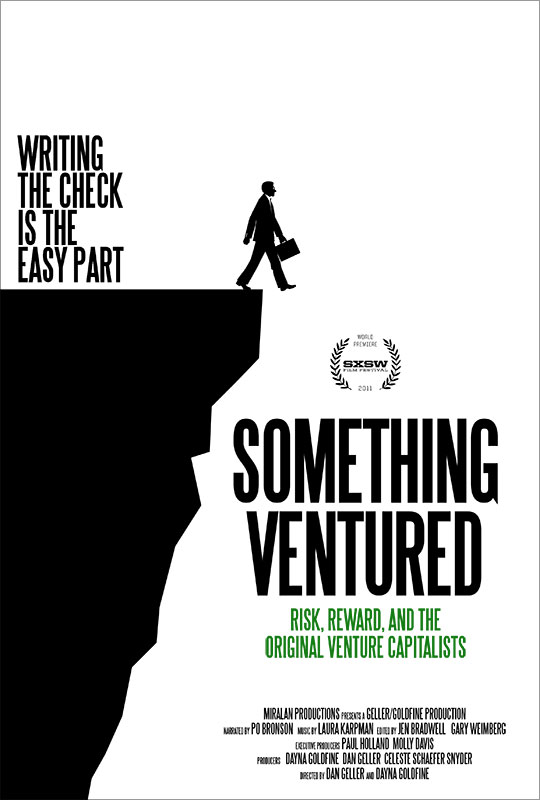 Conceived by co-executive producer Paul Holland, and directed by Emmy-Award-winning filmmakers Dan Geller and Dayna Goldfine, SOMETHING VENTURED tells the story of the creation of an industry that went on to become the single greatest engine of innovation and economic growth in the 20th century. It is told by the visionary risk-takers who dared to make it happen: Tom Perkins, Don Valentine, Arthur Rock, Dick Kramlich and others. The film also includes some of our finest entrepreneurs sharing how they worked with these venture capitalists to grow world-class companies like Intel, Apple, Cisco, Atari, Genentech, Tandem and others.

Beginning in the late 1950s, this small group of high rollers fostered a one-of-a-kind business culture that encouraged extraordinary risk and made possible unprecedented rewards. They laid the groundwork for America's start-up economy, providing not just the capital but the guidance to allow seedling companies to reach their full potential. Our lives would be dramatically different without the contributions that these venture capitalists made to the creation of PCs, the Internet and life-saving drugs.
Dan Geller
Dan Geller graduated from Cornell University with a B.A. in history and received his M.A. in documentary production from Stanford University.


Dayna Goldfine
Dayna Goldfine holds a B.A. in feminist studies from Stanford University, and received her film training at De Anza College in Cupertino, California.

For over twenty years, Emmy-award winning directors/producers Dan Geller and Dayna Goldfine have jointly created critically-acclaimed, multi-character documentary narratives that braid their characters' individual personal stories to form a larger portrait of the human experience. Their most recent film is THE GALAPAGOS AFFAIR: SATAN CAME TO EDEN (2013). Their work includes the award-winning SOMETHING VENTURED (2011), which premiered at SXSW, went on to play at festivals internationally, and was broadcast nationwide on PBS; BALLETS RUSSES (2005) which was recognized as one of the top five documentaries of 2005 by both the National Society of Film Critics and the National Board of Review and appeared on a dozen critical "10 Best Films" lists, including those of Time Magazine, the Los Angeles Times, The Hollywood Reporter, the San Francisco Chronicle and Slate; NOW AND THEN: FROM FROSH TO SENIORS, which premiered theatrically in October 1999 and aired on PBS in October 2000 as the lead program of the Independent Lens series; KIDS OF SURVIVAL: THE ART AND LIFE OF TIM ROLLINS + K.O.S. (1996), a feature-length documentary about the South Bronx-based art group Tim Rollins & K.O.S., which aired on Cinemax in September 1998 and was the recipient of two national Emmy Awards; FROSH: NINE MONTHS IN A FRESHMAN DORM (1994); and, the award-winning ISADORA DUNCAN: MOVEMENT FROM THE SOUL (1988).

Executive Produced by
Paul Holland and Molly Davis

Directed by
Dayna Goldfine and Dan Geller

Produced by
Dayna Goldfine, Dan Geller and Celeste Schaefer Snyder

Edited By
Jen Bradwell and Gary Weimberg

Original Music By
Laura Karpman

Narrated by
Po Bronson

Cinematography
Dan Geller

Sound by
Richard Beggs
"...a chronicle of cutting-edge innovation and staggering wealth-creation, as well as the heretofore untold history of some of the corporate world's biggest names, such as Intel, Apple, and Cisco." – , Austin Chronicle
"...interlocking tales of ambition, wealth, and occasional heartbreak, will capture imaginations." – , The New York Times
"A fascinating and easily accessible history lesson... should prove invaluable as a teaching tool in business schools." – Joe Leydon, Variety