Sophie Scholl-The Final Days
Director: Marc Rothemund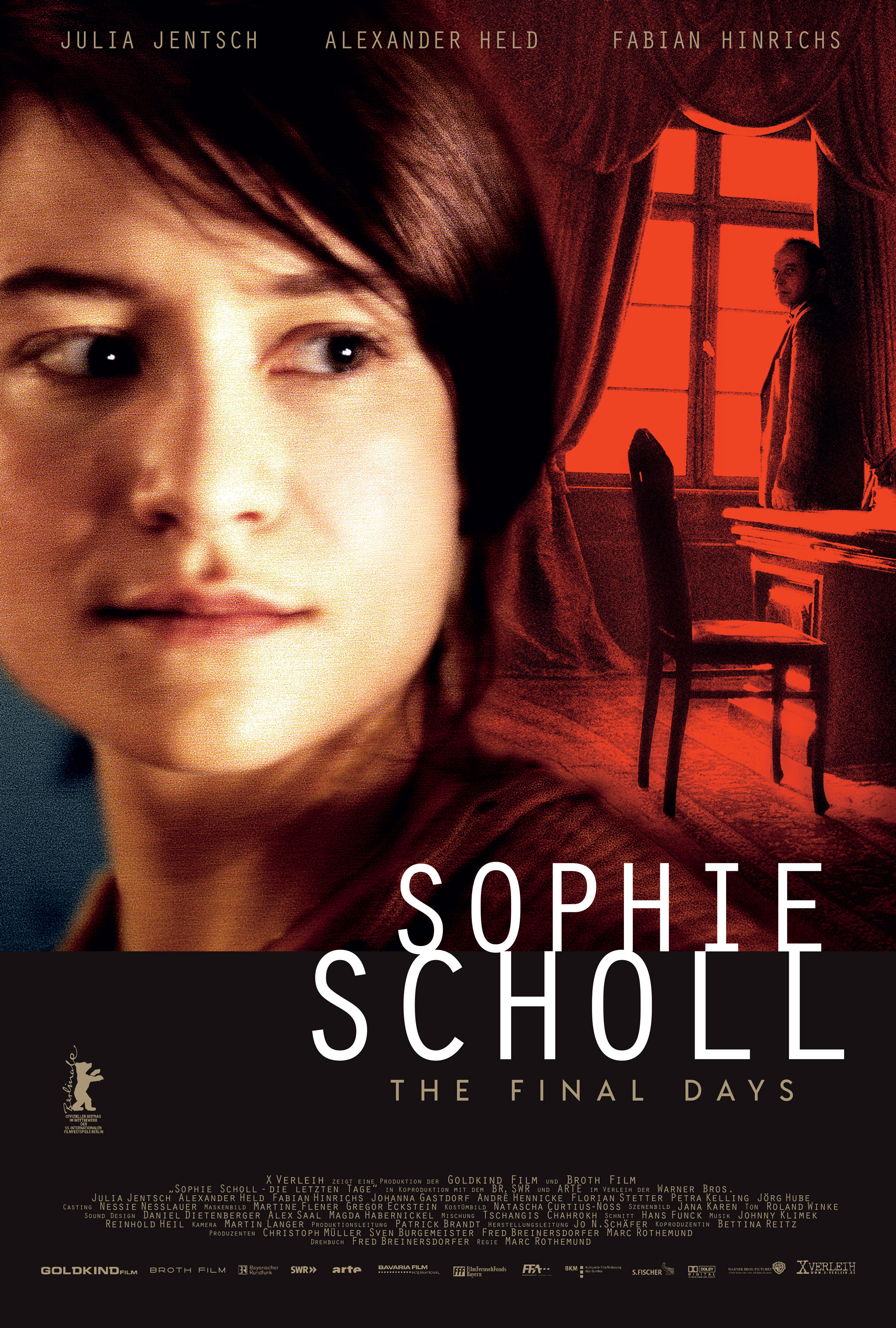 Newly restored in 4K!
The true story of Germany's most famous anti-Nazi heroine is brought to thrilling life in the multi-award winning drama SOPHIE SCHOLL-THE FINAL DAYS. Academy Award Nominee for Best Foreign Language Film, SOPHIE SCHOLL stars Julia Jentsch in a luminous performance as the young coed-turned-fearless activist. Armed with long-buried historical records of her incarceration, director Marc Rothemund expertly re-creates the last six days of Sophie Scholl's life: a heart-stopping journey from arrest to interrogation, trial and sentence.

In 1943, as Hitler continues to wage war across Europe, a group of college students mount an underground resistance movement in Munich. Dedicated expressly to the downfall of the monolithic Third Reich war machine, they call themselves the White Rose. One of its few female members, Sophie Scholl is captured during a dangerous mission to distribute pamphlets on campus with her brother Hans. Unwavering in her convictions and loyalty to the White Rose, her cross-examination by the Gestapo quickly escalates into a searing test of wills as Scholl delivers a passionate call to freedom and personal responsibility that is both haunting and timeless.

SOPHIE SCHOLL received three Lolas (German Oscars) including the Audience Award and Best Actress Award to Jentsch for her brilliant characterization of the title role. The film also won two Silver Bears for Best Director and Best Actress at the 2005 Berlin International Film Festival.
Now Available for Theatrical and Festival engagements on 4K DCP. To book this film please contact Nancy Gerstman or Emily Russo.
A press kit, trailer, stills, and jpegs of the new poster will be available to download soon from our Exhibition DropBox.
Marc Rothemund
Marc Rothemund, born in 1968, comes from a Munich "film family". His grandfather, Siegfried Rothemund, was the producer of Siro-Musik and head of press for Das Maedchen Rosemarie (1958); Marc Rothemund began his professional career as assistant director to Helmut Dietl (for ROSSINI), Bernd Eichinger (for 'Das Mädchen Rosemarie', a remake of his grandfather's classic), Dominik Graf (for 'Sperling') and Gérard Corbiau (for FARINELLI). In 1998 he obtained the Bavarian Film Prize as best young director for his first feature film DAS MERKWÜRDIGE VERHALTEN GESCHLECHTSREIFER GROSSSTÄDTER ZUR PAARUNGSZEIT ('Love Scenes from Planet Earth'). With 1.7 million spectators, his second feature HARTE JUNGS ('Just the Two of Us') was one of the most successful films of 1999. His TV thriller 'Das Duo – Der Liebhaber' won the VFF TV Movie Award in 2003.

With SOPHIE SCHOLL-THE FINAL DAYS, Marc Rothemund continues his successful collaboration with screenwriter Fred Breinersdorfer, which was launched in 1997 with two episodes of the ZDF thriller series 'Anwalt Abel' (both awarded the Telestar) and reached a high point with the TV movie 'Die Hoffnung stirbt zuletzt' (2002). This gripping drama about the fateful bullying of a policewoman obtained many awards, including the Golden Camera and the Grimme Prize in Gold.

SOPHIE SCHOLL–THE FINAL DAYS has been invited to over two dozen festivals worldwide and has collected numerous awards including the Silver Bear for the Best Direction and Best Actress and the main prize from the Ecumenical Jury at the 2005 Berlinale, the Bernhard Wicki Filmpreis "Die Bruecke – Der Friedenspreis des Deutschen Films", and German Film Awards (Lolas) for the Best Film (Silver) and the Audience Award 2005. It will be the opening night film for the Made in Germany section of the AFI Festival in Los Angeles, and the closing night selection for the New Films from Germany series at the Museum of Modern Art in New York. SOPHIE SCHOLL – THE FINAL DAYS has been honored as Germany's Official Selection for the 78th Academy Awards.
Cast

Sophie Scholl Julia Jentsch
Robert Mohr Alexander Held
Hans Scholl Fabian Hinrichs
Else Gebel Johanna Gastdorf
Dr. Roland Freisler André Hennicke
Christoph Probst Florian Stetter
Alexander Schmorell Johannes Suhm
Willi Graf Maximilian Brückner
Gisela Schertling Lilli Jung
Robert Scholl Jörg Hube
Magdalena Scholl Petra Kelling
Werner Scholl Franz Staber


Crew

Director Marc Rothemund
Screenwriter Fred Breinersdorfer
Producers Christoph Mueller, Sven Burgemeister (Goldkind Film), Fred Breinersdorfer, Marc Rothemund (Broth Film)
Co-Producer Bettina Reitz (Bayerischer Rundfunk)
Commissioning Editors Hubert von Spreti (Bayerischer Rundfunk), Ulrich Herrmann (Süd-West Rundfunk), Andreas Schreitmüller (arte), Jochen Kölsch (Bayerischer Rundfunk/arte)
Director of Photography Martin Langer, BVK
Set Design Jana Karen
Costumes Natascha Curtius-Noss
Casting Nessie Nesslauer
Editor Hans Funck
Music Johnny Klimek, Reinhold Heil
Production Manager Patrick Brandt
Line Producer Jo N. Schäfer
A production of Goldkind Film and Broth Film
In co-production with Bayerischer Rundfunk, Süd-West Rundfunk and arte
Supported by FFF – FilmFernsehFonds Bayern, FFA–Filmförderungsanstalt and BKM – Bundesanstalt für Kultur und Medien
World Sales Bavaria Film International
Supported by FFF Bayern, FFA and BKM