The Unmaking of a College
Director: Amy Goldstein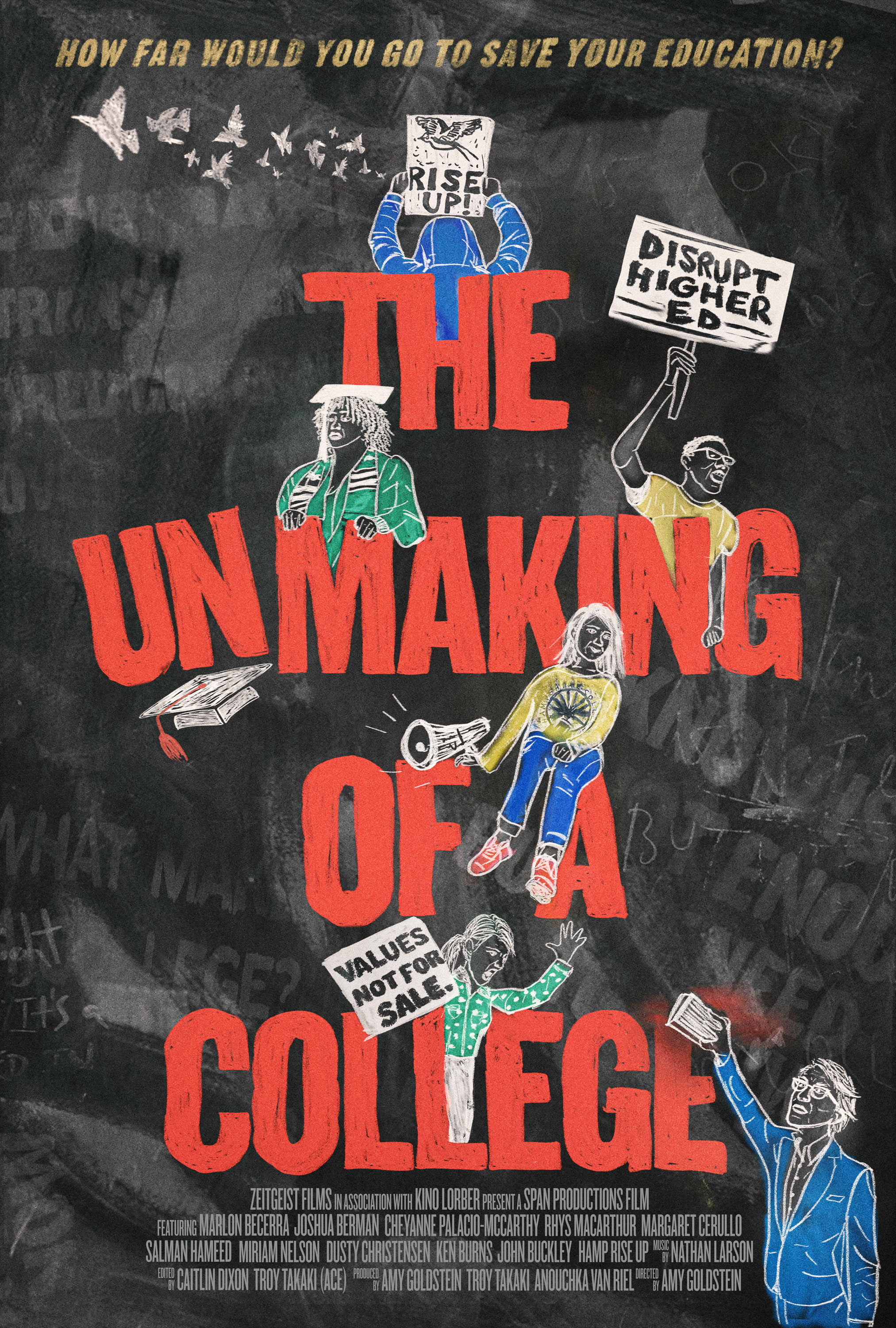 This is a film about young people on a rescue mission—for a school and an educational philosophy. The Unmaking of a College delves into the 2019 crisis at Hampshire College when students led a 75-day sit-in – the longest in American college history – at the new president's office to thwart her underhanded attempt to give up the independence of one of the most experimenting colleges in the United States. From the start, the students were filming events to hold the administration accountable and empower their movement. Alum Goldstein weaves their powerful documentation with interviews with students, professors, whistleblowers, and alumni including filmmaker Ken Burns. A raucous ode to democracy in action, this film evokes the courage required to stand up to power at a time when many liberal arts colleges are failing. Can the storied tradition of liberal arts education—and the nation it has created—be saved? This is a story of young people moved to action by these questions, how they were changed forever by their choices, and how they are becoming our future leaders.
The Unmaking of a College is a Zeitgeist Films release in association with Kino Lorber. It opened in New York on February 11, 2022. To book this film please contact Nancy Gerstman or Emily Russo.
A press kit, stills, jpegs of the poster and Quicktime files of the trailer can be downloaded from our Exhibition DropBox.
Amy Goldstein
Amy Goldstein is a director, producer, and screenwriter of television series, feature films and music videos. She seeks out daring people fighting the battles for democracy, justice and self-expression, an approach to life that she developed while attending Hampshire College. Her latest documentary, KATE NASH: UNDERESTIMATE THE GIRL (IDFA, Doc NYC, Sheffield Doc Fest, Doc Edge) was made for Storyville BBC and was released theatrically by Alamo Drafthouse in the United States, Level Film in Canada, and qualified for an Academy Award in 2021. The film follows musician Kate Nash as she goes from brutally honest pop star to struggling artist to a woman now in control of her career.
Other documentary films recently completed include SELF-MADE MEN (ITVS), an episodic docu-comedy about two publishers who created a transmen magazine and THE HOOPING LIFE (a Cinedigm release), an epic tale of a female-driven subculture.
Prior to documentary filmmaking, Amy directed music videos (Rod Stewart's DOWNTOWN TRAIN MTV #1) and scripted features (BECAUSE THE DAWN, a lesbian vampire musical, THE SILENCER, an action satire of exploitation films, award-winning EAST OF A, an edgy comedy starring Rashida Jones and David Alan Grier about an alternative family facing the challenges of raising a child with HIV). Her work has been presented at film festivals worldwide, including Toronto and Berlin. She also developed pilots for HBO, CBS, Fox, Showtime, and MTV.
Amy served on the board of Outfest and is a member of the WGA and DGA. She graduated from Hampshire College and NYU Graduate Film School.
"Presents Hampshire College in Massachusetts as a canary in the coal mine of liberal-arts education." – Ben Kenigsberg, The New York Times
"An engaging and inspirational documentary." – , Movie Guru
"A quick portrait of students ensuring their standing in education, rather than being treated as dollar signs by the educational climate that is meant to benefit and support them." – , Film Snob
"Anyone who paints younger folks in broad brushstrokes as apathetic and uninformed, will find no such examples in this group. Their energy speaks not only of them as individuals, but also of the love they feel for their college. Activism is often sparked when individuals feel they have been unjustly acted upon by powerful forces." – , Battle Royale With Cheese
"This should be mandatory viewing for every single student out there all over the world." – , High on Films
"Inspirational and aspirational in an age of increasing youth activism…a well-made documentary on a subject that can hopefully provide insight into what to do, and what not to do, in protesting in any context, not just college campuses." – , But Why Tho?
"Incisively encapsulates the historical efficacy of student protests and financial pressures facing small liberal-arts colleges." – , Cinemalogue