The Garden
Director: Derek Jarman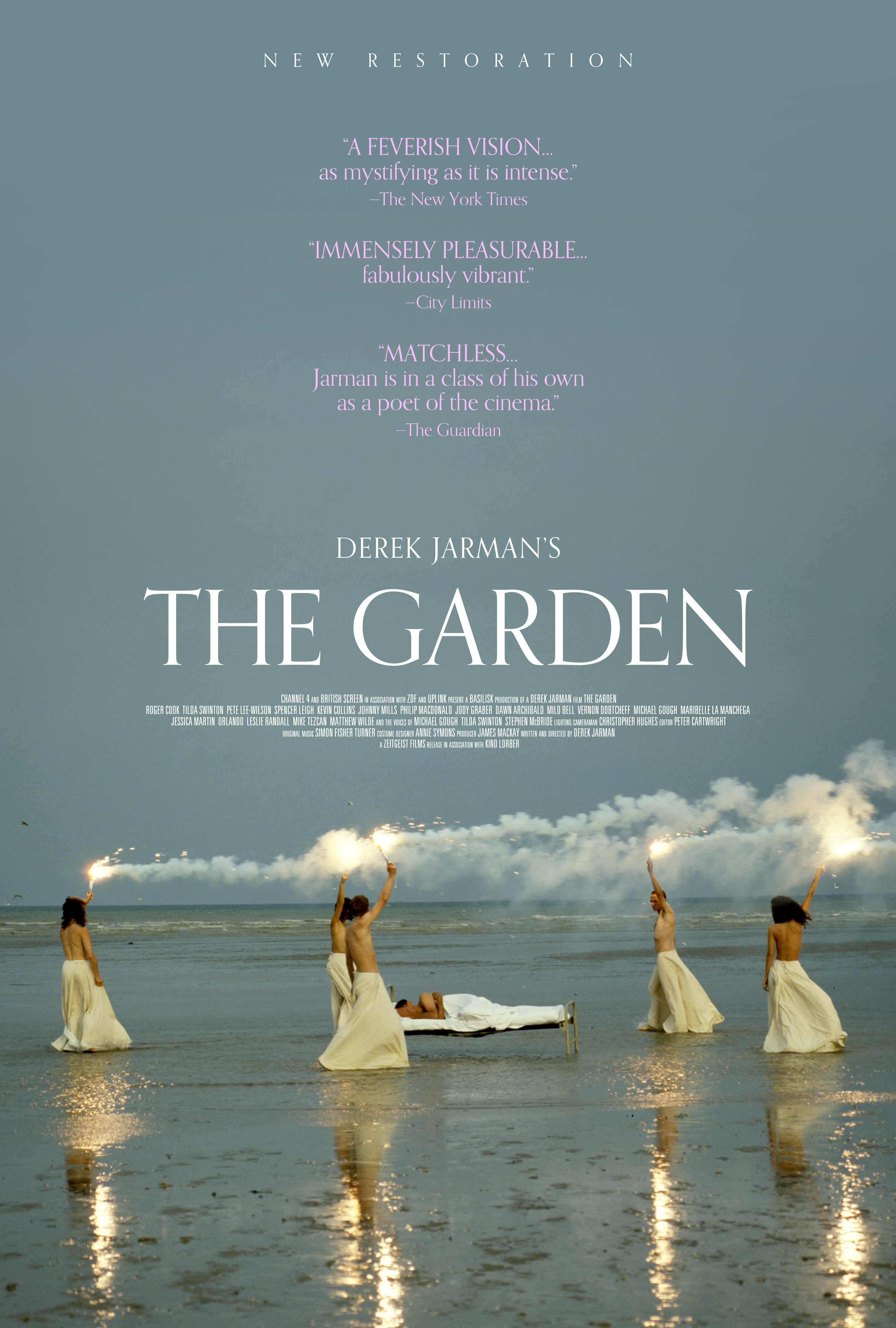 Half waking dream and half fiery polemic,
The Garden
was born of director Jarman's rage over continued anti-gay discrimination and the sluggardly response to the AIDS crisis—he had been diagnosed HIV positive in 1988. Starring Tilda Swinton, this uniquely kaleidoscopic film shows the filmmaker's genius at its most coruscating, making space in its breadth of vision for an over-the-top Hollywood-style musical number, nightmare images of tar-and-feather queer persecution, and footage of the particularly menacing-looking nuclear power plant that overlooks Jarman's own garden, the point from which his film begins, and a cherished spot which he must keep to tending even as his body begins to betray him. Writhing with sorrow and anger, and yet so vividly alive to the loveliness of being,
The Garden
is a baleful and beautiful epistle from the brink of the beyond. –Nick Pinkerton, The Metrograph
The restoration of The Garden premiered at the Berlin Film Festival on February 8, 2019 and opened at the Metrograph in New York on May 28. A Zeitgeist Films release in association with Kino Lorber. To book this film please contact Nancy Gerstman or Emily Russo or call 212-274-1989.

Stills and trailers can be downloaded from our DropBox.
Derek Jarman
Derek Jarman, arguably Britain's most visionary filmmaker since Michael Powell, reinvented himself as often as Picasso. Equally at home making slyly subversive costume dramas or dreamy experimental cine-poems, Jarman was a bracing antidote to the Masterpiece Theaterization of British cinema, and, as the world's leading gay filmmaker of his day, was an inspiration to a generation.

Born in 1942, Jarman studied painting at the Slade School in London. His interest in costume and set design took him first to the Royal Ballet and then to the Coliseum in 1968 to work on a production of DON GIOVANNI. His first work in film was as the production designer on Ken Russell's THE DEVILS in 1970.

Derek Jarman's first feature, SEBASTIANE, was made in 1975 and was followed by JUBILEE, which was screened at the Cannes Film Festival in 1977. His third film, an idiosyncratic adaptation of Shakespeare's THE TEMPEST, was shown at the Berlin Film Festival in 1979. In 1980r he made several short films including his first pop promo, with Marianne Faithful. In 1984 the Institute of Contemporary Arts in London held a retrospective of Jarman's paintings and in the same year he made a short film inspired by a trip to the Soviet Union entitled IMAGINING OCTOBER. He also completed designs for a ballet by Micha Bergese and published his first book, the autobiographical DANCING LEDGE.

In 1986 CARAVAGGIO premiered at the Berlin Film Festival. This was a project which had taken Jarman seven years to realize but which finally was to gain him major recognition in the United States as a major innovative filmmaker. In the following year THE LAST OF ENGLAND was realized with a book of the same name. The film won an L.A. Critics Award. In 1988 Jarman directed WAR REQUIEM, based on Benjamin Britten's work and featuring the last screen appearance of Laurence Olivier.

Jarman directed the stage show of The Pet Shop Boys World Tour in 1989. The following year saw the production of THE GARDEN, the making of which is chronicled in MODERN NATURE, a collection of Jarman's journals which also begins to record his personal struggle against the effects of the AIDS virus. However, this was not to hinder his work and, in an astounding burst of energy, Jarman made three more films in the next three years: EDWARD II (1991), WITTGENSTEIN (1992), and BLUE (1993). His final, and most challenging cinematic statement, BLUE screened at the 1993 New York Film Festival in November where Jarman received a very emotional standing ovation.

Derek Jarman died of complications from AIDS on February 19, 1994.