The Tree
Director: Julie Bertuccelli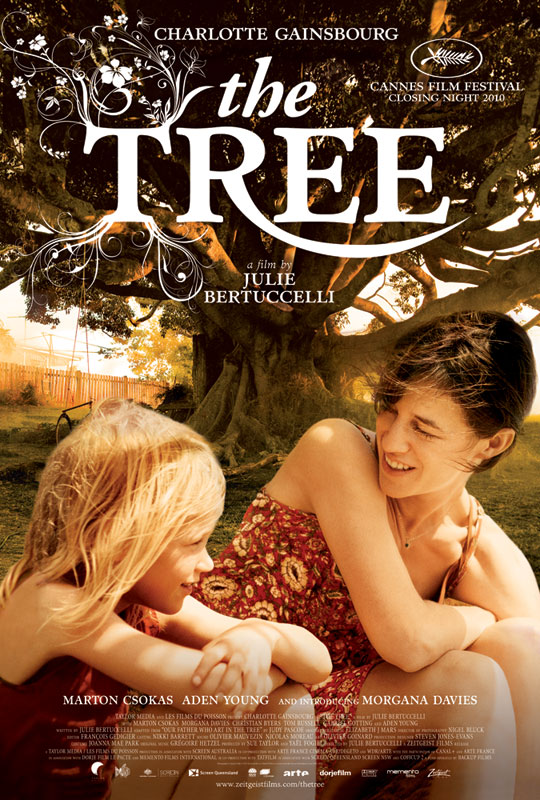 The exquisite Charlotte Gainsbourg (Antichrist, Melancholia,I'm Not There) stars in French filmmaker Julie Bertuccelli's achingly beautiful follow-up to her sleeper hit Since Otar Left. The Closing Night Film at Cannes in 2010, The Tree is a mystical drama of loss and rebirth in the Australian countryside. Not since classic 1970s works Picnic at Hanging Rock and Walkabout has the harshly gorgeous outback landscape been such a lyrical yet foreboding metaphor for grief and coming of age.

Blindsided with anguish after her husband's sudden death, Dawn (Gainsbourg)—along with her four young children—struggles to make sense of life without him. Eight-year-old Simone (unforgettable newcomer Morgana Davies) becomes convinced that her father is whispering to her through the leaves of the gargantuan fig tree that towers over their house. The family is initially comforted by its presence, but then the tree's enormous roots slowly begin to encroach on the abode and threaten their fragile existence....
Julie Bertuccelli
Julie Bertuccelli started her film career as an assistant director, working with such internationally acclaimed filmmakers such as Krzysztof Kieslowski, Bertrand Tavernier, Otar Iosseliani, Rithy Panh and Emmanuel Finkiel. She has also directed several highly regarded documentaries. Her feature debut, Since Otar Left, which she wrote and directed, won several major awards including the Grand Prize at the 2004 Cannes Film Festival International Critcs'€™ Week, and a Cesar Award (French Oscar) for Best First Feature. The Tree is her second feature.


CAST

Dawn O'Neil Charlotte Gainsbourg
George Elrick Marton Csokas
Simone Morgana Davies
Peter O'Neil Aden Young
Vonnie Gillian Jones
Mrs Johnson Penne Hackforth-Jones
Tim Christian Bayers
Lou Tom Russell
Charlie Gabriel Gotting
Megane Zoe Boe


CREW

Directed by Julie Bertuccelli
Written by Julie Bertuccelli
Adapted from Our Father Who Art in the Tree by Judy Pascoe
Produced by Les Films du Poisson, Taylor Media
Director of Photography Nigel Bluck
Sound Designer Olivier Mauvezin
Set Designer Steven Jones-Evans
Costume Designer Joanna Mae Park
Makeup/Hair Designer Wendy De Waal
Casting Director Nikki Barrett
Editor François Gédigier
Sound Editor Nicolas Moreau
Sound Mixer Olivier Goinard
Music Composer Grégoire Hetzel
1st AD Chris Webb

Principal Investor Screen Australia
In coproduction with ARTE France Cinéma ARD/Degeto, WDR/ARTE, and Tatfilm
With the participation of CANAL+ and ARTE France
In association with Dorje Film, Screen Queensland, Screen NSW, Le Pacte, Memento Films International, Goalpost Pictures, Kojo Pictures and Coficup 2 (a fund operated by Backup Films)

"Exquisitely composed! So involving!" – Laura Kern, Film Comment
"Julie Bertuccelli....assures her place in the upper tiers of independent filmmaking.... Large doses of charm and sparkling performances fill sweeping landscapes.... Visual poetry... Tour de force of jaw-dropping visual effects.... Beneath its deceptive simplicity it delivers many poignant moments, much physical beauty and many truths. " – Doris Toumarkine, Film Journal
"A beautifully shot exploration of the way we deal with loss, as well as an intense (and sometimes scary) look at the power of nature." – Eliza Thomson, Bust magazine
"Gainsbourg uses her elegant, angular beauty to move Dawn from lost to searching to accepting, never once making a false move." – Joe Neumaier, New York Daily News
"Remarkable! The Tree offers a unique, almost lyrical perspective on grief through its incredibly rich Australian landscape.... The film's stunning, climatic ending has humans and nature all playing a part in the ever-changing push of life. The Tree starts as a metaphor for grief, but like all living things, it evolves into a metaphor for lives that need to grow up and move forward." – Lori Huck, Examiner.com
"Glory be to Gainsbourg!" – Elina Mishuris, The L Magazine
"Even better is Davies as the child who takes temporary residence in the tree's branches, displaying a desperate simplicity of belief that nearly carries the film." – Sam Adams, Time Out New York
"(A) moving story about grief and the resilience of family ties. Intuitive, deeply felt storytelling at is best! " – Mina Hochberg, AM New York
"Gainsbourg is such a wonderful actress!" – Vincent Musetto, New York Post
"Gainsbourg uses her elegant, angular beauty to move Dawn from lost to searching to accepting, never once making a false move." – Joe Neumaier, New York Daily News
"CRITICS PICK! Gorgeous.... On the edge of the outback, the environment is so luminous that every outdoor shot has an aura of magical realism. Ms. Gainsbourg, is almost as striking a figure in "The Tree" as she was playing a demonic wife in Lars von Trier's "Antichrist." The radiant, stubbornly bratty 8-year-old Simone, whom Morgana Davies portrays with an exceptional force and confidence. " – Stephen Holden, The New York Times
"[Morgana Davies is] extraordinary! That anyone could steal thunder out from under an actress as always-fine as Charlotte Gainsbourg is surprising enough; that it would be a small girl with but a single credit behind her is a further oddity. Yet Ms Davies excels! " – , Trust Movies blog
"An achingly sensitive performance from Gainsbourg!" – Joe Bendel, The Epoch Times
"Graceful performances! The talented ensemble cast...give full flesh to their characters, breathing life - and nuance - into their parts." – Michael O'Sullivan, The Washington Post
"What makes The Tree feel like a movie about actual people and not just writer's constructs are the powerful performances by Gainsbourg and young Davies." – , TheWrap.com
"Davies is an eager towhead with an astounding capacity to brood. Her instinct and line delivery are sharp but organic. There's a wonder in both the character and the performance that meets up nicely with girls her age in movies such as The Spirit of the Beehive, The Piano, and Pan's Labyrinth" – , Boston Globe
"What a magnificent tree!" – Bonnie Steiger, The Examiner.com
"The film never does what you expect it to.... Young Morgana Davies is inspiring.... Gainsbourg embodies the role of a grieving woman in another overflowingly open performance" – Ryan Lattanzio, San Francisco Bay Guardian
"It's one of the best films of 2011, a rare family story that justifies every ounce of its warmth and sincerity, and demonstrates once again the earthy vitality of actress Charlotte Gainsbourg.... By now it should be obvious that Gainsbourg is one of international cinema's most versatile portrayers of characters...we couldn't take our eyes off Gainsbourg.... She and filmmaker Bertuccelli understand each other right down to the roots. " – Kelly Vance, East Bay Express
"A lyrical story of loss and longing. Charlotte Gainsbourg brings aching melancholy to the role of Dawn." – Sheri Linden, Los Angeles Times
"The Tree tackles difficult issues of death, mourning, rebirth and the overwhelming power of nature. The film succeeds, highlighted by wonderful acting, skillful cinematography, the barren, almost eerie location and the mysterious interaction between the fig tree and its family.... Featured as the Closing Night selection of Cannes 2010, "The Tree" is far from Hollywood's formulaic movies. Not merely plot-driven, this starkly beautiful film creates a fascinating view of life, real and imagined." – Emily S. Mendel, culturevulture.net
"4 STARS! Sometimes a 'small' film eclipses a big one that wins the limelight. As a life statement, The Tree of Life implodes from its cosmic Texan gas. Far more modestly, The Tree sends out shoots of life and is never sappy.... There is sensual magic, not just tree-hugger whimsy, in this adaptation of Judy Pascoe's novel Our Father Who Art in a Tree. The fig tree and the old house are characters, and the excellent Gainsbourg and Morgana Davies (Simone) send tendrils of emotion into the tree, the sky, the landscape, and our fascination. " – David Elliott, San Diego Reader
"It's extremely touching and heart-felt. It's a tender family drama you won't soon forget." – Jeffrey Lyons, Lyons Den Radio
"I shall never see a film as lovely as The Tree....COMES CLOSE TO PERFECTION!" – Evan Williams, The Australian
"Beautifully made, beautifully acted" – David Stratton, At the Movies
"Just remarkable! Morgana Davies simply steals the show. Quite simply a beautiful film" – , Sky News
"4 STARS! A visual and kinetic tour de force that has a startling impact!" – Phillipa Hawker, The Age