The Woman Who Loves Giraffes
Director: Alison Reid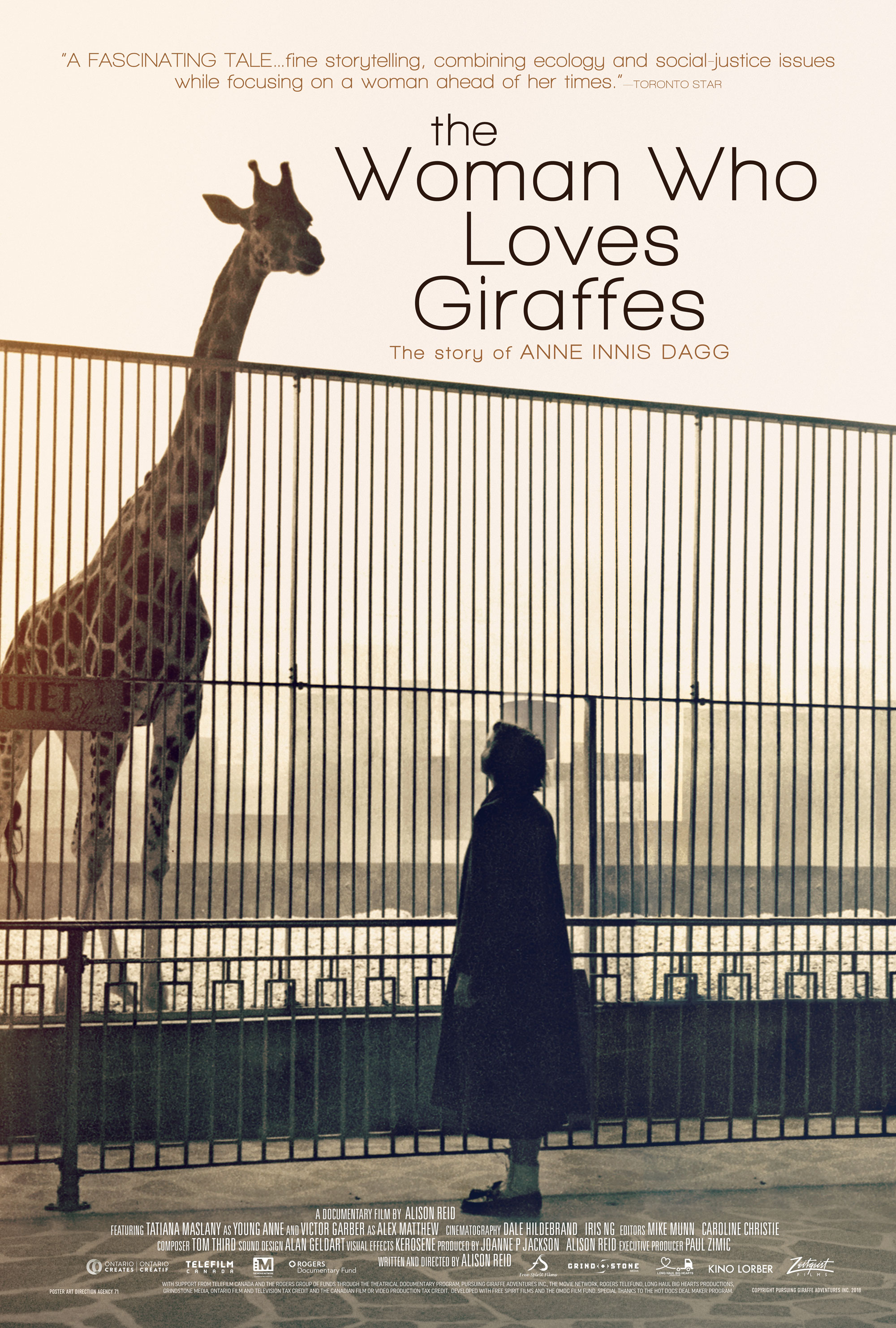 In 1956, four years before Jane Goodall ventured into the world of chimpanzees and seven years before Dian Fossey left to work with mountain gorillas, 23-year-old biologist Anne Innis Dagg made an unprecedented solo journey to South Africa to study giraffes in the wild.
In THE WOMAN WHO LOVES GIRAFFES Anne (now 86) retraces her steps, and with letters and stunning, original 16mm film footage offers an intimate window into her life as a young woman, juxtaposed with a first hand look at the devastating reality that giraffes are facing today. Both the world's first 'giraffologist', whose research findings ultimately became the foundation for many scientists following in her footsteps, and the species she loves have each experienced triumphs as well as setbacks. THE WOMAN WHO LOVES GIRAFFES gives us a moving perspective on both.
THE WOMAN WHO LOVES GIRAFFES is a Zeitgeist Films release in association with Kino Lorber. It opened in theaters in fall 2019 and also played in virtual cinemas around the country in spring 2020. To book this film please contact Nancy Gerstman or Emily Russo.

Trailers (DCP and Quicktime), stills, a press kit and various size jpegs of the poster can be downloaded from our Dropbox.

Now available on DVD and Blu-ray and on VOD on Kino Now.
Alison Reid
ALISON REID (Director, Writer, Producer) is an award-winning director who began her career as a stunt coordinator and second unit director. After accumulating 300 credits, she formed Free Spirit Films to produce projects diverse in genre but similar in their exploration of the human spirit. Reid received the 2007 Crystal Award for Emerging Director from DGC/WIFT. Her independent feature, The Baby Formula (2009), sold internationally, won the Audience Award at the Inside Out LGBT Film Festival, 'Best LGBT Film' at Nashville Film Festival and was nominated for the Golden Zenith at the Montreal World Film Festival. Her television directing credits include Saving Hope, Heartland and Murdoch Mysteries.
"This warm documentary uses one woman's singular passion to fuel a tale of zoological discovery, blatant sexism and environmental alarm." – Jeannette Catsoulis, The New York Times
"INSPIRING... A bright spot in the middle of this dark month, Alison Reid's unabashedly sincere documentary offers gentle comfort even when it brushes up against tough subjects." – Elizabeth Weitzman, The Wrap
"Her research was groundbreaking, and the 16 millimeter color footage she shot at the time, amply displayed in the documentary, is breathtaking." – Peter Rainer, The Christian Science Monitor
"Alison Reid's loving documentary affectionately celebrates little-known giraffologist Dr. Anne Innis Dagg's groundbreaking scientific work and generous contributions to women's equality." – Tomris Laffly, Variety
"A uniquely captivating hybrid of a movie." – David Lamble, The Bay Area Reporter
"An inspiring documentary that should be at the top of everyone's list of must-see films." – , The Alliance of Women Film Journalists