The Yvonne Rainer Collection
Director: Yvonne Rainer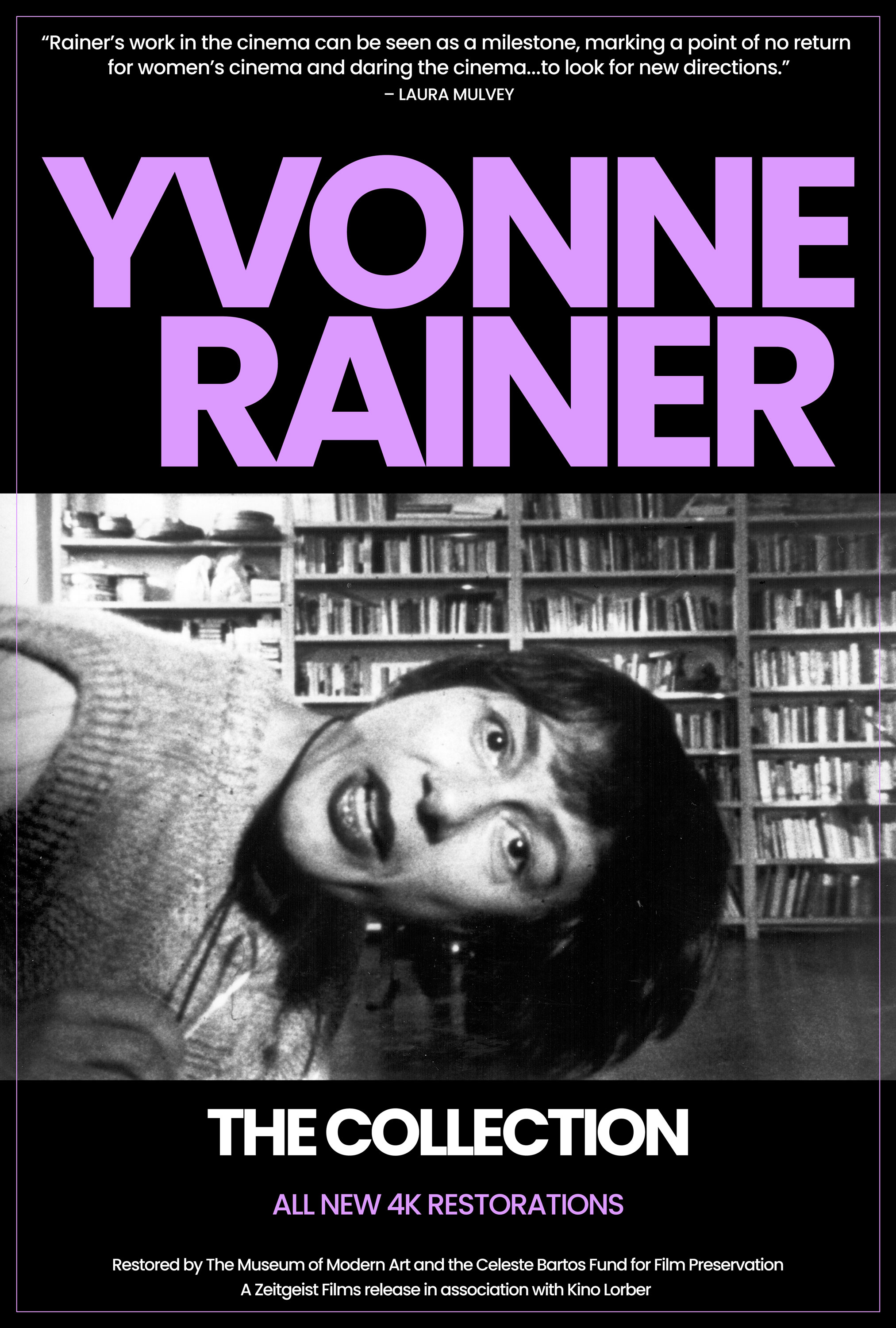 The seven feature films directed by Yvonne Rainer between 1972 and 1996 have all been restored in 4K by the Museum of Modern Art and the Celeste Bartos Fund for Film Preservation. Zeitgeist Films in association with Kino Lorber is the sole worldwide distributor of these films.
A pioneering figure of the avant garde movement, Yvonne Rainer's artistic career spans over five decades across both dance and film. Making use of archives, reenactments, photographs, and unconventional audiovisual techniques, her films draw on critical theory and erudite analysis while exploring deeply personal, political, and social themes. Her genre-defining work and collaboration with other artists has earned her a MacArthur Fellowship, two Guggenheim Fellowships, and three Rockefeller Fellowships, among other accolades. Rainer is widely regarded as one of the most influential performance artists of the twentieth century; as critic J. Hoberman wrote in the Village Voice in 1986, "Rainer is the avant-garde's most important woman filmmaker since Maya Deren...more likely, she's the most influential American avant-garde filmmaker of the past dozen years, with an impact as evident in London or Berlin as in New York."
The seven feature restorations include her debut feature Lives of Performers (1972), a subversive reflection on romantic alliances that incorporates archival footage and Rainer's own choreography; the unconventionally structured Film About a Woman Who… (1974), which meditates on doubt, relationships, and performance; Kristina Talking Pictures (1976), which blends collage, narrative, and documentary in its story of a female lion tamer traveling to New York to become a choreographer; Journeys from Berlin/1971 (1980), which uses the framework of an American woman's extended therapy session to explore the daily experience of terrorism; the wryly funny The Man who Envied Women (1985), chronicling the aftermath of a breakup between a philandering professor and his artist wife; Privilege (1990), which focuses on menopause and the experience of aging; and her final feature, MURDER and murder (1996), a meditation on female aging in its portrayal of a budding romance between two middle-aged women.
The films may be booked as a complete retrospective and are also available individually:
LIVES OF PERFORMERS (1972)
FILM ABOUT A WOMAN WHO... (1974)
KRISTINA TALKING PICTURES (1976)
JOURNEYS FROM BERLIN/1971 (1979)
THE MAN WHO ENVIED WOMEN (1985)
PRIVILEGE (1990)
MURDER AND MURDER (1996)


For open showings contact Nancy Gerstman or Emily Russo.
For educational use please visit KinoLorberEdu.com.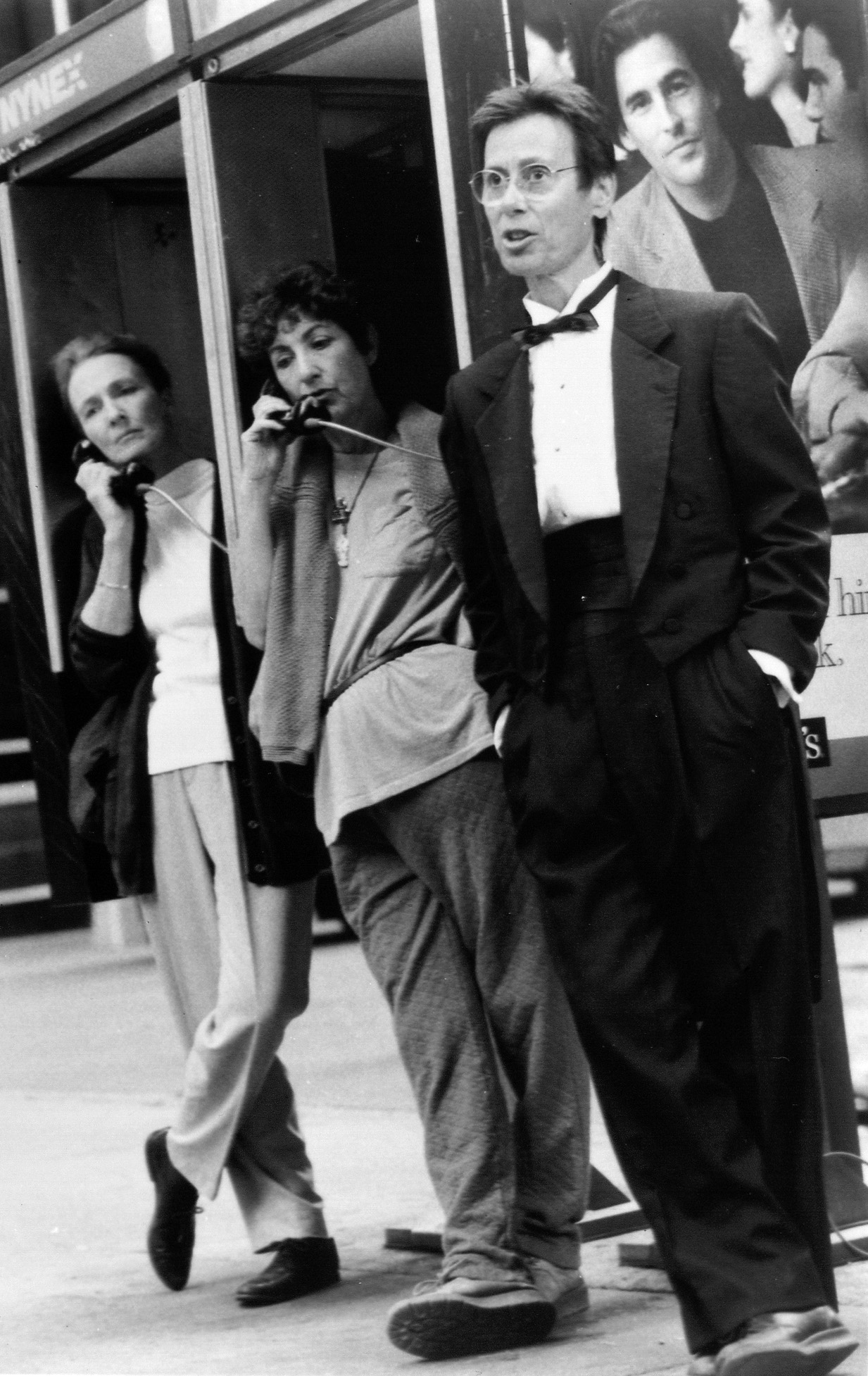 Yvonne Rainer
When Yvonne Rainer made her first feature-length film in 1972, she had already influenced the world of dance and choreography for nearly a decade. From the beginning of her film career she inspired audiences to think about what they saw, interweaving the real and fictional, the personal and political, the concrete and abstract in imaginative, unpredictable ways. Her bold feminist sensibility and often controversial subject matter, leavened with a quirky humor, has made her, as the Village Voice dubbed her in 1986, "The most influential American avant-garde filmmaker of the past dozen years, with an impact as evident in London or Berlin as in New York.

Rainer was born in San Francisco in 1934. She trained as a modern dancer in New York from 1957 and began to choreograph her own work in 1960. She was one of the founders of the Judson Dance Theater in 1962, the beginning of a movement that proved to be a vital force in modern dance in the following decades. Between 1962 and 1975 she presented her choreography throughout the United States and Europe, notably on Broadway in 1969, in Scandinavia, London, Germany, and Italy between 1964 and 1972, and at the Festival D'Automne in Paris in 1972. In 1968 she began to integrate short films into her live performances, and by 1975 she had made a complete transition to filmmaking.

In 1972 she completed a first feature-length film, LIVES OF PERFORMERS. In all she has completed seven features: FILM ABOUT A WOMAN WHO... (1974), KRISTINA TALKING PICTURES (1976), JOURNEYS FROM BERLIN/1971 (1980, co-produced by the British Film Institute and winner of the Special Achievement Award from the Los Angeles Film Critics' Association), THE MAN WHO ENVIED WOMEN (1985), PRIVILEGE (1990, winner of the Filmmakers' Trophy at the Sundance Film Festival, Park City. Utah, 1991, and the Geyer Werke Prize at the International Documentary Film Festival in Munich, 1991), and MURDER and murder (1996).

Rainer's films have been shown extensively in the U.S. and throughout the world, in alternative film exhibition showcases and revival houses (such as the Bleecker St Cinema, Roxy-S.F., NuArt-L.A, Film Forum-NYC, et al), in museums and in universities. Her films have also been screened at festivals in Los Angeles (Filmex), London, Montreux, Toronto, Edinburgh, Mannheim, Berlin, Locarno, Rotterdam, Creteil, Deauville, Toulon, Montreal, Hamburg, Salsa Majori, Figueira da Foz, Munich, Vienna, Athens (Ohio), Sundance, Hong Kong, Yamagata, and Sydney.

A half-hour video tape entitled YVONNE RAINER: STORY OF A FILMMAKER WHO... was aired on Film and Video Review, WNET-TV in 1980. THE MAN WHO ENVIED WOMEN was aired on Independent Focus, WNET-TV in, 1989, and PRIVILEGE on the same program in 1992 and during the summer of 1994.

In the Spring of 1997—to coincide with the release of MURDER and murder—complete retrospectives of the films of Yvonne Rainer were mounted at the Museum of Modern Art in San Francisco and at the Film Society of Lincoln Center in New York City.

In 2006 MIT Press published Yvonne Rainer's memoir Feelings Are Facts: A Life


Filmography

1972 LIVES OF PERFORMERS

1974 FILM ABOUT A WOMAN WHO...

1976 KRISTINA TALKING PICTURES

1980 JOURNEYS FROM BERLIN/1971

1985 THE MAN WHO ENVIED WOMEN

1990 PRIVILEGE

1996 MURDER and murder



Articles on Yvonne Rainer

Recasting 40 Years of America's Creative Life
- Roberta Smith in The New York Times, 2004

A comprehensive article in Senses of Cinema
by Erin Brannigan



Books by and about Yvonne Rainer

The Films Of Yvonne Rainer (Indiana University Press, 1974)

A Woman Who... Essays, Interviews, Scripts (Johns Hopkins University Press, 1999)

Yvonne Rainer: Work 1961-73 (Nova Scotia College of Art and Design and New York University Press, 1974)

Talking Pictures: Filme, Feminismus, Psychoanalyse, Avantgarde (Passagen Verlag, Vienna, 1994)

Radical Juxtaposition: The Films Of Yvonne Rainer by Shelley Green (Scarecrow Press, New Jersey, 1994)

Feelings Are Facts: A Life by Yvonne Rainer (MIT Press, 2006)



Critical acclaim for the films of Yvonne Rainer

"Rainer is a fiercely non-compromising artist who learned to use the cinema's magic and muscle to layer space and time in a completely non-naturalistic way.... She has always been as committed to emotional volatility and psychological meat-packing (topped with large doses of analysis) as any character-driven filmmaker. But her mode is more athletic, pummelling the viewer with associative motion picture collages made of language, cinematic space, character (as analytic tool), and story (as accretion). In this sense, Rainer's narrative style owes as much to Gertrude Stein, Virginia Woolf, and Buster Keaton as it does to Maya Deren and Michael Snow."
- Thyrza Nichols Goodeve, ART IN AMERICA, 1997

"Rainer is the avant-garde's most important woman filmmaker since Maya Deren...more likely, she's the most influential American avant-garde filmmaker of the past dozen years, with an impact as evident in London or Berlin as in New York...That Rainer's work engages that of Godard and Brakhage, arguably the two most powerfully original filmmakers of the past 30 years, is another measure of her centrality. But addicted as she is to the life of her times, it seems perverse to segregate Rainer in an avant-garde ghetto. The relationship of psychodrama to the films of actor-auteurs like Charlie Chaplin or Barbra Streisand is a fallow field for academics. Nevertheless, it's apparent that...Rainer has many points of contact with her fellow toiler in the vineyards of urban sophistication, Woody Allen."
- J. Hoberman, THE VILLAGE VOICE, 1986

"Let me offer a further explanation... of what Rainer is being brilliant about this time... Rainer is interested in politics not as slogans but as daily life. She is interested in ideas not as objects of study but as actions of the mind and heart. She is interested in social roles not as fixed identities but as loyalties that can conflict and sometimes shift. She is interested in filmmaking not as a tool but as a toy, which is most useful when most surprising..."
- Stuart Klawans, THE NATION, 1991

"Yvonne Rainer's films are as complex as thought, filled with unexpected images, snippets of sound and statements profound and silly-all competing for attention on the same plane of peception. It's an approach that lets her meld wildly divergent topics into one film, to experiment with the limitations of the medium."
- Chiori Santiage, SAN FRANCISCO CHRONICLE, 1990

"In an age of debonair and often apolitical postmodern art, Rainer has remained that rarest of creatures-a tough, critical, ever sceptical political artist."
- Adrian Martin, MELBOURNE SUNDAY HERALD, 1990

"Yvonne Rainer's work in the cinema can be seen as a milestone, marking a point of no return for women's cinema and daring the cinema more generally to look for new directions. Her movies are so infused with the immediacy of personal struggle with life and its representations, that they resist monumental categorization or historic institutionalization. With a rare mixture of passion and irony, Rainer creates and then questions, making intricate patterns of restless instability. She guides the audience through stories, situations, characters and crises of all kinds with the deft hand of someone who knows her own minefield."
- Laura Mulvey, 1989