This Unnameable Little Broom (or The Epic of Gilgamesh)
Director: Quay Brothers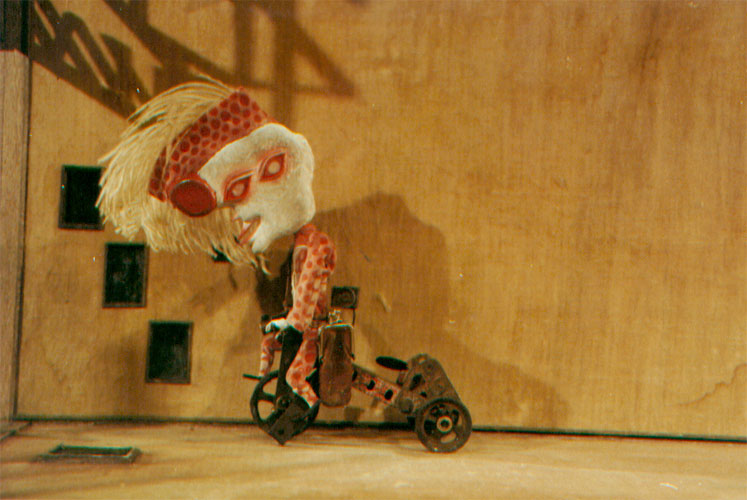 This was originally conceived as a pilot for a series, which never materialized due to lack of funding. Alternative title:
Little Songs of the Chief Officer of Hunar Louse (Being a Largely Disguised Reduction of the Epic of Gilgamesh), Tableau II
, "in which Gilgamesh sends a prostitute to seduce the wild man of the forest, Enkidu. The Gilgamesh figure is a sort of grotesque fascist hydrocephalic child despot on a tricycle, ruthless patrolling his sandbox kingdom. Enkidu, made from a bird skull adorned with an exotic headdress of feathers and shells, brings to mind Max Ernst's renowned collage series
Une Semaine de Bonté
. The wicked child sets a devilish trap for the creature – a gobbet of raw flesh to lure him, and then a mechanical trapdoor in the shape of a vulva…it is strong stuff, a waking nightmare of paranoia and sexual violence. The camerawork is frenetic, yet the effect is precisely that convergence of the dreamlike and the mythic, the bizarre and the inevitable that all their work aspires to." —J.D. McClatchy
THIS UNNAMEABLE LITTLE BROOM is available on DVD as part of the PHANTOM MUSEUMS: THE SHORT FILMS OF THE QUAY BROTHERS box set.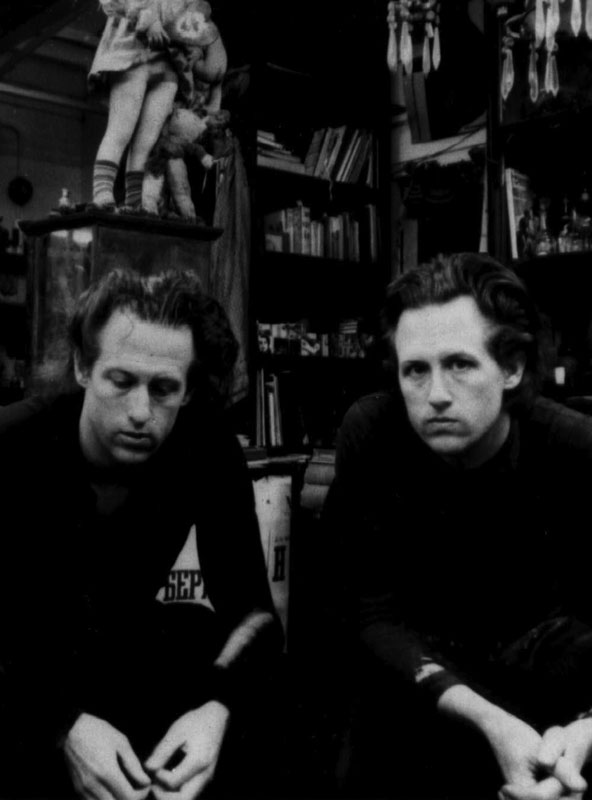 Quay Brothers
"Masters above all of an unusually entrancing form of stop motion animation... Fraught with unresolved dreamlike narratives and psychosexual tensions, these works draw on the Surreal, the Gothic and the Victorian and also reflect the Quays' deep attachment to the literature, graphic arts, animation and music of Eastern Europe, which they have cultivated since their art school days" – Roberta Smith, The New York Times.

The extraordinary Quay Brothers are two of the world's most original filmmakers. Identical twins who were born in Pennsylvania in 1947, Stephen and Timothy Quay studied illustration in Philadelphia before going on to the Royal College of Art in London, where they started to make animated shorts in the 1970s. They have lived in London ever since, making their unique and innovative films under the aegis of Koninck Studios.

Influenced by a tradition of Eastern European animation, the Quays display a passion for detail, a breathtaking command of color and texture, and an uncanny use of focus and camera movement that make their films unique and instantly recognizable. Best known for their classic 1986 film STREET OF CROCODILES, which filmmaker Terry Gilliam selected as one of the ten best animated films of all time, they are masters of miniaturization and on their tiny sets have created an unforgettable world, suggestive of a landscape of long-repressed childhood dreams. In 1994, with INSTITUTE BENJAMENTA, they made their first foray into live-action feature-length filmmaking.

The Quays have also directed pop promos for His Name is Alive, Michael Penn, Sparklehorse, 16 Horsepower, and Peter Gabriel (contributing to his celebrated "Sledgehammer" video), and have also directed ground-breaking commercials for, among others, MTV, Nikon, Murphy's beer and Slurpee.

The Quays' work also includes set design for theatre and opera. In 1998 their Tony-nominated set designs for Ionesco's The Chairs won great acclaim on Broadway.

In 2000 they made IN ABSENTIA, an award-winning collaboration with Karlheinz Stockhausen, as well as two dance films, DUET and THE SANDMAN. In 2002 they contributed an animated dream sequence to Julie Taymor's film FRIDA.

In 2003 the Quays made four short films in collaboration with composer Steve Martland for a live event at the Tate Modern in London and in 2005 premiered their second feature film, THE PIANO TUNER OF EARTHQUAKES, at the Locarno Film Festival.

In 2012 the Quay Brothers were honored with a career retrospective gallery exhibition at the Museum of Modern Art in New York.


"To enter the impossible, haunted night of a Quay Brothers film is to become complicit in one of the most perverse and obsessive acts of cinema." – Michael Atkinson, Film Comment.
"The twins work almost entirely by themselves: one positions the puppets, the other holds the camera. It would seem monkish if the results weren't so often charming, sexy and just deeply odd." – Jesse Doris, Time.
"These astonishing artists, working in an unlikely form, awaken our senses. They combine a demiurgic, Caligari-like mastery over their creations with the gentle dream archeology of Joseph Cornell: their puppets look less like things invented than like things discovered." – Terrence Rafferty, The New Yorker.
Music by R. Walter