Tierney Gearon: The Mother Project
Director: Jack Youngelson, Peter Sutherland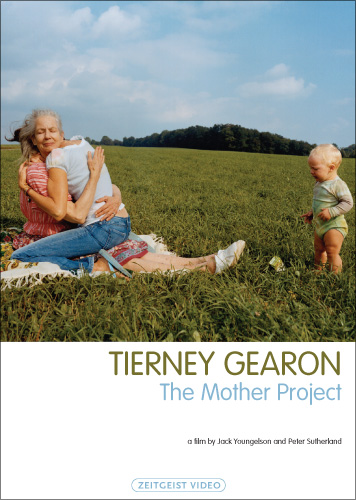 Celebrated photographer Tierney Gearon's work has been labeled manipulative, disturbing and even perverse. A former model and dancer, Gearon came to notorious fame in 2001 when photos of her own naked and masked children in the "I Am a Camera" show at London's Saatchi Gallery had authorities threatening child pornography charges.

Filmmakers Peter Sutherland (Pedal) and Jack Youngelson (Producer, Ghosts of Abu Ghraib) follow this exceptional artist over the course of three years as she assembles her most daring and emotionally complex body of work to date: a series on her manic-depressive schizophrenic mother, who resides inGrey Gardens squalor in the frozen suburbs of upstate New York. The mixture of art and family can almost be too close for comfort, but like much of Gearon's photographs there is a subversive beauty that emerges from the incongruity between ordinary moments and madness. TIERNEY GEARON: THE MOTHER PROJECT is a moving and intricate portrait of an artist, her inspirations and unconventional family relationships.
Jack Youngelson
Jack Youngelson has worked as a writer, producer and field producer on documentary projects that have been shown by numerous broadcasters in the United States and the UK. Over the past 5 years, he has collaborated as a writer/producer with the award winning production company, Moxie Firecracker Films, on various documentary projects, including Ghosts of Abu Ghraib which premiered at the 2007 Sundance Film Festival before being broadcast on HBO, and The Nazi Officer's Wife, which screened at various international film festivals and had a theatrical release before its television premiere on A&E. That same year, Jack also wrote and produced Connecticut: Seasons of Light about the American Impressionist art movement. The film, narrated by Brian Dennehy, won a 2003 Regional Emmy for Outstanding Cultural Affairs Program. Jack graduated in 1990 from Princeton University.



Peter Sutherland
Peter Sutherland was born in Ann Arbor, Michigan and raised in Colorado. A move to New York City in 1998 prompted his first feature documentary, Pedal, a film about the city's bike messengers that premiered at the South by Southwest Film Festival in 2001 before airing on Sundance Channel. Along with numerous other television credits, Sutherland worked as a director of photography on Stoked: The Rise and Fall of Gator, a documentary about a famous skateboarder who was convicted of murder. Directed by Helen Stickler, Stoked premiered at the 2003 Sundance Film Festival and was also released theatrically. Sutherland has published numerous photographic works through publishers such as powerhouse Books, Nieves, Art Beat Press and P.A.M. books.



Directed, Shot and Produced by Peter Sutherland and Jack Youngelson
Co-Producer Trish South
Editor Ryan Fenson-Hood
Original Score Justin Marchacos