Travellers & Magicians
Director: Khyentse Norbu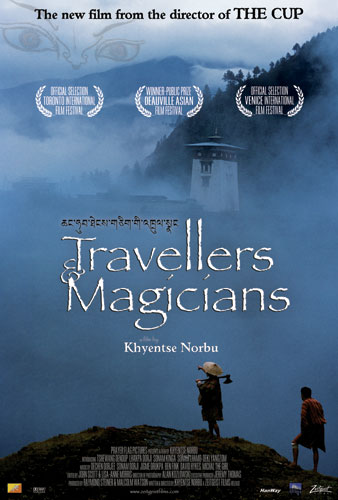 Khyentse Norbu's follow-up to his audience favorite THE CUP is the first feature film ever shot in the tiny kingdom of Bhutan. One of Himalayan Buddhism's most revered lamas, Khyentse (aka Dzongsar Khyentse Rinpoche) weaves parallel fable-like tales about two men who seek to escape their mundane lives in TRAVELLERS & MAGICIANS.

Young government official Dondup dreams of escaping to America while stuck in a ravishingly beautiful but isolated village. When the first chance arrives, he immediately heads for town and an awaiting visa, but things don't go quite as planned. Missing the bus, he hitchhikes with an elderly apple seller, a sage young monk, and an old man travelling with his beautiful daughter Sonam.

Along the way, the perceptive yet mischievous monk tells Dondup a story of another young man who sought a land far away: a tale of lust, jealousy and murder that holds up a mirror to the restless Dondup and his blossoming attraction to the innocent Sonam.

TRAVELLERS & MAGICIANS is a magical mixture of rustic road movie and mystical fable...a potpourri of desire and its consequences, set in a breathtaking landscape.
Khyentse Norbu
TRAVELLERS & MAGICIANS is Khyentse Norbu's follow-up to his internationally successful 1999 feature THE CUP. After making its world premiere at the Cannes Film Festival, THE CUP won critical acclaim and festival awards around the world, as well as being distributed in over 40 countries. The New York Times named Khyentse Norbu "a born filmmaker" and London's Evening Standard called him "one of the hottest new directorial talents around."

THE CUP is Khyentse Norbu's semi-autobiographical tale of a group of monks obsessed with the World Cup soccer final. The surprise international hit helped humanise the image of Tibetan monks, too often portrayed as one dimensional saints. Shot in a Tibetan refugee colony in the Himalayan foothills of northern India, THE CUP was made with a cast and crew of mostly monks and novices. Amazingly, the average scene required only three takes, which director Khyentse Norbu attributed to their powers of meditation.

Filmmaking credentials aside, Khyentse Norbu is also known as His Eminence Dzongsar Jamyang Khyentse Rinpoche. He is one of the most important incarnate lamas in the Tibetan Buddhist tradition and a member of one of Bhutan's most noble families. Born in a remote area of eastern Bhutan in the Year of the Metal Ox (1961), he is the son of contemporary Buddhist master Thinley Norbu Rinpoche, and grandson of both tantric yogi Lama Sonam Zangpo and H.H. Dudjom Rinpoche.

At the age of seven, Khyentse Norbu was recognised as the third incarnation of Jamyang Khyentse Wangpo, the nonsectarian saint, scholar and principal lama of Tibet's Dzongsar Monastery. Dzongsar Monastery is renowned as a centre of non-sectarian scholarship and contemplation, having produced many of the greatest Tibetan Buddhist masters, scholars and practitioners of the last century.

Raised in strict Buddhist monasteries and institutions in Bhutan and Sikkim, Khyentse Norbu was trained by some of the greatest living masters of Vajrayana Buddhism. He has continued his non-sectarian heritage by founding retreat centres, schools of philosophy and charitable foundations around the world. When not making films, he teaches Buddhist philosophy throughout Asia, North and South America, Europe and Australia. Although his work schedule requires constant travel, he spends several months each year in strict meditative retreat.

Khyentse Norbu's first encounter with film was as a 19-yearold monk. While travelling from his home to college, he caught a glimpse of a Bollywood epic on TV at an Indian railway station. Soon after, Raymond Steiner (then directing children's films in India) gave him his first lesson in photography. Khyentse Norbu continued his Buddhist studies, but his interest in film never wavered. He began travelling and teaching, eventually making his way to London's School of Oriental and African Studies. He studied during the day but it was London's cinema halls that were his true classroom.

In the early 90s, he befriended producer Jeremy Thomas, then in pre-production for Bernardo Bertolucci's LITTLE BUDDHA. Inspired by their conversations, Khyentse Norbu enrolled in a four-week course at the New York Film Academy. Thomas introduced Khyentse Norbu to Bertolucci who enlisted him as a consultant on LITTLE BUDDHA and cast him in a small role. While working on the film, Khyentse Norbu paid keen attention to Bertolucci, absorbing everything the director had to teach. "He's almost like my film guru," said Khyentse Norbu. Both Bertolucci and Thomas encouraged Khyentse Norbu to make his own films. As executive producer, Thomas was instrumental in raising funds for THE CUP.

The extensive film library at Khyentse Norbu's Paro, Bhutan home reveals his eclectic taste. NATURAL BORN KILLERS is filed next to Chinese art film WARM WATER UNDER THE BRIDGE. DIRTY DANCING is filed next to Kurosawa's DODESKADEN. Among his favourite directors are Tarkovsky, De Sica, Ozu, Satyajit Ray and the new wave of Iranian filmmakers. He is never without the movie schedule of whichever city he finds himself in.
Written and Directed by Khyentse Norbu
Produced by Raymond Steiner and Malcolm Watson
Executive Producer Jeremy Thomas
Director of Photography Alan Kozlowski
Edited by John Scott and Lisa-Anne Morris