Try to Remember: The Fantasticks
Director: Eli Kabilio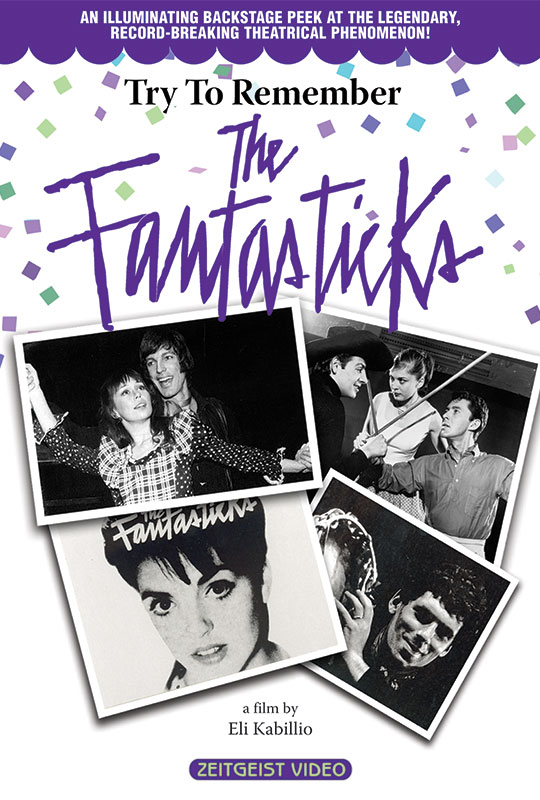 Eight times a week, from 1960 to 2002, the Sullivan Street Playhouse in New York City's Greenwich Village played midwife to a musical theater ritual that attracted theatergoers from across the globe. That show was the legendary and beloved Fantasticks, and for 42 years and 17,162 performances, a legion of performers—including future luminaries such as F. Murray Abraham, Ricardo Montalban, Elliott Gould, Liza Minnelli, Glenn Close, Richard Chamberlain and John Carradine—played out its sweetly timeless boy-meets-girl tale. On the eve of The Fantasticks' final Off-Broadway performance, documentary filmmaker Eli Kabillio takes a wistful look back at the show's genesis, its creators and, above all, its continued worldwide popularity.
Eli Kabilio
Eli Kabillio is an award winning director and producer and the president of Mad Dog Films, Inc.

Kabillio recently directed and produced FIRST ROBOTICS 2003 for Discovery's Science Channel, and directed the feature film F**K THE DISABLED starring Greg Walloch, Stephen Baldwin and Anne Meara. Kabillio also co-directed and produced FIRST DOWN, a documentary on the Women's Professional Football League team, the New York Sharks, which won the Best Documentary award at the IndieVision Film Festival, and JOE JACKSON'S TRAIL, a one-hour documentary about African- American land ownership in the post Civil War South.

Kabillio also directed and produced a documentary about trepanation, A HOLE IN THE HEAD, which won the Best Documentary award at the Atlantic City Film Festival and the Brooklyn International Film Festival, and was broadcast on Discovery and The Learning Channel and is available on video through Beatnik Home Video.

Kabillio recently directed and produced a series of commercials for KFC with Jason Alexander, Evan Marriot (Joe Millionaire) and Trista Rhen (The Bachelorette) and has directed and produced over forty national commercials for Pepsi Cola's PEPSI CHALLENGE campaign including the series starring Sammy Sosa.

He executive produced the independent feature film RELAX, IT'S JUST SEX, starring Jennifer Tilly, Lori Petty and Cynda Williams and produced PARANOIA, starring Larry Drake, Brigitte Bako and Sally Kirkland. He was the Associate Producer on the Miramax Films release LIE DOWN WITH DOGS, and DELINQUENT, for Beyond Films.

Kabillio's animation credits include producing and directing the animated short film, BORIS THE DOG, which was part of SPIKE AND MIKE'S SICK AND TWISTED ANIMATION FESTIVAL and which aired as part of MTV's CARTOON SUSHI. He also directed and produced the animated series THE BILL JOHNSON SHOW, for SPIKE AND MIKE'S SICK AND TWISTED ANIMATION FESTIVAL and video compilation.

Kabillio is a graduate of The Johns Hopkins University and the University of Maryland School of Law. As an entertainment attorney, he represented the films LAWS OF GRAVITY, LIVING PROOF: HIV AND THE PURSUIT OF HAPPINESS, HANDGUN and JESUS' SON.
Directed by Eli Kabillio
Produced by Eli Kabillio, James A. Ruggiero
Executive Producer James A. Ruggiero
Co-Executive Producers Julie Davis, Anne Louise DePalo
Associate Producer Tony Noto
Director of Photography David Sperling
Editor Sean Casey
Sound Matt Israel, David Pruger
Sound Design and Mix Martin Trum
Production Manager Donny Tam
Research and Clearances Julie Almendral, Anita Womack
Camera Operators Mark Pines, Neil Smith, Matt Howe, Teferra McKenzie
Publicity DIS Publicity, David Salidor
Additional Sound Teferra McKenzie