Up The Yangtze
Director: Yung Chang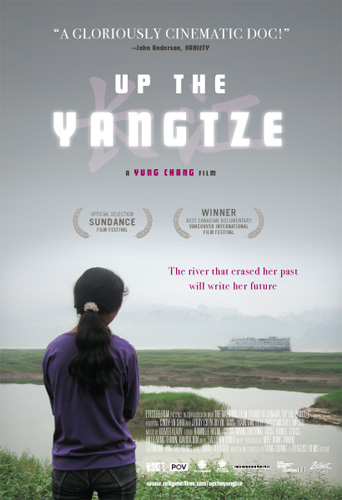 In China, it is simply known as "The River." But the Yangtze—and all of the life that surrounds it—is undergoing a truly astonishing transformation wrought by the largest hydroelectric project in history, the Three Gorges Dam. Canadian documentary filmmaker Yung Chang returns to the gorgeous, now-disappearing landscape of his grandfather's youth to trace the surreal life of a "farewell cruise" that traverses the gargantuan waterway.

With Altmanesque narrative agility, a humanist gaze and wry wit, Chang's Upstairs Downstairs approach beautifully captures the microcosmic society of the luxury liner. Below deck: A bewildered young girl trains as a dishwasher—sent to work by her peasant family, who is on the verge of relocation from the encroaching floodwaters. Above deck: A phalanx of wealthy international tourists set sail to catch a last glance of a country in dramatic flux. The teenaged employees who serve and entertain them—now tagged with new Westernized names like "Cindy" and "Jerry" by upper management—warily grasp at the prospect of a more prosperous future.

Singularly moving and cinematically breathtaking, UP THE YANGTZE gives a human dimension to the wrenching changes facing not only an increasingly globalized China, but the world at large.

Official Selection Sundance Film Festival

Winner - Best Canadian Documentary - Vancouver International Film Festival
Yung Chang
Yung Chang is a Canadian filmmaker currently based in Montreal, where he earned a degree in film production in 1999 from Concordia University. His parents are both first-generation Chinese immigrants to Canada. Through their influence, Yung maintains a strong interest in contemporary Chinese issues. Since 1996, he has spent extended periods in China and has travelled throughout the country.

His first documentary film, EARTH TO MOUTH, produced by the National Film Board of Canada, is a beautifully crafted meditation on migrant farm labour, food production and Canada's Chinese community. It circulated widely on the international festival circuit, winning awards at the International Film and Video Festival in Columbus, Ohio, and Montreal's Rencontres Internationales du documentaire.

He is also a graduate of the Neighborhood Playhouse School of the Theatre in New York City, where he studied the Meisner technique. He made innovative use of this methodology in his first feature-length documentary, UP THE YANGTZE, in which the highly contested Three Gorges Dam forms a dramatic and unsettling backdrop for a moving and richly detailed narrative of a peasant family negotiating unprecedented historic changes. UP THE YANGTZE played at numerous festivals, including Sundance, and was one of the top-grossing documentary box office releases in 2008.

CHINA HEAVYWEIGHT, Chang's sophomore film, is an intense and intimately observed narrative documentary; following the lives of a boxing coach and his two fighters in rural China. The film uses the burgeoning sport of Western-style boxing to explore social change in China. It will have its world premiere in official competition at Sundance 2012.

He is currently in production on THE FRUIT HUNTERS, a feature documentary about nature, commerce and obsession in the fruit underworld, slated for a fall 2012 release. He is also writing EGGPLANT, a feature fiction, about a Taiwanese wedding photographer in China.

Featuring
YU SHUI ("CINDY") and CHEN BO YU ("JERRY")

Written and directed by
YUNG CHANG

Editor
HANNELE HALM

Director of photography
WANG SHI QING

Music by
OLIVIER ALARY

Associate producers
LIXIN FAN,
LI LI

Production Supervisor
MICHAEL MK SIU

Produced by
MILA AUNG-THWIN,
GERMAINE YING-GEE WONG (NFB),
JOHN CHRISTOU

Executive producers
DANIEL CROSS,
MILA AUNG-THWIN,
RAVIDA DIN (NFB)
SALLY BOCHNER (NFB)

An EYESTEELFILM and NATIONAL FILM BOARD OF CANADA Co-production